According to the Financial Crime Enforcement Network, financial institutions filed over 680,000 reports of suspicious potential check fraud in 2022, double from 2021, where 350,000 reports were filed. This surge is due to the increase in the number of cybercriminals and cases of identity theft.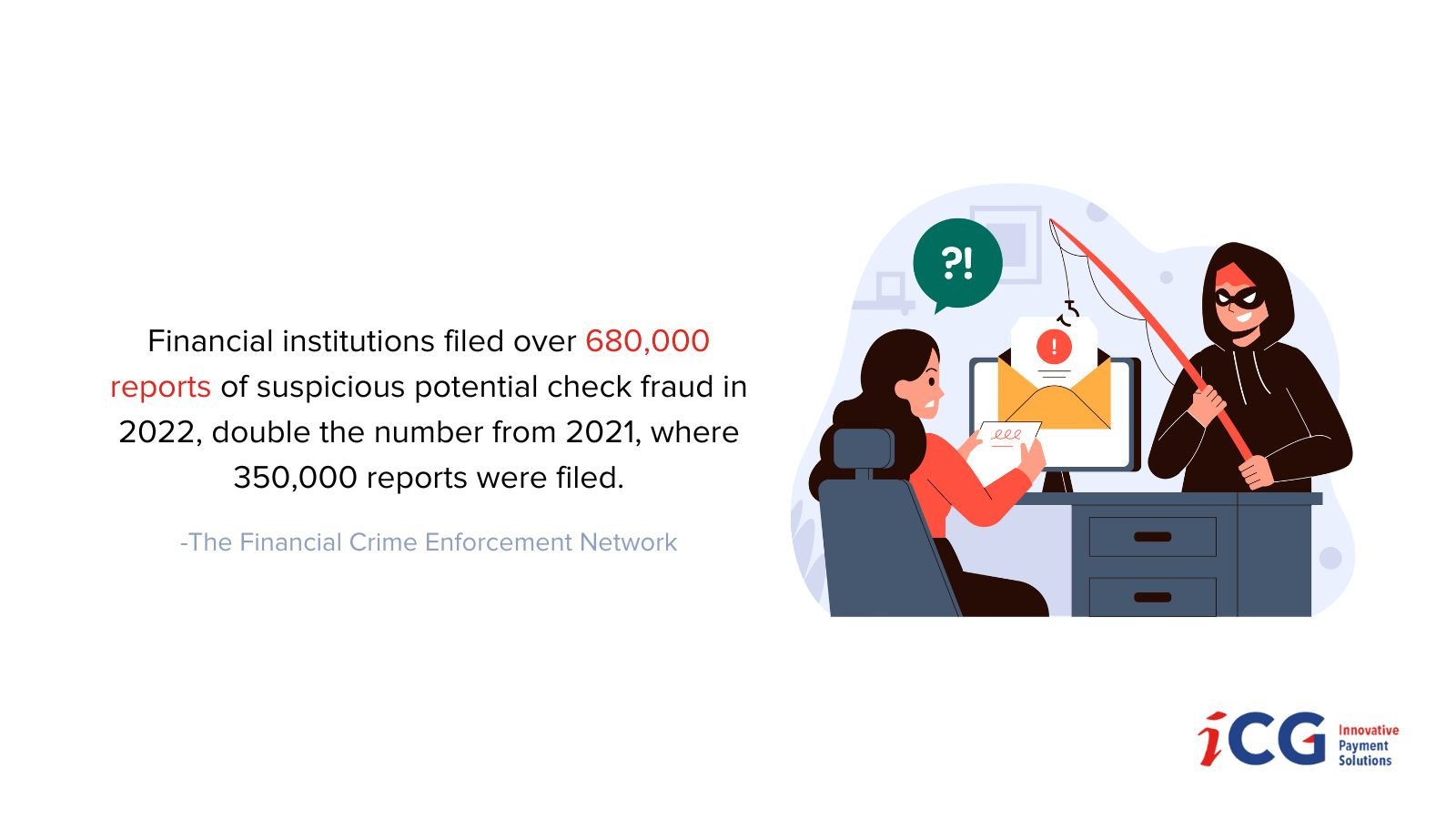 To avoid making losses from bounced checks, most organizations in different sectors are looking for ways to detect and prevent bad checks, especially with the rise of digital payments. Small banks and credit unions that work with commercial customers in the utility sector are implementing measures like check verification to boost service delivery.
As a bank, you need to work closely with a payment processor with cutting-edge technologies. These partnerships will be helpful if you want to outsmart cybercriminals. This blog post will examine why check verification is essential in the utility sector and what financial institutions can do to provide these critical services.
What is Check Verification and Why Is It Important to the Utility Sector?
Check Verification involves authenticating the validity of a check before accepting it as a form of payment. This service is essential for businesses because it helps identify fraudulent transactions before incurring financial losses.
But why is check verification necessary for the utility sector? Here's why:
Reduced Losses
If you accept bad checks, your utility business will have unpaid bills, affecting your bottom line. Bounced checks negatively affect your cash flow, primarily if your business relies on that revenue to keep operating.
However, with check verification services you can confirm funds are available before processing a check. This way, the utility company can stay afloat with proper cash flow management.
Prevention of Fraud
In this day of digital payments, a Federal Trade Commission study reported about 2.8 million fraud reports in 2021 alone. Instances of check fraud can cause heavy losses; therefore, you need to get the right technologies to stop fraudulent transactions during utility bill payments.
Better Administration Services
Following up with bounced checks can take up a lot of time. However, when a utility company has check verification services integrated into the company system it becomes easier to automate business processes. Staff can focus on other areas that need attention, such as customer service.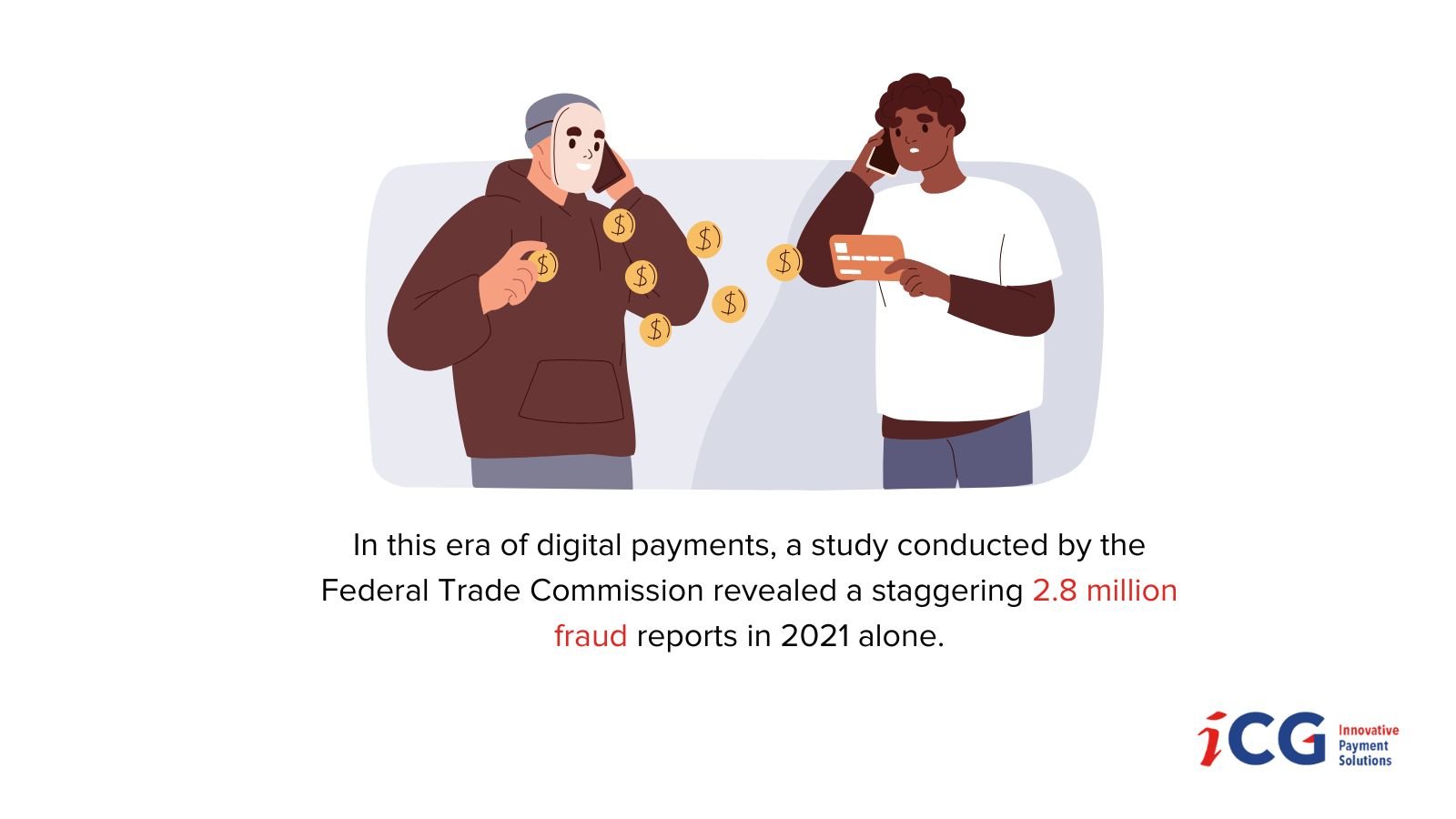 How Can Small Banks and Credit Unions Offer Check Verification Services to Their Commercial Customers?
Small banks and credit unions that work with commercial customers, like utility companies, have an opportunity to provide check verification services to reduce losses. Here's how to achieve this:
Partnering with third-party providers:

To help your customers

detect and prevent fraud on their payment systems

, you need to partner with a reliable processing partner like iCheckGateway.com, which offers iCG-Verify technologies to all types of businesses.

Implementing technology solutions:

You can also offer

virtual check processing services

to your utility business customers. Electronic checks allow you to transfer money via the bank's

ACH network

. The processing is much faster, saving time. Additionally, you can implement remote deposit capture, which allows your customers to scan and transmit the image of a check remotely.
The Types of Check Verification Services
To provide better services to your commercial customers, you must understand the different check verifications available to the utility sector. They include:
Check Verification
This process allows you to validate a check by verifying key items, like the routing number, watermarks, and magnetic ink character recognition encoding. You need to implement comprehensive checks to prevent any problems for utility companies when they receive bill payments for electricity or water.
Check Guarantee
A check guarantee protects the utility company from financial losses due to bounced or returned checks. This service ensures that the guarantor will step in and pay if the check bounces. This service helps to keep bill payments consistent.
Electronic Check Conversion
An electronic check conversion scans the details on the check and makes the conversion to an electronic payment. Utility companies can review the check at the office, and the money will be immediately deducted from the corresponding bank account.
Remote Deposit Capture (RDC)
Your bank must boost check acceptance in real time to help with bill payments. Remote deposit capture is ideal for utility customers because the bank can accept scanned copies of the check using electronic images instead of paper checks.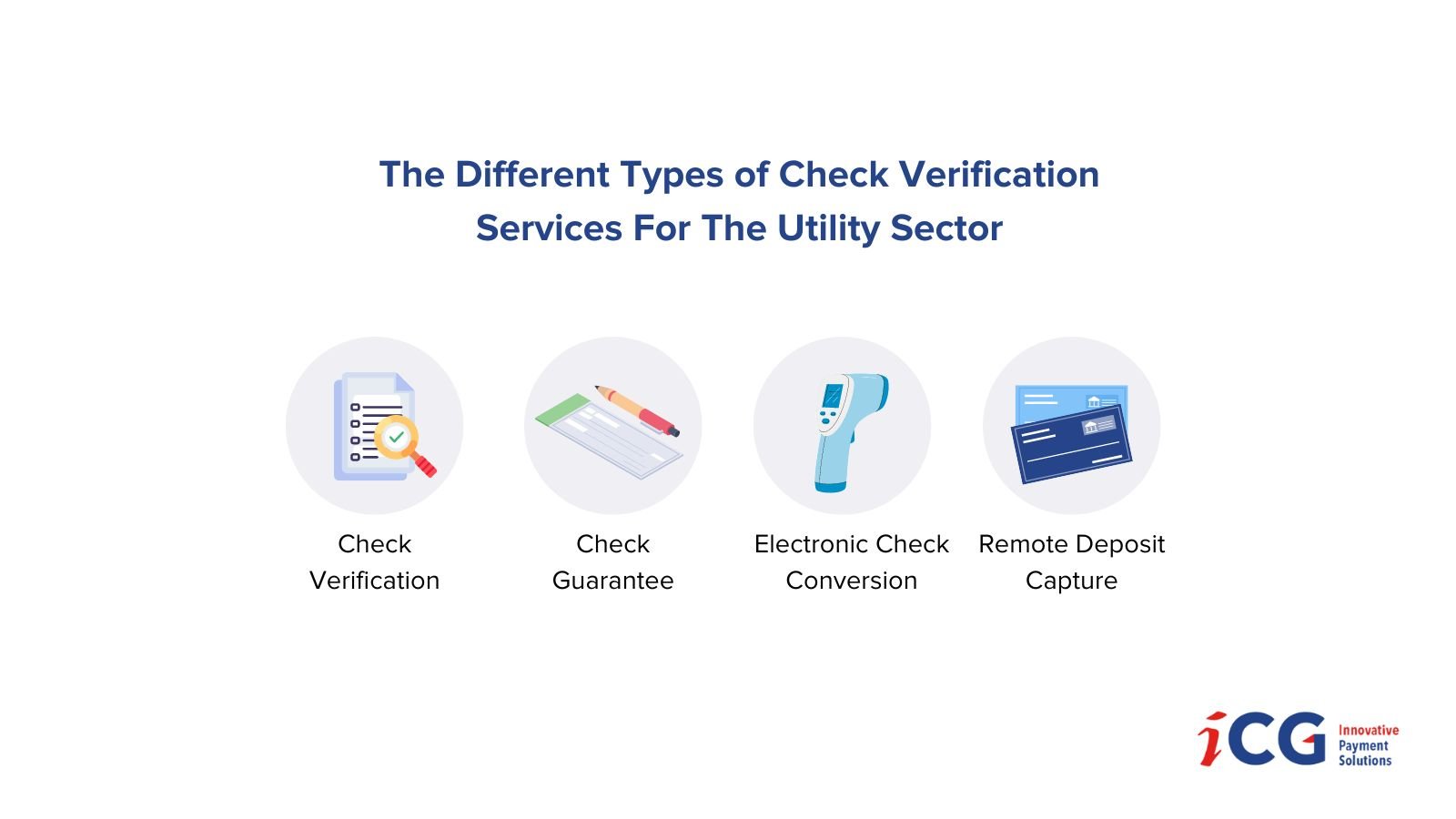 Key Factors to Consider When Choosing a Check Verification Provider
When choosing a partner for check verification services, here are some of the things to look out for:
Cost:

The processing costs should be friendly. You need a processing partner that provides you with technologies while saving you costs. This is so that you won't have to pass on expensive charges to your clients in the utility sector.

Reliability:

Utility companies need to process bill payments monthly. To implement these recurring payments, they need a reliable system - you should work with a payment processor that's readily available to offer support.

Ease of Use:

The payment technologies should also be easy to use. This makes it easier for your staff to set up systems for your clients.
Successful Check Verification in the Utility Sector
A majority of companies in the utility sector have implemented check verification services to prevent cases of fraud. Since most of them receive digital payments, it's become evermore crucial to adopt these payment solutions like iCG-Verify.
One example of this implentation comes from payment processor Mitek Systems which works with multiple banks, credit unions, and other financial institutions to offer mobile remote dispute capture (RDC) and Check Fraud Defender. These partnerships are essential because bank customers can electronically send the check details by scanning the image.
How to Determine If Check Verification Is Right for Your Small Bank and Credit Union
Before choosing a check verification provider, you must confirm whether or not they suit your business. Here's what to check for:
Review their current operations:

Your payment processor partner should be able to handle your scope of work. Check their current processes to determine if they are a good fit.

Customer needs:

Choose a payment processor that allows you to meet your customer needs. For instance, if you need to provide more payment options to your utility companies, choose a provider with these services.
Conclusion
Adopting check verification can help reduce losses for commercial clients due to bounced checks, improve operational efficiency, and increase customer satisfaction. If you need to provide these services to utility companies, check out iCG and learn more about our check verification service, iCG-Verify.