The Digital Payments Report 2023 highlights.
"Digital Payments can hence be considered as the next evolutionary step enabling further financial services and replacing classic, old fashioned payment methods (from cash to credit/debit card to mobile, digital wallets)."
So, to stay competitive as an independent software vendor (ISV), you must embrace cutting-edge payment technologies.
Entering into a strategic partnership with a successful payment processor could pave the way for your business to quickly achieve significant success.
By integrating advanced payment technologies into your software, you'll be able to provide a seamless, efficient, and secure payment experience for your clients. This will lead to:
Increased customer satisfaction

Stronger brand loyalty

A competitive edge in the market
Benefits of a Partnership with Payment Processors
Of course, you want to give your equipment rental software business the best chance to thrive.
So, what benefits do you get by partnering with a payment processor?
Hassle-Free Transactions
Payment processors let you integrate payment solutions into your software. This provides your customers with a smooth and convenient transaction experience. It will elevate customer satisfaction and help you retain valuable clients.
Improved Efficiency and Productivity
Embracing digital payment methods significantly boosts overall economic efficiency and decreases transaction expenses.
Payment processors reduce manual work and increase the overall efficiency of your software. This allows you and your clients to allocate more resources to crucial business aspects, such as customer support and product development.
Enhanced Security and Trust
Protecting your clients' financial data is paramount. Payment processors have the expertise and technology to handle sensitive financial information and protect against fraud securely.
For example, iCheckGateway.com provides you with tools to reduce your PCI scope. With these tools, you can access security features such as hosted payment portal and tokenization.
Meeting these high-security standards builds trust, establishing your business as a reliable and secure solution in the industry.
Increased Profitability and Growth
According to Forrester, "75% of world trade flows indirectly through channels, partnerships, and alliances." By forming partnerships and alliances with other businesses and organizations, you can leverage their strengths to access new markets and channels, share resources and knowledge, and reduce risk.
Payment processors help you streamline payment processes, enhance security, expand your market reach, and maximize revenue.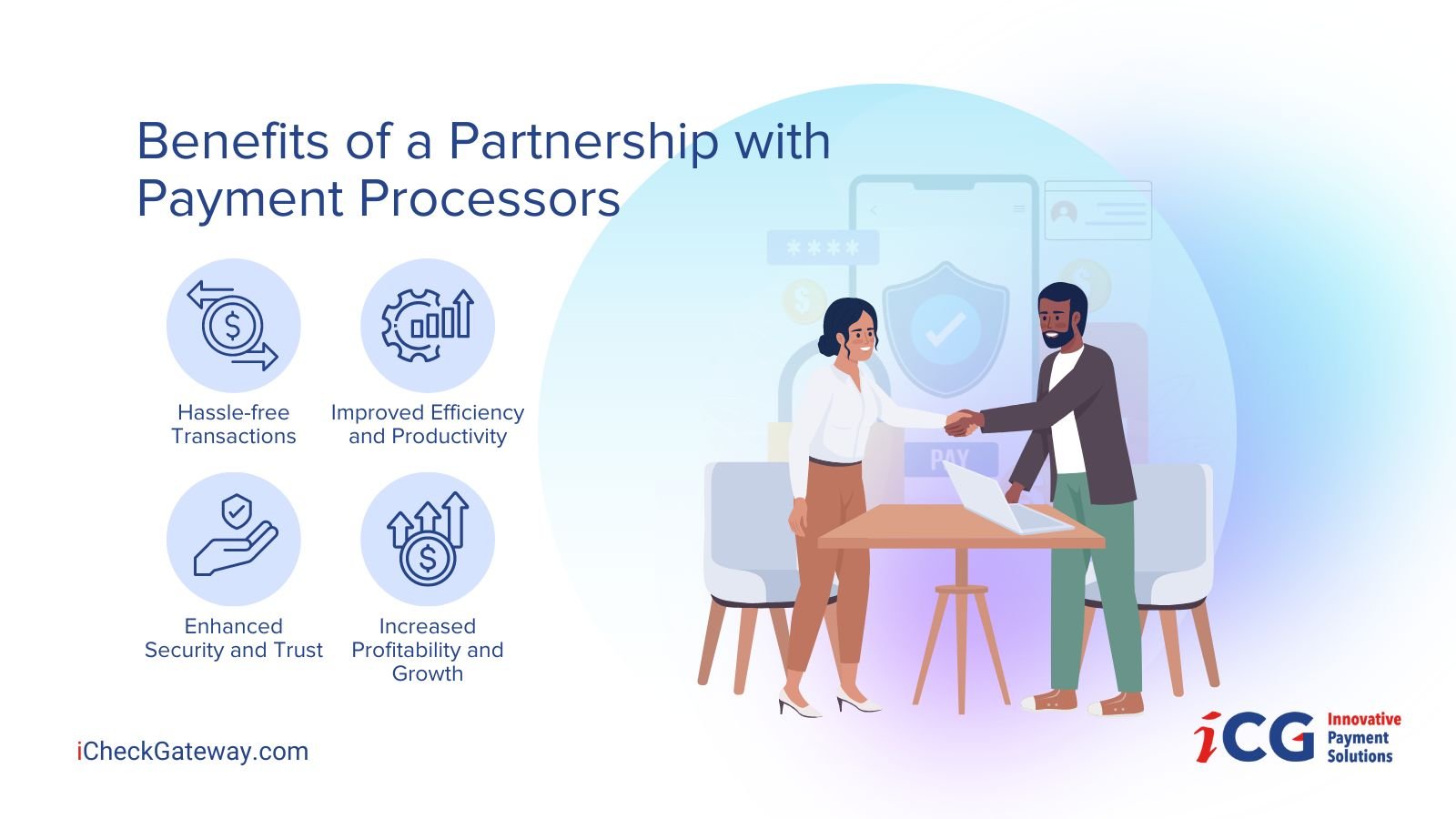 Criteria for Choosing Your Payment Processing Partner
In a study by the International Institute for Management Development, approximately 60% of participants enjoyed successful strategic partnerships, while 31% encountered failures (9% lacked experience).
Key factors for success or failure involved aligning goals and values between involved parties, implementing efficient governance, and fostering mutually advantageous partnerships.
So, what should you consider when choosing a payment processor to avoid being in the failure group?
Comprehensive Payment Solutions
The payment processor should be able to support various currencies and international transactions.
They should also offer traditional payment methods like credit and debit cards and newer mobile payments and digital wallets.
Here is a list of the most common solutions they should have:
ACH Processing

SMS Payments

IVR Payments

Virtual Terminal

Email Invoicing
This will enable you to cater to a diverse clientele and expand your market reach.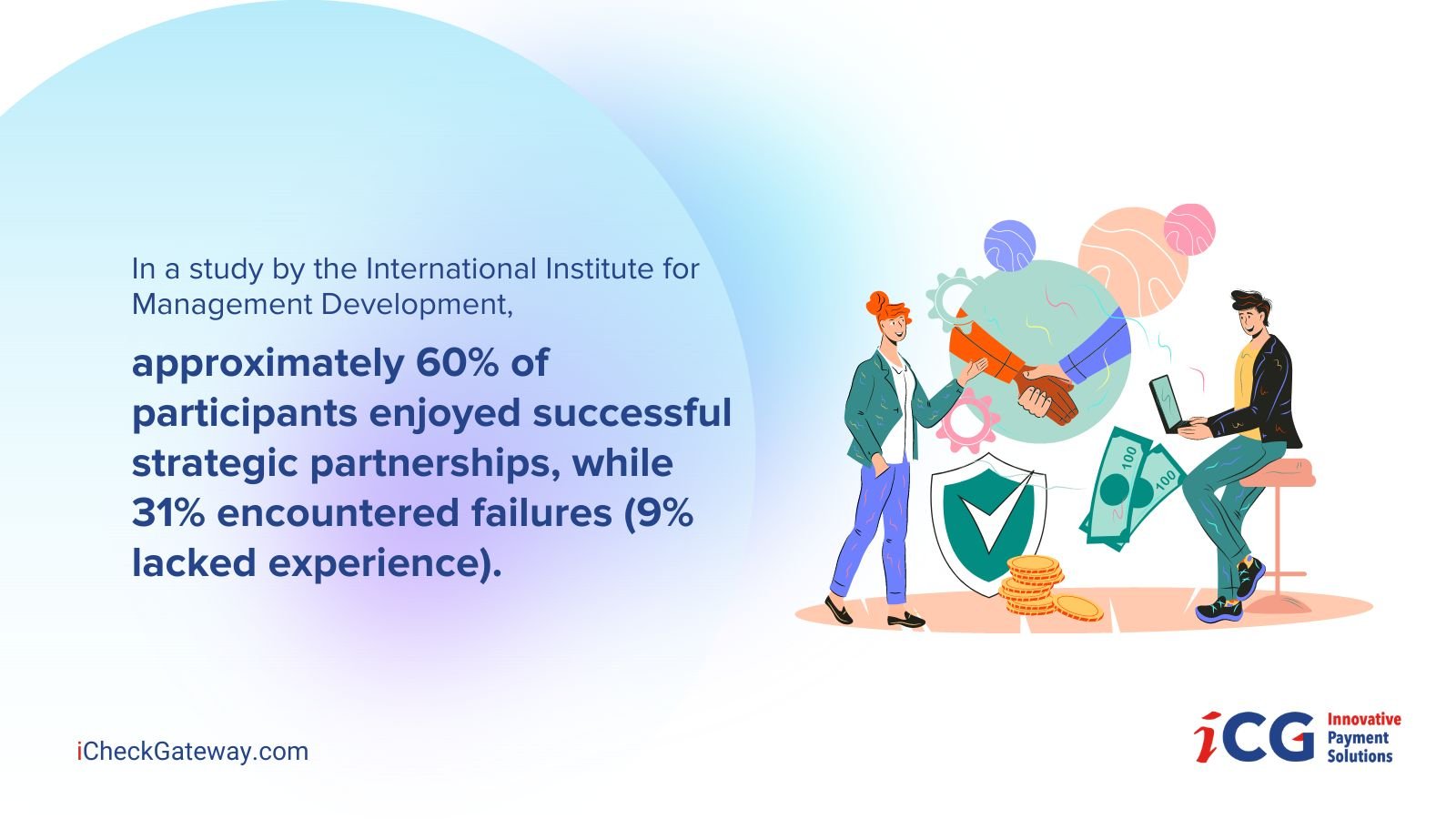 Robust Security Measures
Payment processors handle sensitive financial information, which is crucial to protect.
Some security measures to look for include encryption of data, PCI compliance, tokenization, and fraud detection and prevention tools.
Technical Integration and Support
You don't want to overlook the importance of seamless technology integration and reliable support when forming a payment processor partnership.
Can the payment processor easily integrate with your existing systems?
Additionally, having access to ongoing technical support will help you address any issues that may arise, keeping your software running efficiently and minimizing downtime for your clients.
Proven Track Record and Reputation
"There is no advertisement as powerful as a positive reputation traveling fast." —Brian Koslow
Research your potential partner's track record and reputation in the industry.
What should you look for?
Client testimonials and case studies:

Gain insight into the experiences of other businesses that have worked with the potential partner.

Industry awards and recognitions:

Assess their achievements and standing within the industry.

Financial stability:

Ensure the potential partner has a solid financial background to support long-term collaboration.

Security and compliance:

Are they PCI-compliant or GDPR-compliant?

Technical expertise:

Verify their ability to provide advanced payment technologies and seamless integration with your software.

Customer support:

Investigate the quality and responsiveness of their customer service and technical support teams.




Notable Equipment Rental Software and Payment Processors Partnerships
Let's take a look at notable and successful partnerships:
Point of Rental Software and Stripe
The Point of Rental CLOUD and Stripe integration allows businesses to process payments easily with a quick setup. Businesses can accept credit card payments through Stripe, with credit card details securely stored within Stripe.
Other benefits of this partnership include the automatic refunding of fees with a deposit and the ability to reserve and pay for orders online. This integration streamlines the payment process for businesses using Point of Rental and provides a seamless experience for their customers.
Rentman and Mollie
With this integration, businesses can offer online payment options to their customers, making it easier for them to pay invoices and make deposits.
The integration between Rentman and Mollie is easy to set up and offers a variety of payment methods, including credit card, PayPal, and bank transfer.
Additionally, businesses can automatically process payments and update their financial records in Rentman.
How to Know If Partnership Is Right for You
Here are some factors to consider to know if a SaaS payment partnership is right for you:
Business Goals

- What are the short-term and long-term objectives of your company? How does payment processing fit into your overall strategy and vision? How will a payment processor partnership help you achieve your goals and differentiate yourself from competitors?

Processing Needs

- What are your company's current and projected payment processing volumes and values? How complex and diverse are their payment processing requirements? What are your pain points and challenges with your current payment processing solution?

Current Operations

- How well does your existing payment processing solution integrate with the partner's systems? How much time and resources do they spend maintaining and updating their payment processing solution? How satisfied are their customers with their payment processing experience?
A payment processor partnership can be a strategic move to optimize your payment processing capabilities and grow your business.
In an industry where innovation and adaptability are key, embracing payment processor partnerships is not just an option but a vital step toward long-term growth and success.
iCG, a Nacha Preferred Partner, is a one-stop solution for all your payment processing needs. Schedule a discovery call to learn more.