In recent years, the property management industry has encountered challenges due to high-interest rates, rent payment delays, inflated home prices, and the effects of the pandemic. In this post-covid era, most companies focus on expanding and adopting technological innovations to spur growth.
According to a report by Buildium, there's an increasing demand for property management services. The survey shows that rental owners with property managers jumped from 55% in 2019 to 63% in 2022. Technology is also helping smaller property management companies to become competitive, contributing to the sector's growth.
Therefore, if you operate a small bank or credit union, expand your services to this industry and take advantage of its growth potential. In this blog post, we'll evaluate the importance of diversifying your services to tap into the booming property management industry.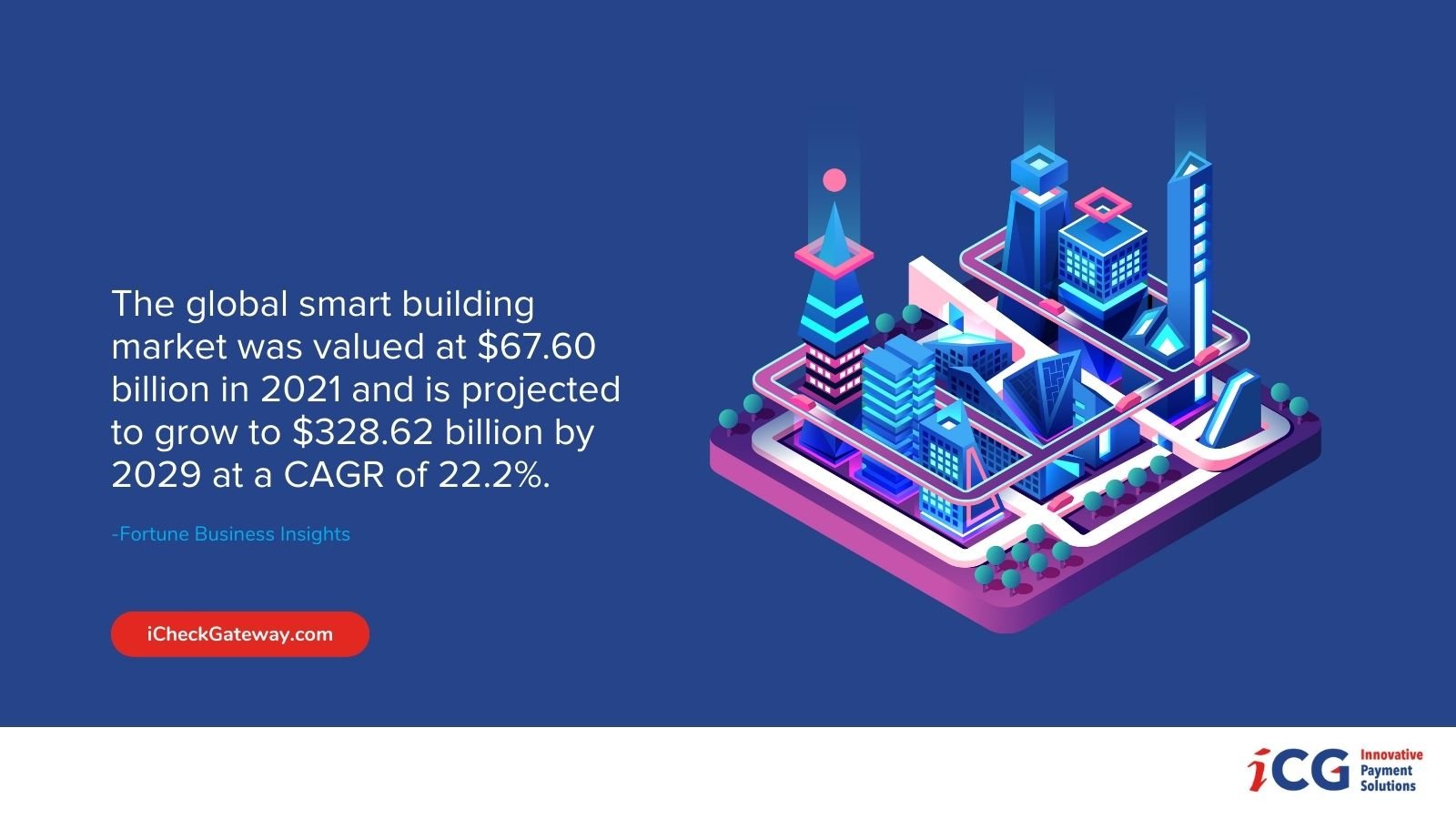 Current Trends in the Property Management Industry
Overall, the property management sector is thriving.
Technology is a key driving factor to this growth. It's responsible for most of the current trends in the industry today.
Here are the trends:
Rise of Smart Buildings
The global smart building market was valued at $67.60 billion in 2021 and is projected to grow to $328.62 billion by 2029 at a CAGR of 22.2%. Smart buildings use integrated systems to communicate and utilize data to improve efficiency. Some integrations include building automation on lighting, HVAC, and security services.
The demand for these types of buildings is increasing due to the rising need for efficient energy management solutions.
Increased Emphasis on Sustainability
Although it's not necessarily a new trend, energy efficiency and sustainability practices remain a top priority for property managers. There's more focus on upgrades such as smart technology for cooling and heating systems and sustainable water-saving devices. This makes the buildings more attractive to renters and saves money.
Adoption of Property Management Software
According to data by Strategic Market Research, the property management software was valued at $1.56 billion in 2020 and is likely to hit the $2.82 billion mark by 2030. Software adoption is more rampant today because rental managers can use it to market the property, screen tenants, or collect rent.
Property management companies can boost growth by investing in rental management software. These tools automate payments and make it easy to maintain records.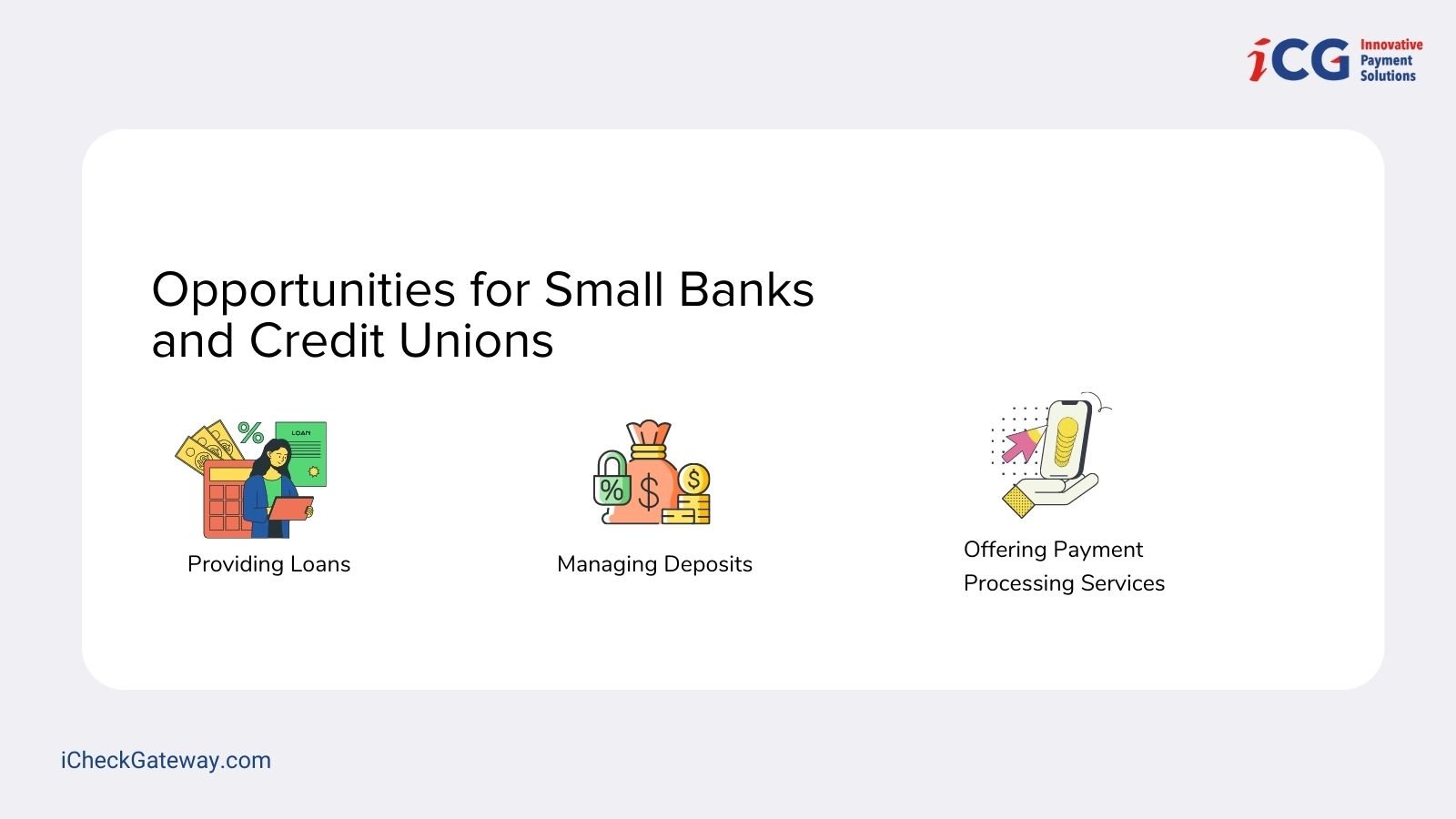 Opportunities for Small Banks and Credit Unions
Property management companies need reliable services from different providers as they keep growing. Therefore, if you operate a small bank or credit union, this is an opportunity for you to provide financial services to players in this industry. Here are the different ways your bank can benefit:
Providing Loans
Property management companies need financing for house acquisitions, renovations, expansions, or investing in software. Small banks and credit unions can offer lines of credit and commercial loans to help the company grow. In addition, these loans should be properly structured to accommodate the industry's needs, attracting more clients in the long run.
Managing Deposits
A lot of property managers collect rent online. They also handle large volumes of funds, especially the ones managing multiple properties.
To be efficient, they need deposit accounts to collect this monthly rent, security deposits, and other financial transactions. Small banks and credit unions can attract these companies by providing deposit accounts with low fees and competitive interest rates.
Offering Payment Processing Services
Property management companies process transactions and collect rent payments on behalf of landlords. They need a payment processing service that allows them to automate rent collection, handle all transactions efficiently and provide online payment options.
Banks and credit unions can take advantage of this and provide secure and reliable payment processing solutions to these companies.
Innovative Solutions for Property Management Industry
To stand out in the property management industry, your bank or credit union needs to provide customized and innovative payment solutions that meet the company's specific needs. Here are some of the innovative solutions to consider.
Online Payment Portals
These portals allow property managers to collect rent through secure channels. A hosted payment portal from a provider like iCheckGateway.com can help tenants to pay rent via debit cards, credit cards, eChecks, or money transfer apps. Additionally, these portals are PCI-complaint; therefore, the tenants' financial data is safe from unauthorized access.
Mobile Payment
Many renters are from the Millennial and Gen Z generations. This younger population prefers to complete transactions using convenient methods like mobile apps that make paying rent easy. The advantage of this is that they can link their bank accounts to the apps and schedule their rent payments.
In addition, the property management industry needs text invoicing. This allows rental managers and HOAs to send payment requests and links via SMS. Tenants can click on the link to pay rent directly, and SMS payments are fast and convenient for both the tenant and the property manager.
Recurring Payment
Automated recurring payments make it easy to pay rent, and tenants can set up a payment continuously, eliminating the stress of manual payments. Additionally, property managers who collect rent monthly, annually, or semi-annually can also schedule these collections for property taxes and other fees.
Email Invoicing
If the tenants prefer a more formal way of payment, the property management company can use email invoicing. Tenants receive an email with a payment link to pay rent directly, and can pay via ACH, debit card, or credit card.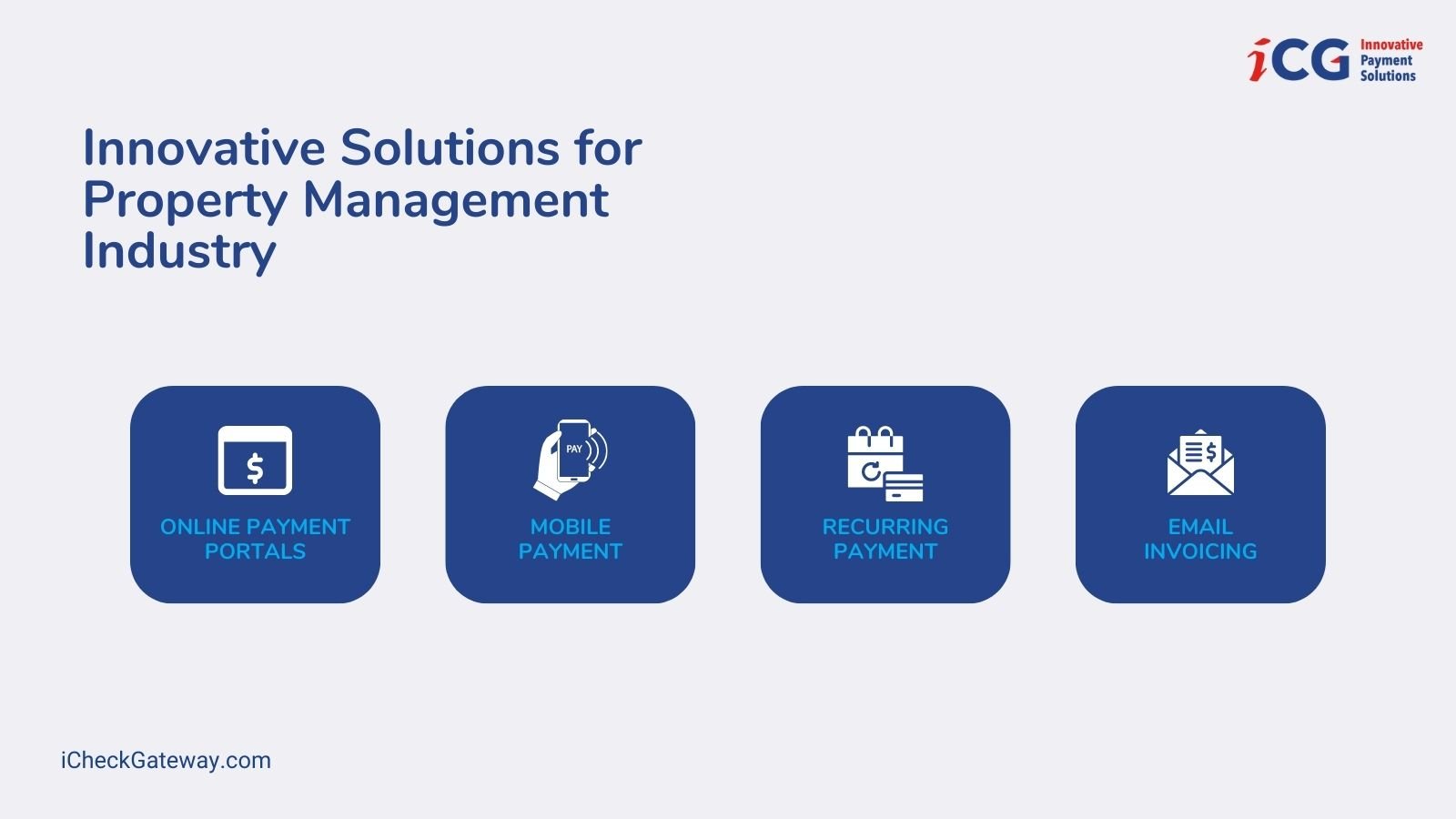 Conclusion
The property management industry presents multiple opportunities for growth for small banks and credit unions.
As the demand for properties increases, there will be a need for financial services in this industry. By targeting property owners, your financial institution can establish a solid customer base and foster loyalty through tailored payment processing services.
To provide innovative solutions, your bank or credit union needs to partner with a reliable payment processor like iCG. We will help you automate your services to reach more property management companies.