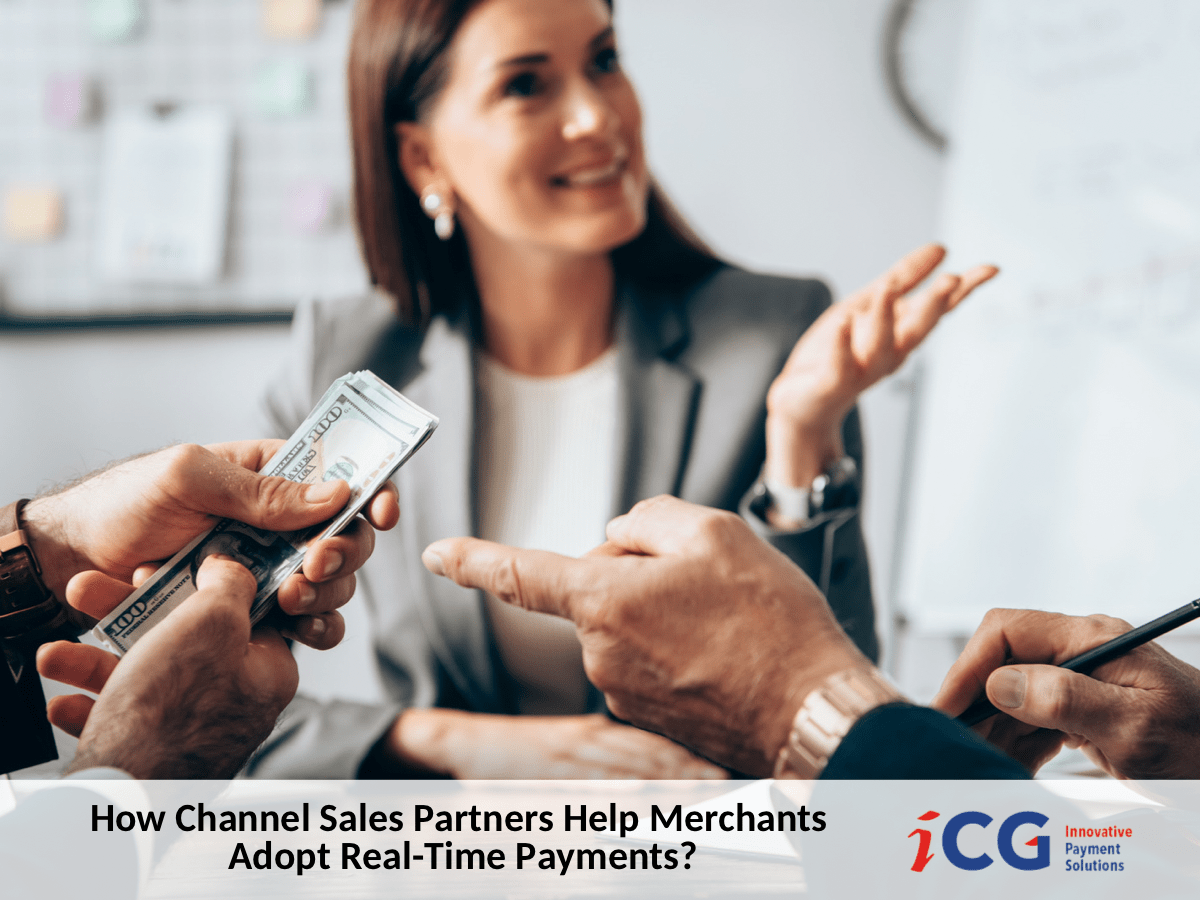 How Channel Sales Partners Help Merchants Adopt Real-Time Payments?
The global real-time payments (RTP) market has outgrown expectations in the last three years. COVID-19, unemployment, and the rise of the gig economy are the key contributors to such unprecedented growth. It is safe to say that there is no going back to the old ways.
People are used to the convenience and speed of contactless and real-time mobile payment systems. According to Grandview research, the real-time payments market will grow at a staggering 34.9% year-on-year between 2022 and 2030.
With the FedNow launch right around the corner, the need and adoption of instant payment systems will only grow further. Financial institutions will leverage reliable third-party service providers to adopt the latest payment technologies. A combination of faster and more secure payment systems will help local financial institutions compete with the giants head-on. Our team works with several channel sales and software vendors that partner with financial institutions to help with the technology adoption. If you are one such channel partner, here are a few ways to seamlessly support your clients adopt these technologies.
Help Them Understand And Choose Different Digital Payment Options
Some of the best payment processors are just getting started with innovative contactless payment technologies. They already have a list of helpful technologies for merchants and financial institutions to increase customer satisfaction, reduce turnaround times, and maintain healthy profit margins. Some of the most popular electronic payment technologies include:
Merchants that couple these technologies with faster payment systems serve their customers better. The right combination of systems helps merchants and financial institutions automate internal processes.
The channel sales partners are responsible for conducting a thorough discovery with their clients to identify the core needs. They need to help the clients understand the costs and time required to adopt these technologies, allowing their clients to choose the ones that offer maximum return on investment (ROI).
Get Started with FedNow Adoption
FedNow is the real-time federal payments system offered by the Federal Reserve Bank. The Bureau of Fiscal Service will launch it in early 2023. Most large financial institutions have already started adopting FedNow services with a pilot program. The channel sales partners should identify the need and scope of adopting these services with their clients. They are in the best position to help financial institutions seamlessly adopt these real-time payment systems.
As a channel sales partner, you should:
Educate the clients on the

benefits and concerns associated with FedNow services

Identify the need for adopting these services

Register as an early adopter

Prepare an implementation plan

Help set up internal teams for the client for adoption

Complete testing and pilot program requirements
Financial institutions that will complete the resource and implementation plans before the imminent launch will have a clear advantage over those that will adopt these services later.
Identify Scope for Automation and Outsourcing
Large financial institutions usually have the resources to hire full-time developers and technology for automation. The small businesses and financial institutions did not have the resources to compete with these larger institutions up till now. However, with the rise in affordable payment automation technologies and outsourcing companies, these financial institutions are getting their edge back quickly.
Independent Sales Organizations (ISOs) help financial institutions identify room for cost-effective automation and outsourcing opportunities. They partner with reliable payment technology providers to offer low-cost, efficient technologies. ISOs should ideally have a roster of potential partners on the outsourcing, technology, and support/service fronts to help their clients choose the best combination. A clear understanding of the existing processes and technologies allows the ISO to identify future room for improvement.
Prepare Documentation and Security Measures
Merchants and financial institutions that wish to adopt new fintech systems must have a well-defined implementation plan with correct documentation. The best channel partners have the resources and experience to help their clients set up these core processes. They help their clients:
Identify redundant legacy technologies

Implement new technologies with safe data migration

Identify loopholes and security breaches in existing systems

Document critical processes and role-based access (RBAC) systems

Partner with reliable technology and service providers for ACH, credit and debit card processing

Create room for further growth and technology adoption

Define a 1/3/5/10-year plan to transform digital processes
These channel partners not only address the immediate needs of their clients, but they put them on the path to eventual success in the shortest possible time frame.
Real-time digital payment systems will transform the payments function for various industries shortly. These systems and the upcoming open banking structures will help fintech organizations create revolutionary payment technologies for their clients. Channel partners and sales organizations must prepare for the forthcoming financial services transformation by partnering with leading technology providers to understand their offers.
Sales agencies that want to help their clients adopt innovative payment technologies in the United States can reach out to us today.
Date originally published: June 23, 2022