Ooowwweeee. To say that the marketing team, aka the Singer of Solutions, at iCheckGateway.com has been busy over the last three months is quite an understatement.
As primarily a two-member team, we accomplished much more than we had planned. We pushed our limits and went above and beyond to revamp the marketing and sales efforts across the organization.
Over the last three months, we worked tirelessly streamlining our sales and marketing efforts to adopt technologies that serve you better. As a pioneer in the innovative payments automation space, adopting more automated systems for internal processes was only a matter of time. We proudly announce that we have successfully migrated our internal systems to a new automated CRM!
Here's an update on what we have already accomplished and what more we hope to do by 2023!
Better Customer Service
The new CRM system automates several core components of our customer service processes to reduce turnaround times. This will lead to faster resolution of queries and an enhanced customer experience. With Hubspot used throughout the organization, the support team will actively collaborate with the sales and marketing teams to relay consistent feedback from active partners and customers.
More Automation for Outreach
iCheckGateway.com heavily relies on its A-players for continued success. We are blessed with an excellent team of A-players. So, we asked ourselves, "How do we get the best out of these A-players?" The answer was simple. Hire an A-plus player to lead them! This is where our most recent A-plus player, Keia Nouse, came in.
Keia joined the iCheckGateway.com team as the Chief Revenue Officer about two months ago. Since then, he rallied the sales and marketing teams to become proactive and agile. It is safe to say that we are destined for greatness under his leadership!
More Helpful Content
Our marketing team consistently developed thoughtful content to help our customers and partners make the most of innovative payment solutions. As a Nacha-preferred partner, we educate merchants, resellers, independent sales organizations, and software vendors with the best practices on ACH and credit card payments. However, this year, we kicked our content generation gear into high gear with a dedicated on-staff content writer. Now that we have seen some truly remarkable results, we decided growing our team of writers to generate more helpful content will help push our ability to reach more people with SEO tactics! With more content on our blog, we hope to teach payments and technologies to help referral partners like banks, ISOs, ISVs, VARs, and other financial institutions alongside our merchant businesses.
As we advance, our growing team will generate and distribute even more valuable content for the merchant and payments community to make the most of modern-day innovative payment solutions!
A Whole New Interface
Increasing the accessibility and enhancing the user experience was one of the most important goals of the marketing team this quarter. This quarter we focused on a two-prong approach toward content marketing. We created plenty of social media, blog, and newsletter content and made it more accessible. We proudly announce the launch of our new community hub, accessible at news.icheckgateway.com.
We went through a lot of deliberation and planning while developing the new blog interface to make it as intuitive and accessible as possible. Our team paid attention to the finer details of the user experience to make the blog as accessible as possible. With our new tag-based segregation interface, merchants and partners can easily access the most relevant content with just a few clicks. We have also transformed our blogs' individual pages to make them more readable and shareable with just a single click!
Dealing with a Hurricane
In more recent news, our team based out of Fort Myers, Florida, weathered Hurricane Ian over the last week. Thankfully, the team is safe and stood resolute against the weather with minimal damage. Our headquarters did not suffer much damage either, except for a power outage that remains unchecked as of October 4. We hope to get electricity back soon and resume operations from the office as quickly as possible.
Luckily the iCG leaders have curated talent from across the globe over the last few years. We have competent team members from all over the U.S., India, Netherlands, Bolivia, Kenya, Peru, Egypt, and more. We are grateful for our multicultural team members who took up the mantle of supporting operations and customer requirements through the storm. I suppose only a few teams across the globe could say that they held up the principles of a customer-first business model even through natural disasters. We are proud and grateful to be one such cohesive team.
Our team based out of Florida is currently getting back up to speed and going the extra mile for the customers. They are working from remote workstations powered by spotty cellular data and generators to knock out the finer details of this project. Such dedication and team spirit make us believe that we are ready and willing to do whatever it takes to support businesses and partners through hardships. Nothing, not even a literal hurricane, can stop us now!
We look forward to better weather and helping our partners and customers make transactions through innovative payment solutions that drive business growth and optimize visibility!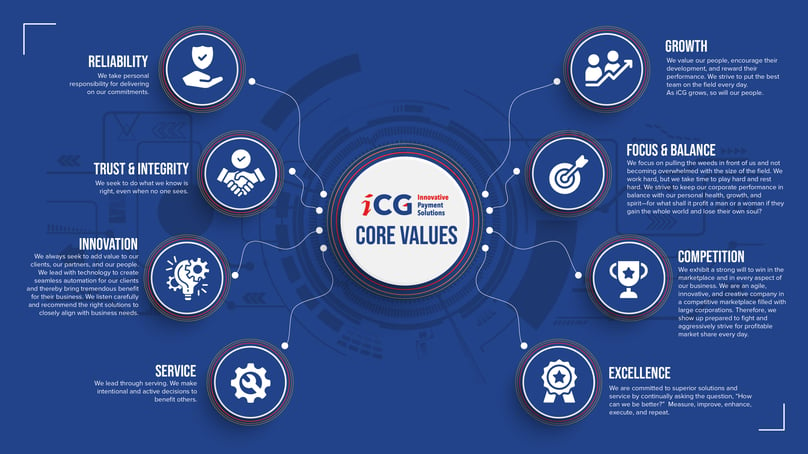 What's Next?
We have a lofty goal ahead of us. The next three years for iCheckGateway.com will be nothing short of transformational. The plan seems not only beatable but downright easy with our ever-expansion of A-players. (This is NOT a cry for the management team to increase our goals 😂). While we work towards developing new technologies and growing business, our partners and customers can rest assured that we still have your priorities on top of our minds. We are always and will always go above and beyond to ensure that you get the best possible experience.
Here's to processing payments more simply, securely, and reliably!
Yours Truly,
Singer of Solutions - iCG Marketing