iCheckGateway.com, iCG, attended the Nacha Smarter Faster Payments Conference 2023 in Las Vegas from April 16-19, 2023. This year, the conference focused on the latest developments and trends in the payments industry. Eight members from the iCG team participated in sessions and discussions on emerging payment and financial technologies, industry challenges, and regulatory changes by Nacha.
Opportunities and Challenges for Financial Institutions and Fintech Organizations
Nikki Estes, SVP of Marketing at iCheckGateway.com, joined a panel on the "opportunities and challenges for financial institutions and fintech organizations working with cannabis dispensaries." The panel discussed the risks and rewards of providing payment solutions to a new and growing industry and the importance of understanding the regulatory landscape.
She reported, "Over the years, cannabis earned the potential to be medically sold in several states legally. In contrast, hemp sits in a different category, regulated more easily because the government legalized the cultivation and sale of hemp at the federal level. In opposition to the rest of the plant cannabis, or truly, the part of the plant with THC concentration tests positive of more than 0.3%, that is not. It is a state-by-state decision, but a lot of money moves in States that legalized the sale of cannabis. In the conference, ODFIs and RDFIs sat beside iCG and other fintech organizations to learn how this is happening. Is the ROI worth this risk?"
Nikki talked with Erica El Hilali, Head of Account Management Pay Qwick, who said, "YES! Consider a business and its aspects: property management, accounting, legal counsel, employee payroll, utilities, inventory, taxes, insurance, cleaning supplies, and more business costs. Suppose we don't figure out ways to bring mobile banking and the technology to accept transactions simply, securely, and reliably. In that case, they will carry in suitcases of cash to their bank and pay their bills through it legally. The guy who owns the local bank may have individual thoughts about cannabis and legalizing marijuana. Still, he may not realize that cash running through his bank to pay bills, get loans, or transact in any way may derive from one of these highly secured dispensaries legally doing business in their state by those regulations set for the products." Erica added, "These organizations are set up just like pharmacies but treated like criminals. I found it fascinating, one way or the other."
To proceed further, the discussion laid out the plan to develop employee/Board training. Pay Qwick already processes for dispensaries, and their pioneering kick-off gave quite a lot of things to consider and read more on before considering offering an in-house solution, including but not limited to:
Getting BSA/AML compliance and certification
Understanding the industry
Developing a board-approved business plan
Understanding the risks and ramifications

Networking with Like-Minded People
Dane Steed, Senior Underwriter at iCheckGateway.com, said, "I enjoyed connecting with so many people in the payments industry. It was unlike any conference I had ever attended. People were eager to engage. It was a great opportunity to discuss mutual benefits. The presentations were interesting. I loved getting questions, as well as having many answered for me. I also enjoyed putting many faces together with names I knew."
According to our HR and accounting director, Samantha Duke, the event offered a lot of opportunities for new partnerships, bank relationships, and referrals in the space that are looking for our expertise. She found that timing is key in building banking and software integration relationships, and the company gained a large number of contacts and great connections. Samantha said, "We had several great conversations with various bank representatives interested in learning about our solutions, particularly our CC, ACH, and IVR capabilities in one platform." Additionally, she found it interesting to see how many banks need solutions for their clients as well as themselves, and she was impressed by the wide range of booth setups and creative giveaways at the event.
Grant Opalisky, business development representative with iCG, noted that simplicity and reliability will always prevail in the FinTech and SaaS industries. Grant also highlighted the importance of creating personal and professional relationships to retain valuable clients and partners. During the event, he had great conversations with several business consulting firms. Connecting with their team may lead to opportunities with their clients in the future.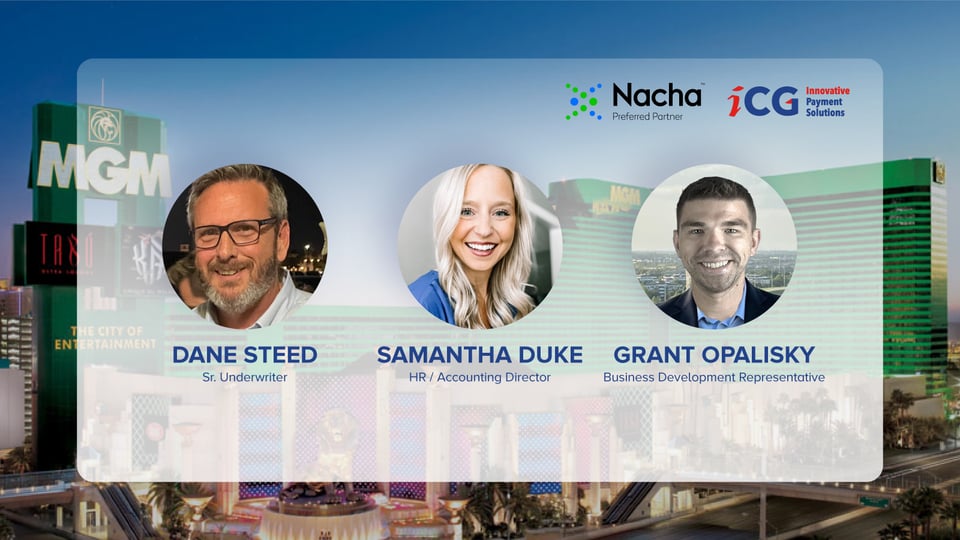 The Need for Banks and Credit Unions
Sallie, SVP of Sales Operations at iCheckGateway.com, spoke with several community banks, credit unions, and corporates to discover that these organizations sought a provider to streamline processes and accelerate payments. She said, "The need was the same as I saw at last year's event. So many banks and credit unions need a tech stack, solutions to overcome pain points, and a provider that can help! This technology was needed for the financial institutions' internal processes and to provide these solutions to their business clients to grow and retain deposits. Without this, these clients will look for it somewhere else."
From an iCG point-of-view, Sallie said, "I was shocked how many FIs and Corporates still struggle with efficiency when there are solutions (iCG) that can help them! We must continue building our brand and show them they no longer have to "settle"! We are the all-in-one solution they need!"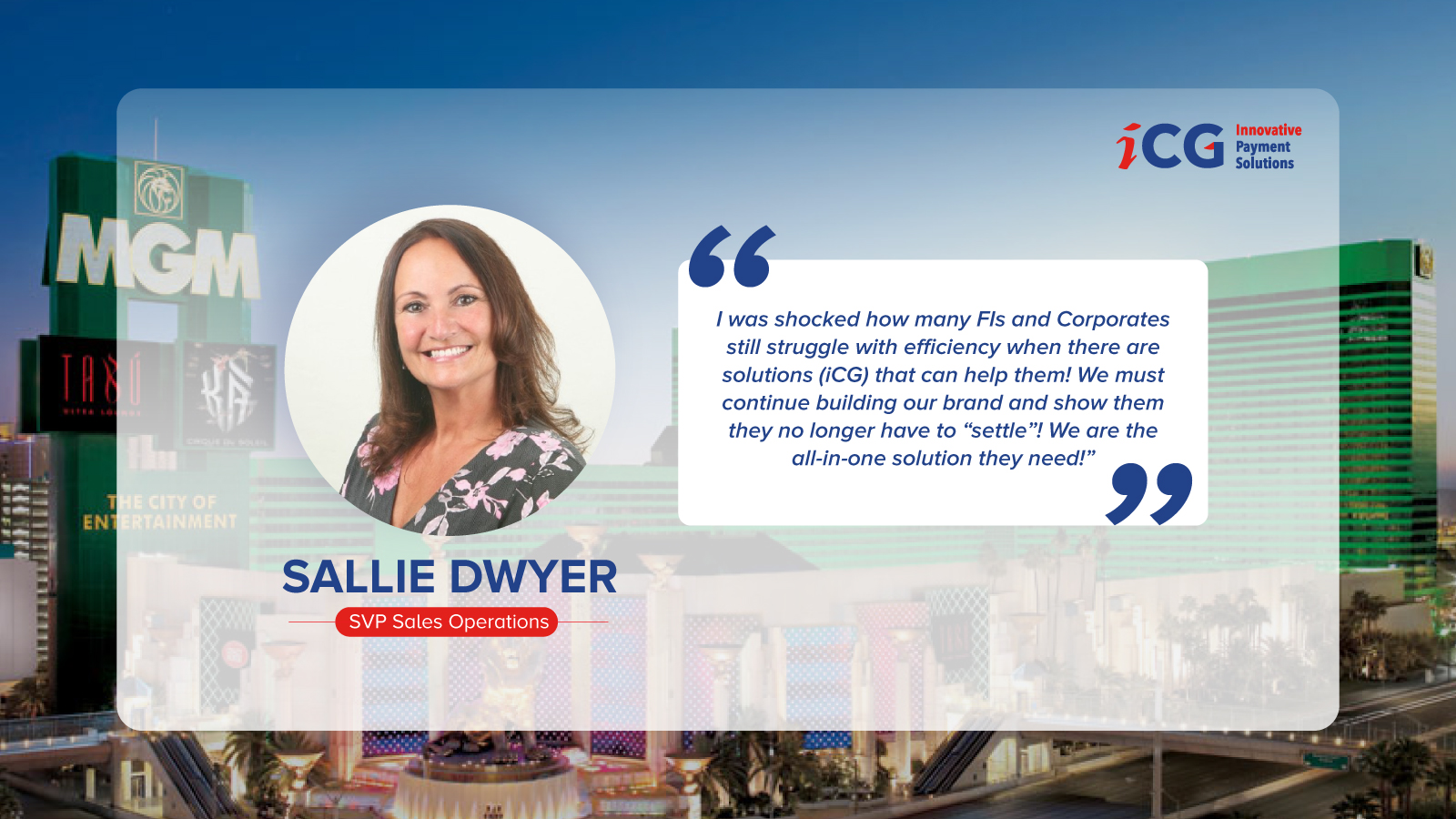 Getting More Commercial Clients
We also had Keia Nouse, CRO at iCG, speak to several people at the conference. His biggest takeaway? Credit unions and banks want to offer more merchant services. He says, "Banks, especially the smaller ones, and credit unions are actively looking for commercial customers. They want to secure their existing businesses by cross-selling merchant services to the existing community of business owners. We know they already have strong roots embedded into the community, but they need a more tech-focused approach to their sales processes." Keia also added, "Financial institutions now need not spend millions of dollars in custom software development. Instead, they can partner with tech-savvy payment processors like iCG to fulfill their technology needs and attract more commercial clients."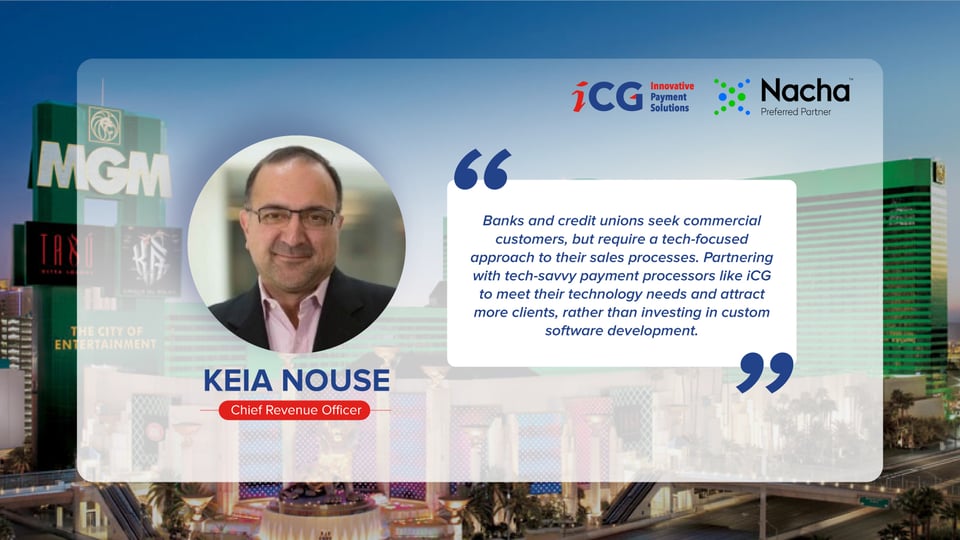 iCG's COO, Chris Hall, aptly summed up that the conference was a well-organized event. He said that, "The conference reinforced the demand for our technology, especially ACH processing and services in the payments space." Chris found the session on Fighting Back Against Payment Fraud, particularly insightful. Additionally, he felt that the community banks and credit unions were interested in our solutions to help them compete in the market. The event provided an opportunity to see how our solutions are still in high demand with the upcoming implementation of RTP and FedNow.
Keia agreed with Chris. He said that there was a lot of hype on FedNow and RTP adoption. He noticed that most discussions revolved around using payment rails, virtual digital wallets, and QR technologies, while ACH and credit card payments remained the center of transactions. He loved the sessions on Open Banking and Embedded Payments Empowering ACH transactions with the help of APIs.
The Nacha Smarter Faster Payments Conference 2023 was an excellent opportunity for iCheckGateway.com to learn about the latest industry trends and challenges and to connect with industry professionals and experts. The conference reinforced iCheckGateway.com's commitment to delivering innovative payment solutions that simplify and secure business transactions across the United States.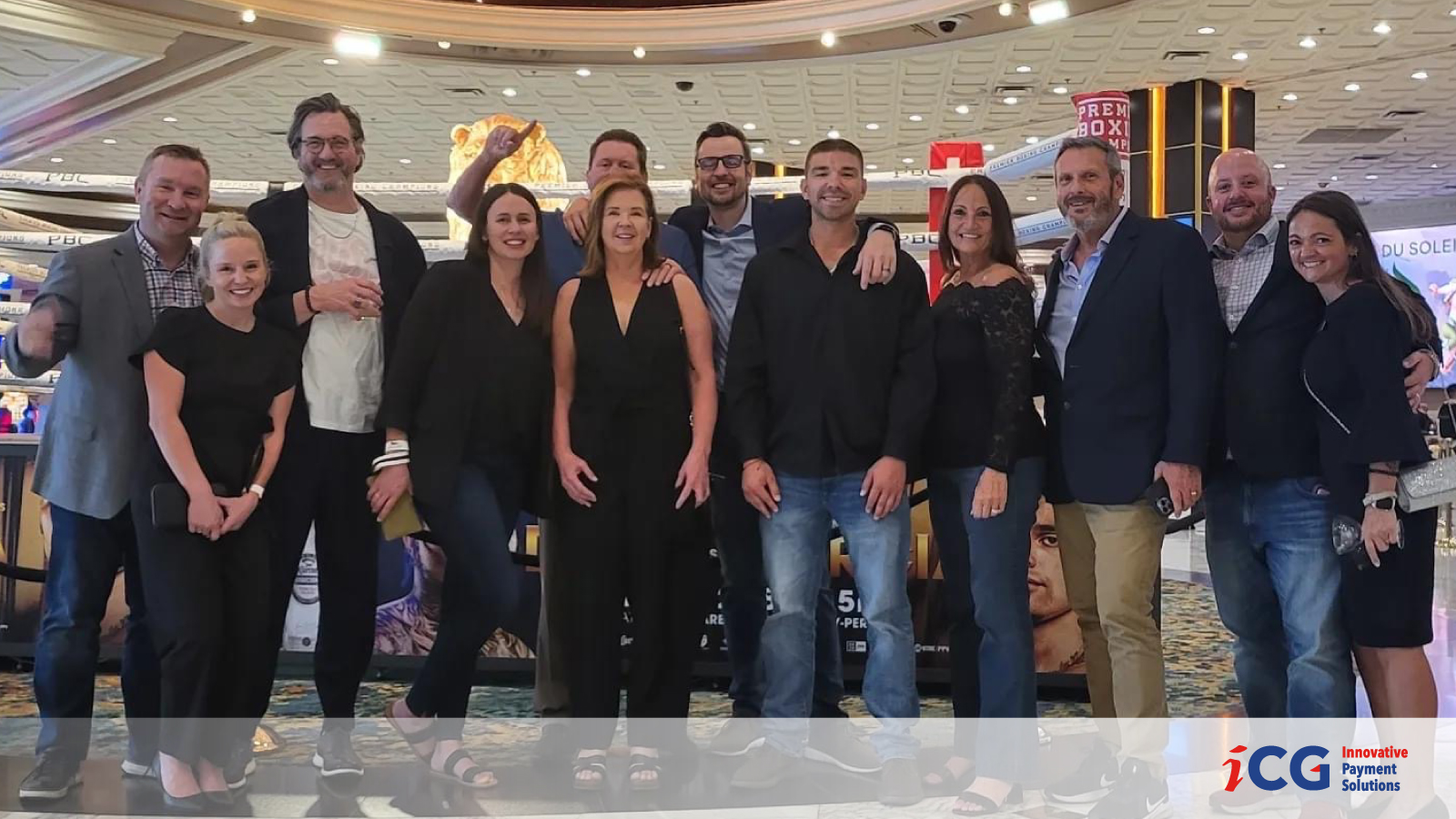 About iCheckGateway.com:
Founded in 2008 and headquartered in Fort Myers, Florida, iCheckGateway.com provides businesses with consolidated payment gateway and technology solutions that streamline processes and accelerate payments. They offer a variety of software technologies that empower businesses and their customers by making transactions easy through innovative payment solutions that drive business growth and optimize visibility. Their suite of solutions includes an online terminal, auto-recurring payments, custom hosted payment portals, mobile payment processing, hosted IVR payment solutions, email invoicing, SMS text invoicing/donations, check verification, e-commerce shopping cart integration, QuickBooks desktop plugin, QuickBooks Online integration, API implementation support, cash discount programs, and more.
iCheckGateway.com's vision is to support the financial heartbeat of thousands of businesses globally by securely and reliably deploying innovative payment solutions. For more information, visit www.icheckgateway.com.
Contact:
Nikki Estes, SVP of Marketing
iCheckGateway.com
Phone: 888.746.5741
Email: nikki@icheckgateway.com