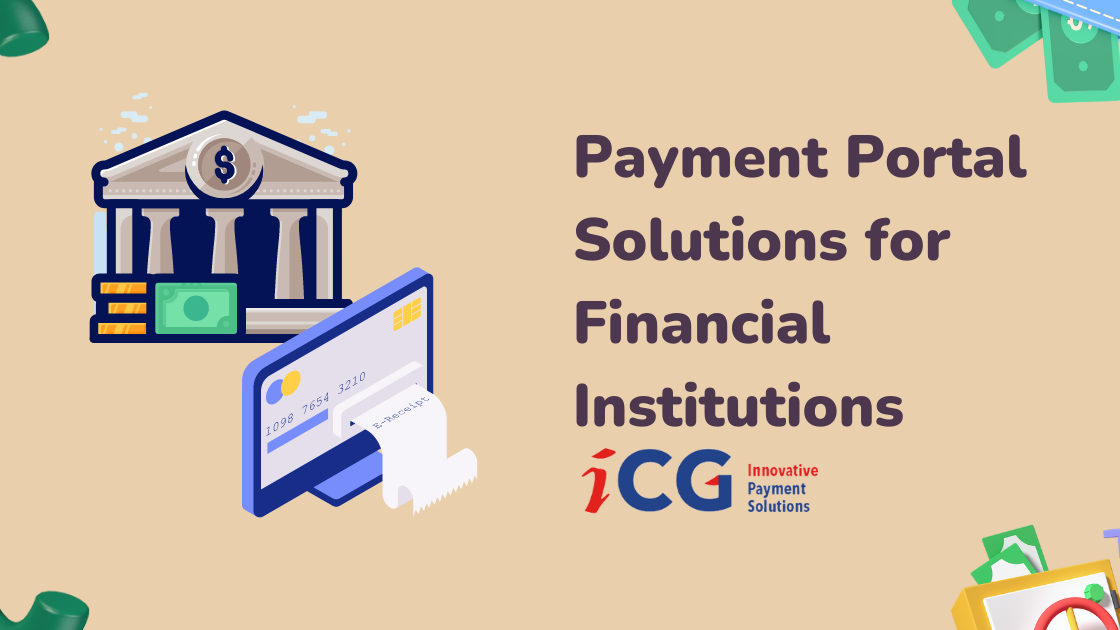 Payment Portal Solutions for Financial Institutions
Payment portal solutions help banks and credit unions across the globe go digital. The financial institutions that leverage these portals adopt more technologies that allow them to serve their customers better with the help of the right technology partners. Well-implemented payment solutions help these large organizations automate collections and customer service operations for higher efficiency.
This blog defines a payment portal and discusses why financial institutions should adopt them.
This blog discusses payment portal solutions and why financial institutions like banks and credit unions need to implement them.
What are Hosted Payment Portals?
Payment portals are essentially secure web pages that connect a merchant's bank accounts with their websites. These portals help merchants collect payments seamlessly over the internet without compromising their banking information. They also unlock various payment methods for collections. The top payment gateway providers will help merchants collect payments via both ACH and credit cards on a single payment portal.
A study by Nacha shows that internet payments over the ACH network grew by 13.2% YoY between 2012 and 2021. These stats show that the need for internet-based payments will only increase further.
Why do Financial Institutions Need A Payment Portal?
To Help Customers with a Self-Serve Module
Advanced portals help the merchants communicate critical information directly with the customers. Customers will easily access their upcoming and historical payment data with such portals as needed. Merchants will save valuable time by helping customers access important payment data on a self-serve basis.
To Maintain PCI Compliance
Large enterprise financial institutions develop an ongoing strategy to manage security when possessing sensitive banking information. While collecting payments, they need to ensure that no customer information remains on their systems after completing the transaction. PCI-compliant payment processors will help these institutions set up a payment portal that does not store customers' banking information.
Additional tech like tokenization and check verification with payment portals help these financial institutions protect themselves as well as their customers against potential fraud.
To Integrate with Other Complimentary Payment Tech
Modern-day ACH solutions are powered by complimentary payment technology like SMS payments, IVR payments, Mobile Payments, etc. The payment portal acts as a one-stop destination for all these payment technologies. Banks will send their customers a simple payment link that their customers can access to log in and pay on the portal directly.
To Access Detailed Reports
State-of-the-art payment portal technologies help in processing payments and support in managing and viewing payment history. Payment gateway providers connect the portal to virtual terminals and back-office accounting tools with developer plugins. These technologies help the bank view and manage payment history remotely.
To Increase their Customer Reach
Financial institutions that want to expand their reach and sell their products over the internet need these portals to collect payments from their customers. Also, as they grow in volume, they see the value to offer their customers a cash discount with payment portals that accept online ACH payments and credit cards. Business owners, especially seasoned ones, look for methods to keep profits higher, and it just so happens that those merchant fees eat into their margins monthly as a Cost of Doing Business. Adopting a Cash Discount Program opens the opportunity for saving on those credit card fees!
The best payment gateway providers leverage technology to help financial institutions attract more audiences with better customer service. Learn more about industry-leading payment solutions that help large financial institutions accept credit card and ACH payments by speaking with an expert.
Date originally published: April 24, 2022
Categories
,
ACH Technology
,
Ecommerce
,
ISVs
,
Nacha Preferred Partnership
,
Partnership
,
Credit Card Technology
,
PCI Compliance
,
ACH Education
,
Payments Education
,
ISOs
,
Banking
,
Insurance
,
Merchants
,
Mobile Payment Techology
,
Software Integration
,
Independent Software Vendors
,
Leasing Services
,
Virtual Terminal
,
Property Management
,
iFrame Technology
,
Energy
,
Non-Profit Charities
,
Payroll
,
TV Broadcasting
,
Religious Organizations
,
Value Added Reseller
By By ICG Digital