Human resource (HR) and talent management companies are essential components of the business world. Each sector requires HR services to hire employees. According to Ibis World, there are about 45,836 businesses in the HR consulting sector as of 2023.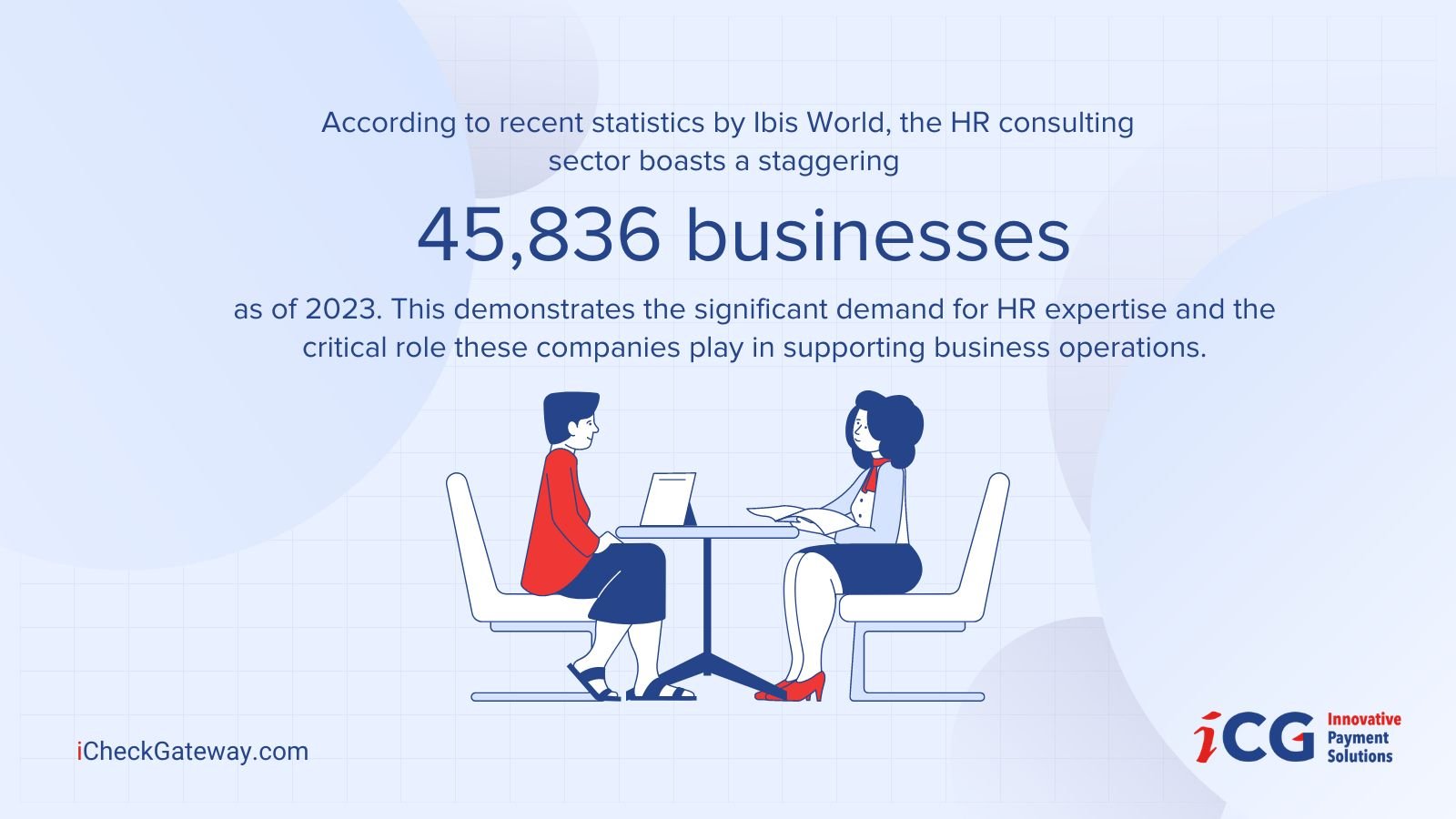 Although the main role of a human resources company is to handle employee relations, their functions overlap with the finance department, handling payroll. HR and talent management are responsible for recruitment, bonus payments, salary increases, benefits deduction, termination, and vacation leave, which require the attention of the payroll department.
Human resource teams use payment processor partnerships to execute their duties to improve employee payroll management effectively. This blog post will explore the benefits of these payment processor partnerships, how to choose them, and the best practices.
The Benefits of a Payment Processing Partnership for HR and Talent Management Companies
Payment processor partnerships are extremely beneficial for HR and talent management companies. Let's explore what some of these benefits look like.
Improved Payroll Management
In most organizations, payroll is part of human resource management. The HR department and payroll are intertwined to ensure employees get their pay, bonuses, and incentives on time. With payment processor partnerships, the talent management teams can automate payments and implement recurring payments such as monthly salaries and track records.
Enhanced Services
Working with reliable payment processors like iCheckGateway.com (iCG) allows HR companies to integrate payment technologies into their payroll systems. This enhances the services by ensuring salaries and bonuses are processed much faster without any delays.
Increased Revenue
Talent management teams can increase the company's overall revenue thanks to payment processing partnerships. When payroll is managed properly, the employees are paid on time. Because of this, employees become more productive, contributing to increased revenue.
Reduced Costs
Businesses have invested in HR and payroll software to reduce average costs. As of 2023, there are about 436 HR and payroll software businesses in the U.S. These technologies, combined with payment processing, can help the company save money during salary payments. Additionally, payment technologies like hosted payment portals make it possible to track all salary payments and prevent any company losses.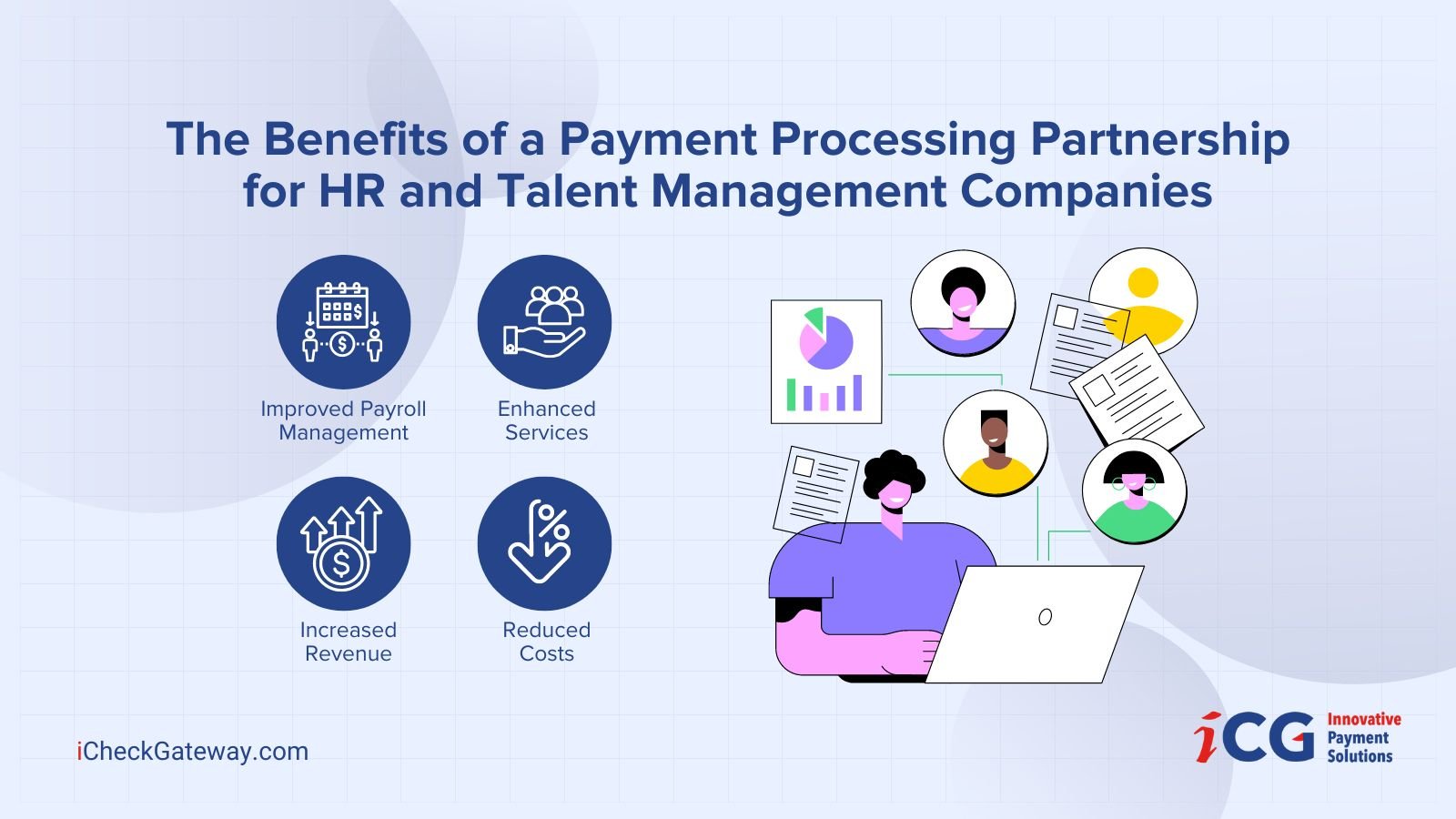 Common Types of Processor Partnerships for HR and Talent Management Companies
Payment Processing Companies:

With these partnerships, HR teams can get multiple and secure payment technologies to help process payroll.

Financial Institutions:

HR companies partner with financial institutions like banks to hold finances used to pay employee salaries and bonuses.

Software Providers:

Software partnerships ensure that talent management teams have payroll tools to make salary processing easier and faster.
Key Factors to Consider When Choosing a Payment Processor Partner
In the world of different payment processors, you must select one that meets your needs. Here are the key factors to consider:
Compatibility:

If you have a payment system, your payment processor should have the right technologies to integrate well. A reliable provider, like iCG, has the right developer tools to be compatible with your systems.

Cost Savings:

Before

partnering with any payment processor

, you should check how much it will cost. Your partnership should be affordable for the business.

Ability to Meet Regulatory Requirements:

As a human resource company, you must meet the regulations around paying salaries and bonuses on time. Therefore, when choosing a payment processor partner, they should offer the right technologies, like

ACH payments

, to allow you to pay employees on time.
How ADP Partnered with Stripe for Payment Processing
HR companies use payment processors to manage payroll in their organizations. For instance, ADP, a human resources management provider, works with different companies to manage hiring, employment engagements, payroll, compensation, benefits, and compliance.
To streamline their operations and enhance the quality of services, ADP has features like ADP Workforce Now that integrates with payment processor Stripe. Thanks to this integration and partnership, ADP can streamline the payment processes and enhance the payroll management processes for its clients.
How to Determine If a Payment Processor Is the Right Choice
When getting into a partner program, you must ensure that the partnership works for your HR and talent management company. Let's look at some of the critical factors you should look out for before starting a partnership:
Review Business Goals:

You need a payment processing partnership that aligns with your business goals. Before signing any agreements, evaluate what you want to achieve. For instance, if you adopt more complementary technologies, such as

IVR payments

for payroll processing, you should partner with a company that offers these services.

Payroll Management Needs:

As a talent management company, payroll is essential. If you have to manage a big team across different regions, you need a system that allows you to process salaries faster, at a lower cost, and within good time. Consider whether the partnership meets these needs before committing.

Current Operations:

You should also check what clients the payment processor serves. This will allow you to determine whether they can handle your operations and payroll needs.
Best Practices for Improving Payroll Management and Service Quality with a Payment Processor Partnership
Payment processing partnerships have become popular because of their impact on a company's bottom line. HR companies also rely on them to gain crucial benefits. Here are the best practices that you can use for your partnerships to work:
Implement Automation
Automation is necessary for payroll management because it makes it easier to process salaries and bonuses. As an HR company, you need to implement technologies that make it easier to automate all your services. iCG provides different types of payment technologies to streamline payment processes.
Enhancing Security
Employee and company data must be protected from identity theft and cyberattacks. To keep your information safe, it's essential to partner with processors that provide enhanced security. With iCG, you don't have to worry about PCI compliance. Your financial information will be protected.
Providing Additional Services to Employees
Apart from processing salaries, your employees will be more satisfied if their payment is deposited into their accounts in a timely, and faster, manner. You can also adopt these payment partnerships to provide multiple forms of payment to your employees. This ensures that staff gets paid on time without delays and can receive compensation through different methods.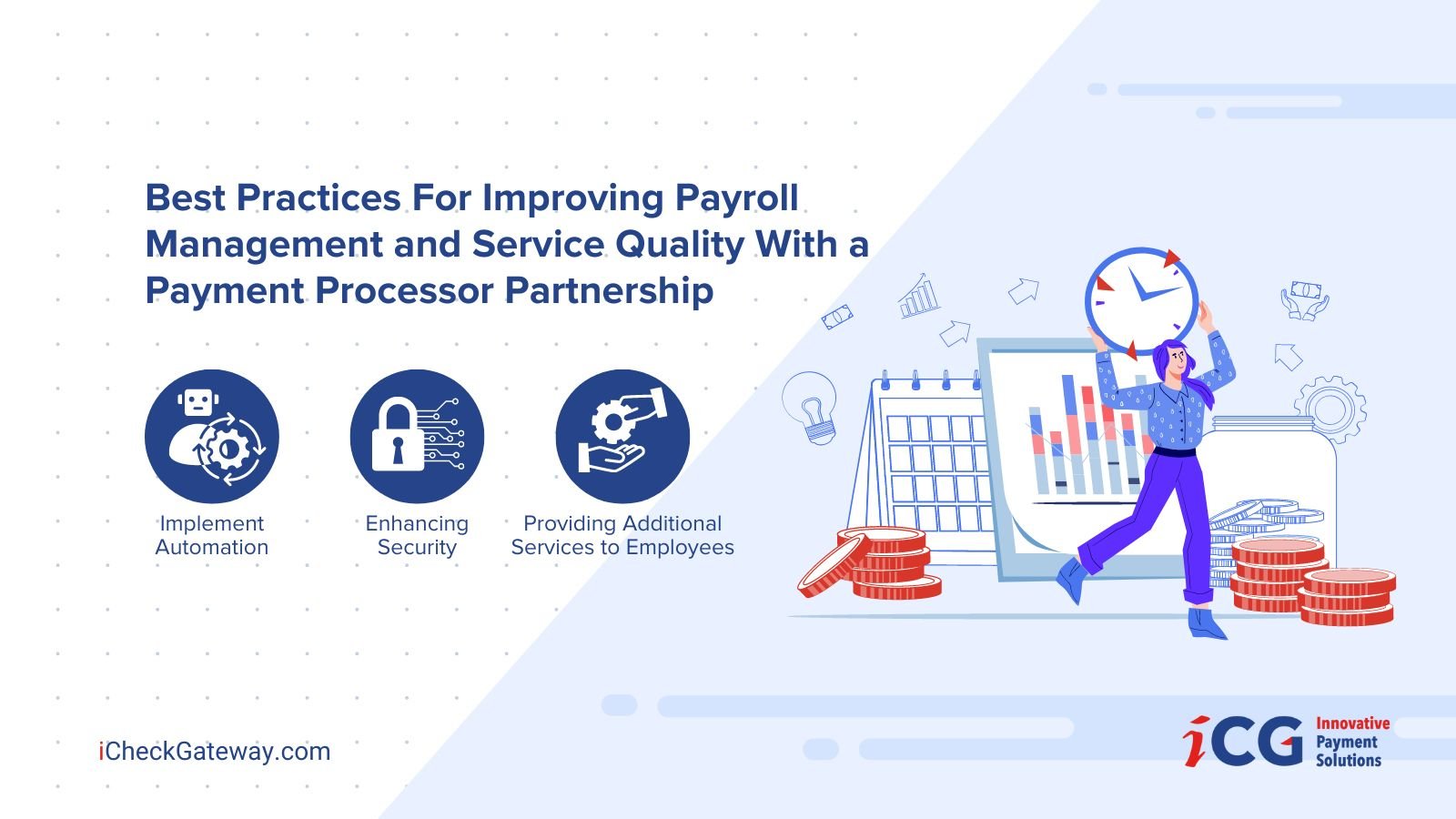 Why Partner with iCG
HR and talent management teams need a payment gateway to improve the payroll management system. Working with a reliable partner like iCG ensures you enhance your services, increase your revenue, and reduce overall costs.
Additionally, iCG is a Nacha Preferred Partner and an active member of the Payment Innovation Alliance, meaning they follow payment regulations. You also don't have to worry about the security of your information; iCG is PCI compliant, which keeps your employee and financial information safe from fraudsters.
Talk to our experts to join our Partner Program today!