Around 40 million housing units in the United States are part of HOA communities. With this, late payments can result in financial strain and affect the overall operations of the HOA. This is where automated recurring payments come in as a potential revenue opportunity for HOA software providers.
By automating payment collection, software providers can streamline the payment process, reduce manual errors, and improve overall payment collection rates for their clients — HOAs, property managers, and landlords — who are always looking for a seamless workflow.
This blog post will explore the advantages of automated recurring payments and how they can help HOA software providers increase retention and revenue.
Before we delve into the benefits, we must first understand the challenges HOAs face in payment processing.
What Are the Common Payment Processing Challenges Faced by HOAs?
Collecting Timely Payments
Collecting payments from homeowners is one of the most significant challenges HOAs face because a delay in payment can cause cash flow problems for the association and act as a roadblock in essential maintenance work. Additionally, they must spend time and energy reminding customers about payments.
Managing and Tracking Payments
Keeping track of payments and reconciling accounts is a complex and time-consuming process for HOAs, especially when dealing with a large number of homeowners. With this, there are greater chances of errors in accounting and confusion around the association's financial status.
Ensuring Payment and Information Security
Payment fraud can lead to significant financial losses and damage to an HOA's reputation and business. The average global cost of a data breach is $4.35 million. Often, HOAs struggle to manage different payment channels and homeowners' personal information.
Catering to Different Payment Methods
Different people prefer different payment methods, like credit/debit card payments, ACH transactions, checks, cash, or mobile payments. Therefore, offering other channels to cater to everyone's needs, including online payments, automatic payments, and traditional methods like checks and cash, and processing them regularly can be difficult for HOAs.
Inefficient Payment Processes
Many HOAs use outdated or inefficient payment processes that require manual data entry, which can cause errors, late payments, and frustrated homeowners. Moreover, they do not use a single channel to overview clients, track payments, or send reminders to their customers.
These challenges might seem a lot; however, the solution to all of these challenges is a single thing — a robust and reliable payment processing system using automated recurring payments.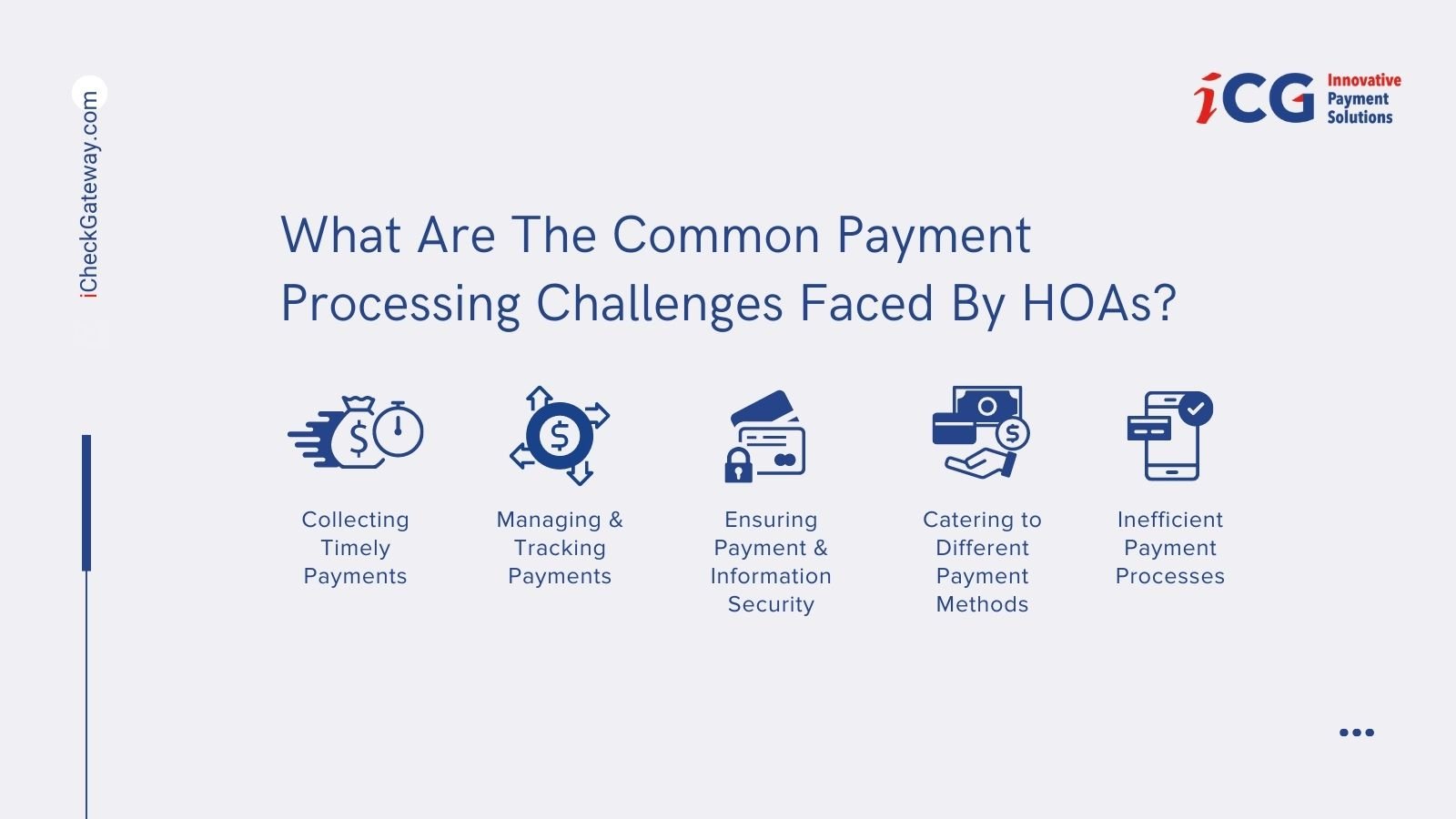 What Are Automated Recurring Payments?
Automated recurring payments are a payment processing method that enables customers to authorize automatic deductions from their bank accounts or credit cards on a predetermined schedule, eliminating the need for manual payment processing. Users can also automate reminders and design a hassle-free payment experience for both customer and service provider.
Consider your Netflix or Spotify account. These companies leverage automated recurring payments, allowing users to get payment reminders and automatically pay for their monthly subscriptions. Without spending a second on collection or sending reminders, they can run robust payment processing across the globe. Businesses, irrespective of their industry, can enjoy the advantages of automated recurring payments.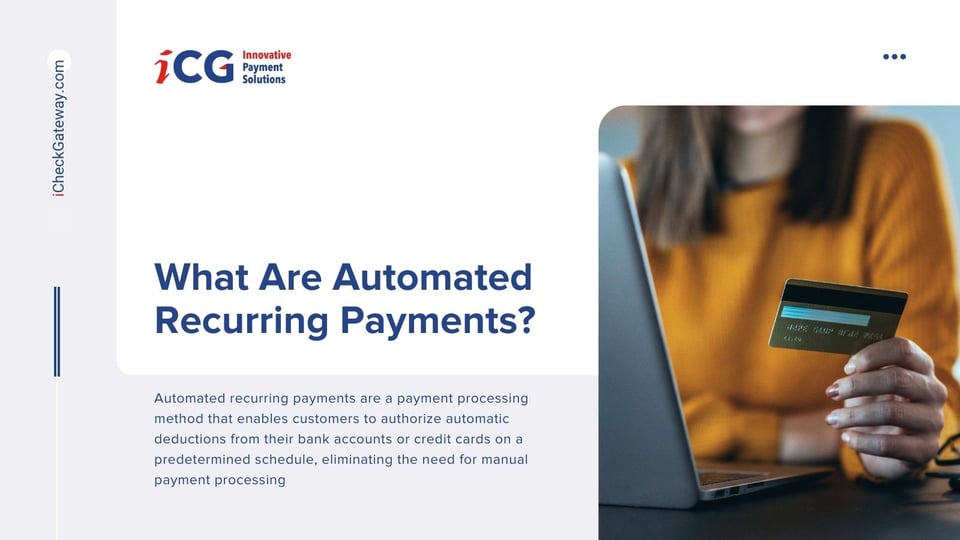 Benefits of Automated Recurring Payments for HOAs & Software Providers
Streamlined Payment Processing Workflow
Automated recurring payments eliminate the need for manual invoice generation, payment collection, and follow-up; saving resources that can be redirected toward other tasks.
Efficient and Accurate Processing
Using an automated recurring payment processor eliminates the need for manual data entry and human error, increasing accuracy, faster payments, and a more efficient cash flow management without using additional resources or time-consuming and energy-draining manual verification.
Fewer Delays, More Consistent Cash Flow
A study by PYMNTS reveals that 39% of consumers pay monthly bills on time because of automatic payments. Instead of waiting for payments to come in at irregular intervals, automated payments are scheduled in advance, ensuring that HOAs have a consistent and reliable cash flow throughout the year. Automated recurring payments reduce the risk of late payments, non-payments, and associated administrative hassles.
Reliable, Secure, and Safe Processors
Since HOAs typically handle large amounts of money and process payments from multiple homeowners, automated recurring payments ensure that their financial transactions are secure, mitigating the risk of any fraudulent activity such as identity theft, credit card skimming, and unauthorized transactions.
Enhanced Customer Experience
More convenience and efficiency mean a better customer experience. Using automated recurring payments, HOAs can regulate their communication with homeowners, offer a seamless payment experience, and strengthen their relationship with secure solutions, which leads to increased customer satisfaction, loyalty, and retention.
While these are the benefits your clients can enjoy by developing automated payment processing systems, partnering with payment processing companies can significantly impact the bottom line of HOA software providers as well.
By outsourcing payment processing to a trusted, preferably NACHA-preferred third-party payment processor, HOA software providers can expand their offerings and offer a more comprehensive and competitive solution to their clients without maintaining an in-house payment processing team or allocating resources.
What Are the Key Features of an HOA-Focused Automated Recurring Payments?
When looking for a payment processing provider, consider these features before signing a contract:
Seamless Integration
Seamless integration also allows for easy adoption of the automated recurring payment solution with little disruption to existing operations. Look for third-party providers with easy payment solutions to set up and configure with a company's existing accounting and financial systems, such as QuickBooks or Sage.
Flexible Payment Plans
Make sure you can schedule payments in advance, either on a fixed date or regularly (e.g., monthly or quarterly), to cater to all kinds of HOAs and homeowners.
Multiple Payment Channels
Check that the automated recurring payment system integrates with leading payment gateways, including credit and debit card processing, e-checks, mobile payments, and ACH transfers.
Automated Notifications and Reminders
The automated recurring payment processor should enable HOAs to automate notifications and reminders about upcoming payments, due dates, and any missed payments, reducing the need for manual follow-ups and improving communication with homeowners.
PCI Compliance and Security
To ensure security and compliance, look for partners who meet PCI DSS standards and are NACHA-preferred, with advanced encryption, tokenization, and fraud detection systems to minimize the risk of cyber-attacks and data breaches and protect clients' personal information.
How Classic Management Improved Customer Service and Reduced Operational Expenses by over 75% With Enumerate Central
Classic Management struggled to manage a growing number of doors, creating operational inefficiencies and communication gaps between homeowners and board members. They needed a solution to streamline payment processing, business processes and improve customer service while keeping costs in check.
So, they partnered with TOPS [ONE], a cloud-based property management software, to streamline their billing process, provide instant updates, and improve communication between residents, board members, and the property management company.
TOPS [ONE] implemented a payment processing solution to send automated monthly invoices, receive payments, and keep records updated instantly.
Results?
Classic Management reduced customer service-related inquiries, increased the predictability of future revenue and expenses, and delivered innovative solutions to residents and homeowner associations. The company improved customer service and reduced operational expenses by over 75%!
Start Today, Partner with iCG
Adopting automated recurring payments is no longer a mere option for HOA software providers but a critical component to staying competitive.
The rise of automated recurring payments has brought significant benefits to the HOA industry, from improving cash flow and reducing operational costs to enhancing customer satisfaction. If you are ready to expand and grow your business, consider partnering with established payment processing companies rather than investing resources in building their own systems and enjoy a competitive advantage and extra revenue.
Want to learn more? Schedule a call and speak with one of iCG's experts today!