Running an HVAC business is no easy feat. Not only do you have to keep up with maintenance requests and repairs, but you also have to ensure that customers are satisfied with their services. However, there is one thing that's more challenging and can quickly put a damper on all their hard work - payment processing, which includes slow and delayed payments, disputes, and manual processing. These challenges can cause considerable losses to any HVAC business.
That's where a reliable HVAC software solution provider with robust payment processing solutions comes in. By integrating virtual terminals into HVAC software, software vendors can streamline the payment processing system and workflow while designing a seamless payment experience for customers.
Read on to explore how virtual terminals are the future of HVAC software integration and how you can use them to grow your business in 2023.
What Are Virtual Terminals?
Virtual terminals enable merchants to process payments in real-time quickly and easily without using paper money or cards. With a virtual terminal, you can securely accept credit and debit card payments, manage customer data, process refunds or chargebacks, and keep a record of all your transactions in one place, making it a comprehensive payment solution for businesses of all sizes, including HVACs, who offer on-demand, pay-as-you-go services of varying amounts.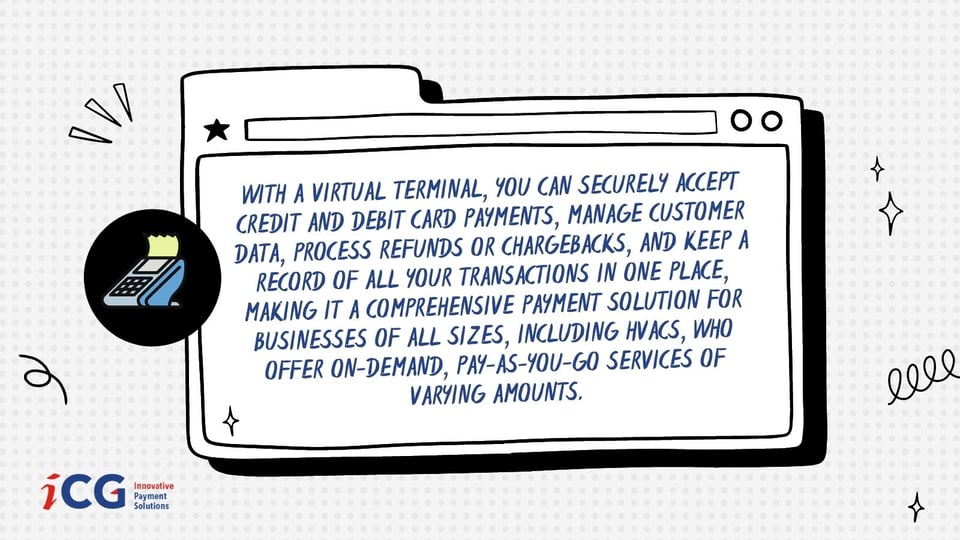 To understand the benefits of virtual terminals for HVACs, let's first explore their challenges:
Common Challenges Faced by HVACs
HVAC businesses face several common payment processing challenges, making virtual terminals a viable solution.
Slow Payment Processing
Traditional payment methods, like checks or cash, can take time to process, leading to delays in receiving payments and irregular cash flow.
Payment Disputes
HVAC businesses may face customer disputes regarding the amount charged or the quality of service provided, which can be time-consuming and require manual intervention.
Manual Payment Entry Errors
Using traditional and manual data-entry payment methods often leads to inaccuracy and errors in data recording, such as typos in names or personal details or incorrect amounts, resulting in inefficient data management and payment processing delays.
Lack of Payment Options and Security
Studies show that 79% of American consumers have at least one credit card or charge card. Therefore, limited payment options, such as only accepting cash or checks, can make it difficult for customers to pay for HVAC services and may result in lost business. Moreover, managing several payment channels increases the risk of fraud and data breaches.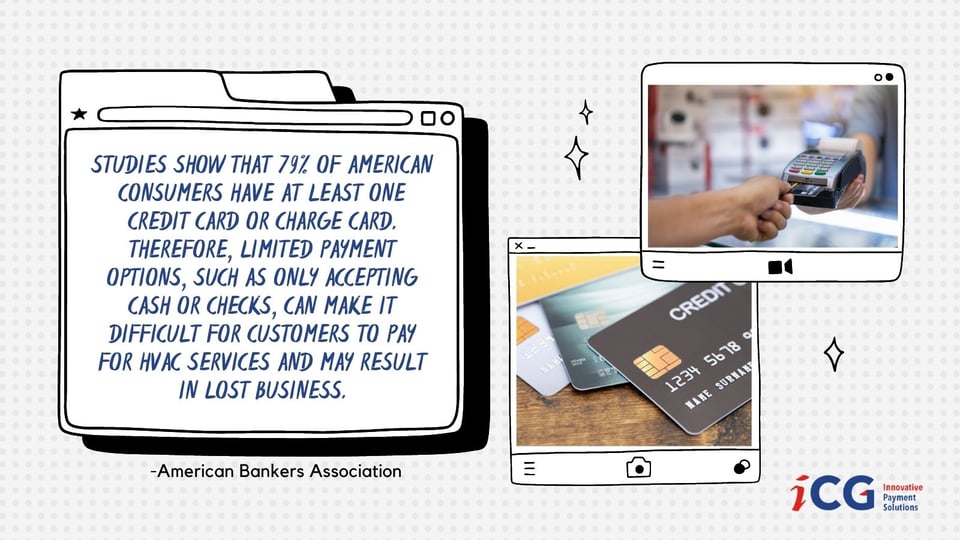 This is why virtual terminals have become an effective solution for HVACs. Here's a quick rundown of the benefits virtual terminals offer to HVACs:
Benefits of Virtual Terminals for HVACs
Faster Payment Processing
HVACs can process payments in real-time, resulting in faster access to funds, reduced wait time for businesses and customers, and improved cash flow for day-to-day activities.
Reduced Payment Disputes
Virtual terminals provide an accurate and reliable record of payments, reducing the likelihood of payment disputes between HVAC businesses and their customers.
Simplified Payment Entry
Manual payment entry can be time-consuming and prone to errors. By automating the process, businesses can save time, money, and other resources required to maintain data and increase accuracy.
Increased Security
Virtual PCI-compliant terminals, like those offered by iCheckGateway.com, employ advanced encryption and tokenization technologies to protect sensitive financial information and ensure secure transactions.
Better Customer Experience
Virtual terminals enable several payment methods, including ACH, credit/debit transactions, and mobile payments. This leads to a more convenient payment option for customers to pay from anywhere with an internet connection, improving overall customer satisfaction.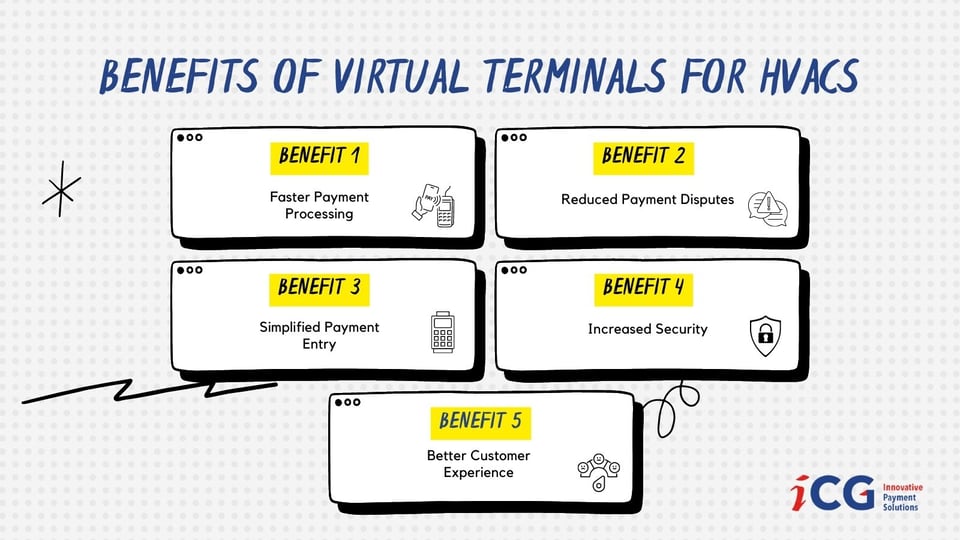 Are virtual terminals a potential business opportunity for HVACs software providers?
Impact on HVAC Software Providers' Bottomline
Increased Revenue
By offering virtual terminals, HVAC software providers can generate additional revenue streams through installation, development, transaction fees, and other charges.
Improved Customer Retention
Customers are more likely to buy from vendors who value their needs and requirements and go the extra mile to fulfill them. Offering an additional service like virtual terminals that streamline one of their core business operations and save them resources leads to longer client relationships, higher customer satisfaction, and deepened trust.
Competitive Advantage
As of January 2023, over 145,000 HVAC contractors run their businesses in the U.S. Software providers who build solutions that offer end-to-end services can differentiate themselves from their competitors and attract new clients.
Increased Efficiency
Virtual terminals can increase the efficiency of payment processing for both the HVAC business and the software provider by automating a large chunk of tasks, saving time and resources, which can be allocated to other business areas to drive growth and profitability.
Must-Have Features of Virtual Terminals
Customizable Payment Plans
Ensure that virtual terminals can be customized to suit the unique needs of HVAC businesses, such as adding fields for additional customer information, creating custom invoices, and setting up recurring payments.
Real-Time Reporting and Analytics
Prioritize providers who offer virtual terminals with a comprehensive dashboard to overview real-time reporting and tracking of payments, allowing HVAC businesses to keep track of their financial data and monitor cash flow more efficiently.
Flexible and Scalable
Virtual terminals should easily accommodate the growing needs of HVAC businesses, from small to large enterprises, without needing costly hardware upgrades or additional investment.
Seamless Integration
Ensure the virtual terminal integrates seamlessly with your existing HVAC software and payment processing systems and easily blends into existing workflows without extra installations.
Multiple Payment Methods
A study by Weave reveals that businesses that accept four or more payment options bring in 7x more annual revenue than those that accept fewer than four payment options. So, look for a virtual terminal that supports multiple payment methods, including credit/debit cards, ACH, eChecks, and recurring billing.
Partner with iCG!
Virtual terminals offer a single channel for businesses to securely process credit card payments, automate recurring payments, and manage payment disputes while providing customers with a more convenient and seamless payment experience. This could be the underrated tool for your software business to increase your revenue and accelerate your business growth.
Ready to grow your business? Learn how to build strategic partnerships with third-party payment processing providers to offer virtual terminals to your clients without spending any resources. Or schedule a call with us today to learn how you can partner with iCG to transform your payment processing.