Have you ever had to pay a utility bill, say an energy bill, only to be frustrated with the payment options available? Your client's consumers might be dealing with the same issues and looking for a better payment experience. PYMNTS.com reveals that bill and payment processing is feasible for 53% of utility and consumer finance corporations, but only 12% of these firms use digital channels.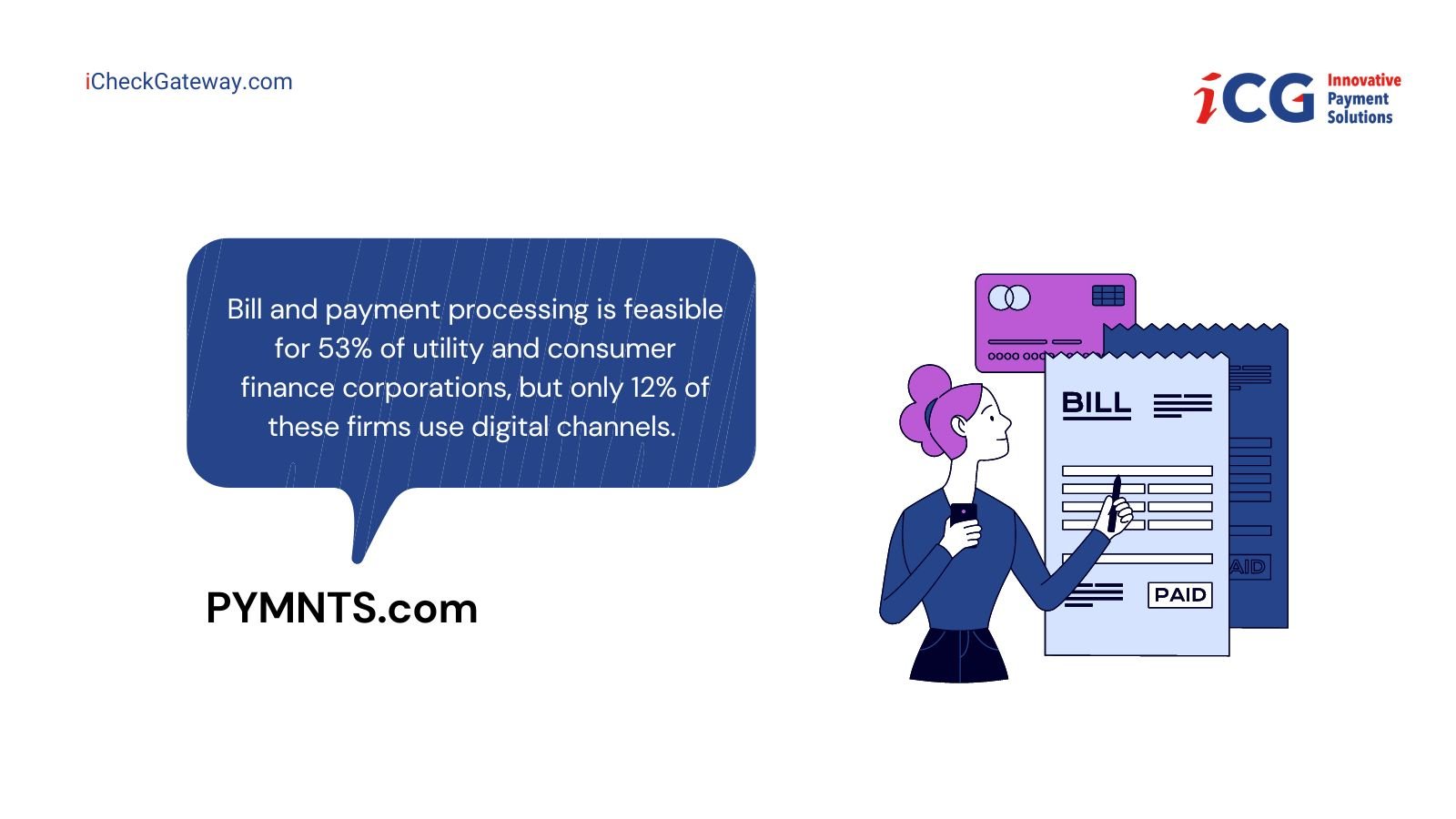 As a utility management software provider, it's your chance to offer your clients additional services for a seamless customer experience - including payment processing services helping automate and streamline administration tasks. But that's not all – you can also increase revenue, reduce operational costs, and help you stay competitive.
Let's dive into one of the most popular payment processing solutions for utility management software providers - hosted payment portals. We'll explore its benefits, key features, and how you can offer it to your clients to enhance consumers' payment processing experience.
What Are Hosted Payment Portals?
Hosted payment portals are a secure and user-friendly interface for customers to make electronic payments for their utility bills, which are usually offered by third-party online payment processing solution providers like iCheckGateway.com. The custom portal integrates into utility management software and accepts several payment options, such as credit/debit card payments, ACH payments, and mobile payments, in one place.
Why You Should Offer Hosted Payment Portals as a Service
While it may look like an external offering, hosted payment portals actually integrate into your current services perfectly upon closer look. Here's how:
Enhanced Customer Experience
Customers enjoy convenience with a range of payment processing options to pay bills, including ACH payments and credit/debit card transactions. With automatic payment reminders, real-time payment confirmations, and customizable payment plans, you can help customers efficiently manage their bills and make timely payments without delays or queries.
Check out this short video to see how end customers use a payments portal solution to complete transactions:
Streamlined Operations & Improved Efficiency
Hosted payment portals automate the payment collection process, eliminating the need for manual processing, saving resources for other critical strategic tasks, and improving the speed and accuracy of payment processing. Moreover, hosted portals offer a single channel to accept all kinds of payments, reducing the time and effort required to manage different channels. The flexibility in payment options helps them collect payments more efficiently.
Increased Revenue
Companies can save money, effort, and resources by automating payment processing, freeing them up for other operative and strategic tasks, or expanding their business. Customers are more likely to pay on time with multiple payment options available at a click, such as SMS notifications, email invoicing, and recurring payment options. In fact, utility companies reduce administrative expenses by up to 25% by using digital workflows.
Providers can save money and increase their bottom line by reducing payment processing costs and fees.
Increased Flexibility
Hosted payment portals enable customers to make payments anytime, anywhere, without manual intervention or additional fees through multiple payment options. Utility management software providers can improve customer satisfaction and retention by offering secure and convenient payment options. Some of the most widely used payment solutions include:
Improved Security
A study by JP Morgan shows that 66% of organizations encountered check fraud in 2020, making traditional methods riskier.
However, hosted payment portals offer high security for both the utility management software provider and their customers. Hosted payment portals are equipped with advanced fraud prevention tools and employ encryption and tokenization to protect customer data and prevent suspicious transactions. In addition, they can offer an added layer of protection by keeping the payment processing separate from the central software system, minimizing the potential impact of any security incidents.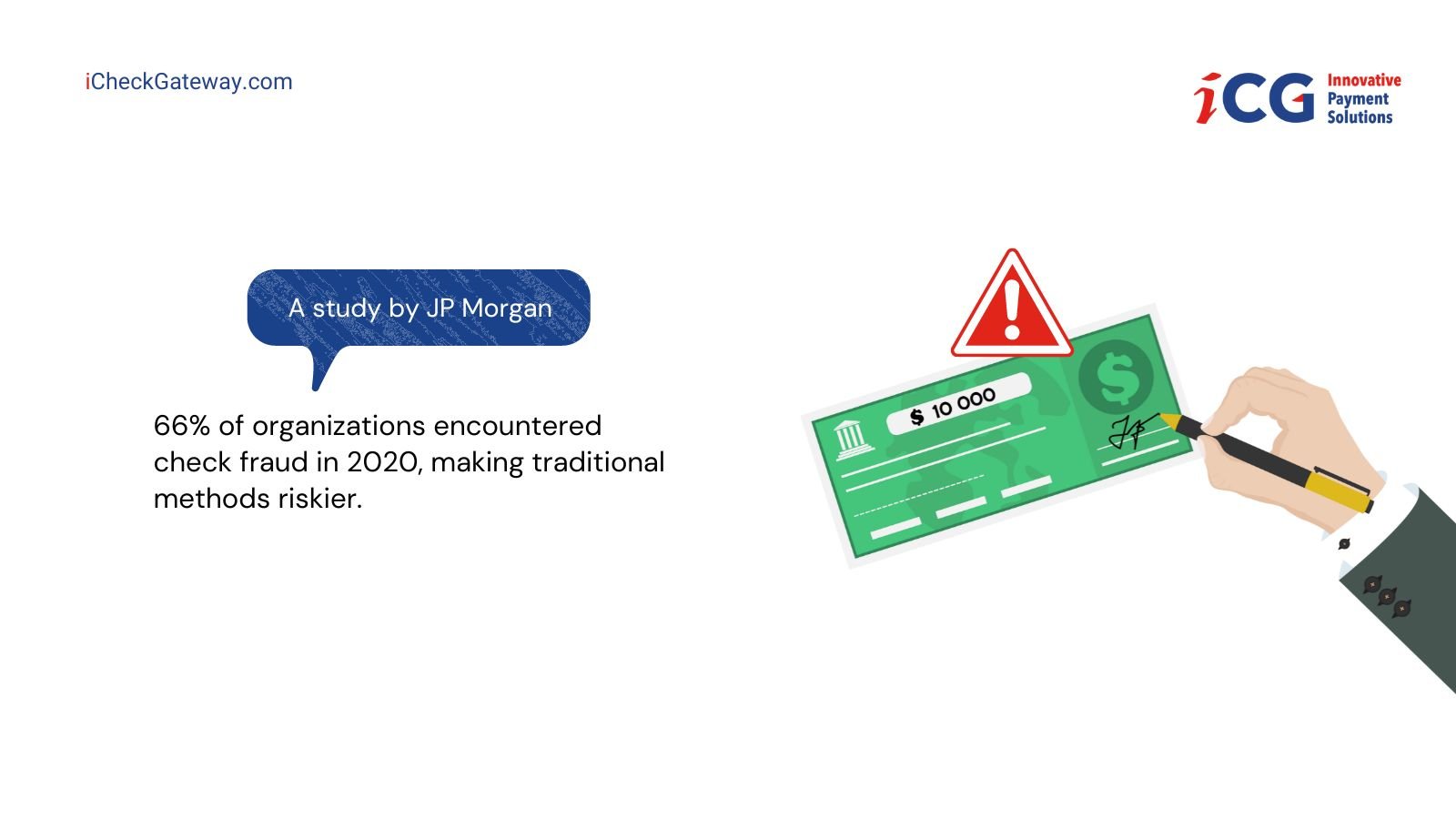 More Analytics and Insights
Inbuilt analytics tools help companies overview day-to-day, monthly, and quarterly transactions, identify gaps, and make data-driven decisions. Further, these tools help to offer services and payment options and improve their payment processing capabilities and customer experience.
Additionally, as a software service provider, this also impacts your bottom line. Adding a service creates an additional source of income. It offers a comprehensive solution to your customers, thereby increasing your revenue, instilling confidence, and building a reputation for reliability, security, and end-to-end solutions. Not only this, integrating payment processing solutions for your business can help you enjoy similar benefits, reducing payment processing costs and improving the client's experience.
What Are the Key Features of a Hosted Payment Portal for Utility Management Software Providers?
When developing hosted payment portals for a utility company, consider the following features to offer secure, reliable, and robust payment processing:
Multiple Payment Options
A hosted payment portal's primary function is to process payments through multiple channels, including ACH processing, credit and debit card payments, and mobile payments, in one place, eliminating the hassle of operating different portals.
Customizable Payment Plans
No two companies run in the same way. Different companies have different needs and requirements. A good payment processing provider offers custom plans that align with the company's requirements and customers' needs, including recurring payments or installment plans, to increase customer satisfaction.
Automatic Payment Reminders
Automatic payment reminders help you automate the process of reminding customers and clients about the due payment without worrying about segregating lists of late-paying customers, reducing the administrative burden and the number of missed or late fees.
Integration With Existing Systems
Another essential feature of any software is its ability to integrate with the current systems to streamline operations without additional costs and installations. Look for providers who have industry experts and proven frameworks to integrate smart payment solutions into legacy systems.
Security and Compliance
A hosted payment portal must ensure the safety of clients' private information. Consider PCI DSS standards-compliant and NACHA-preferred partners with advanced encryption, tokenization, and fraud detection systems to minimize the possibility of cyber attacks or data breaches.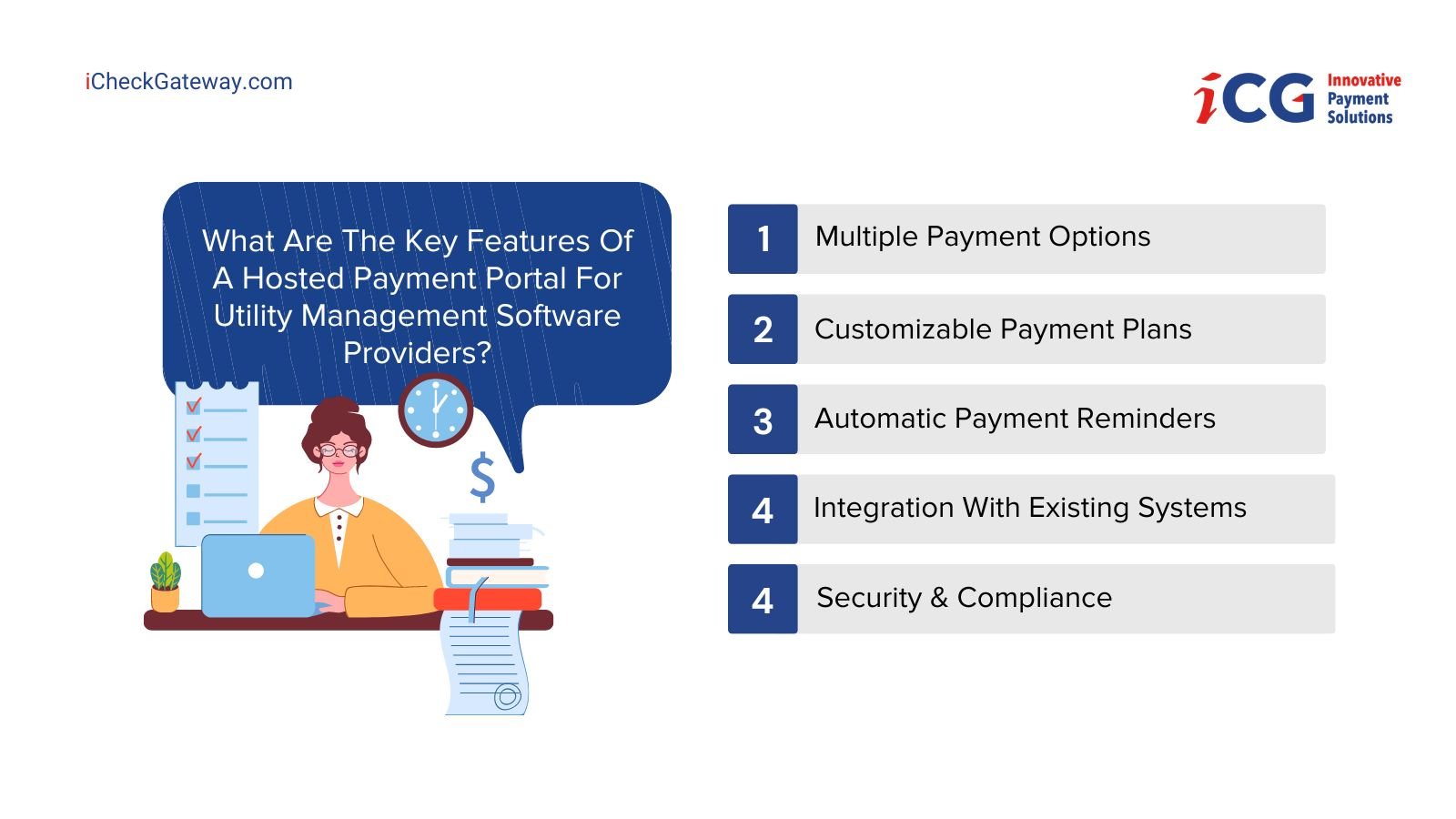 Are Partnerships with Payment Processors Really Worth It?
Check out how Paymentus helped BWL experience a 480% increase in recurring Autopay registrations within the first 90 days.
The Lansing Board of Water & Light (BWL) is Michigan's largest municipality-owned electric utility, serving over 97,000 electric and 56,000 water customers in the greater Lansing area. Their biggest challenge was to improve the collection process and offer better customer service.
So they partnered with Paymentus, a payment processing solutions provider, to implement a modern electronic billing and payment platform.
The platform aimed to improve customer service, revenue collections and reduce days outstanding sales. With a single, real-time integration, Paymentus simplified BWL's daily tasks through automation and user-defined workflows.
The new system gave customers flexibility, accessibility, and a user-friendly experience to drive digital adoption.
Within the first 90 days, BWL saw significant improvements:
480% increase in recurring Autopay registrations

36% increase in automated phone payments (IVR)

30% increase in web and mobile customer portal users
Take a Step Ahead!
With the utility management industry changing at lightning speed, adopting hosted payment portals is no longer an option, but a strategic imperative. By staying ahead of the curve and providing a payment experience that delights customers and optimizes revenue collections, utility management software providers can carve out a competitive advantage that sets them apart in the crowded marketplace.
By partnering up with third-party payment processing providers, utility management software providers can instantly start offering new services without spending a single penny on building a team or buying software and hardware and immediately see incoming revenue. Ready to increase your growth? Talk to the experts at iCG to learn more.