In 2021, four in five Americans used some form of digital payment. They used in-app online purchases, browser-based purchases, QR codes, and person-to-person payments. However, according to a survey by Consumer Action, 63% of respondents said they prefer to receive utility bills by mail. This might seem contradictory. However, this discrepancy is an opportunity for banks and credit unions to attract more commercial clients, especially utility companies.
And here's why. Although most respondents prefer to receive paper bills, 55.5% said they prefer to pay them online.
By offering digital payment solutions tailored for utilities, you can leverage the benefits of digitalization while meeting consumers' and utility providers' needs and preferences.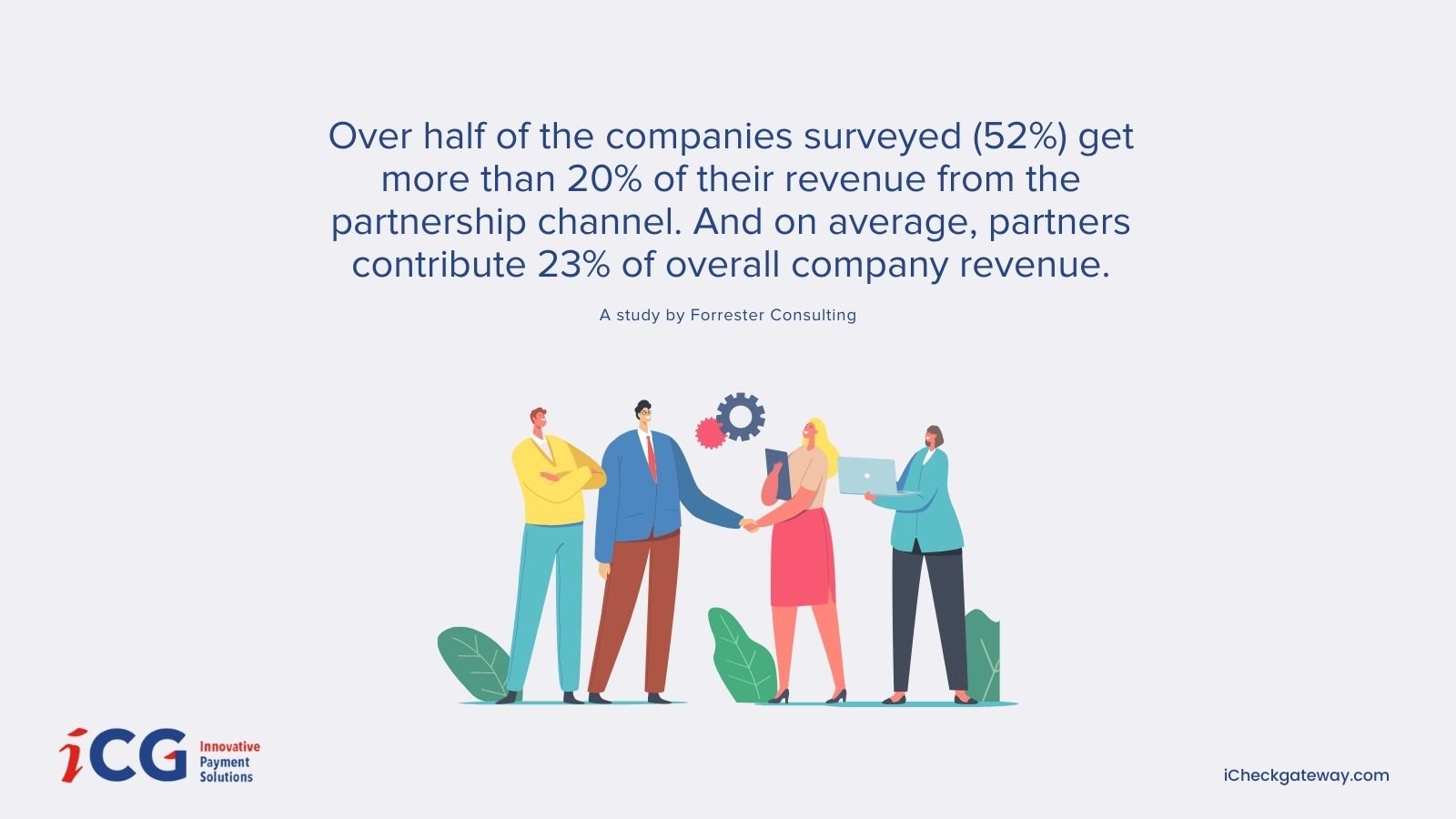 What Are the Benefits for Small Banks and Credit Unions Offering Payment Solutions to Utility Companies?
This strategic move coupled with powerful payment technology for banks and credit unions expand their commercial client base and positions them as valuable partners in the financial ecosystem. Let's explore the key advantages in more detail:
Increased Revenue Streams
A study by Forrester Consulting found that "over half of the companies surveyed (52%) get more than 20% of their revenue from the partnership channel. And on average, partners contribute 23% of overall company revenue."
So, by providing payment solutions to utility companies, small banks and credit unions open up new revenue streams.
They generate income through transaction fees, processing fees, or service charges associated with facilitating electronic utility payments.
Enhanced Customer Acquisition and Retention
Utility companies often seek financial partners who can provide efficient and secure payment processing services. So, if your bank and credit union is able to offer that, then you can easily attract and retain these commercial clients.
Business Growth and Market Differentiation
This niche market is often underserved by larger financial institutions because most utility companies still send paper bills. Offering digital payments to utility companies presents an opportunity for you to carve out a unique position in the industry and establish yourself as an expert in utility payment solutions.
This market differentiation leads to increased visibility, brand recognition, and business growth.
Operational Efficiency and Cost Savings
Let's say you already serve these commercial clients. Implementing digital payment solutions streamlines the billing and payment processes, leading to improved operational efficiency. Automated systems handle bill generation, payment processing, and reconciliation, reducing manual efforts and associated costs.
Furthermore, transitioning from paper-based to electronic billing helps cut down on printing, postage, and paper costs, contributing to overall cost savings.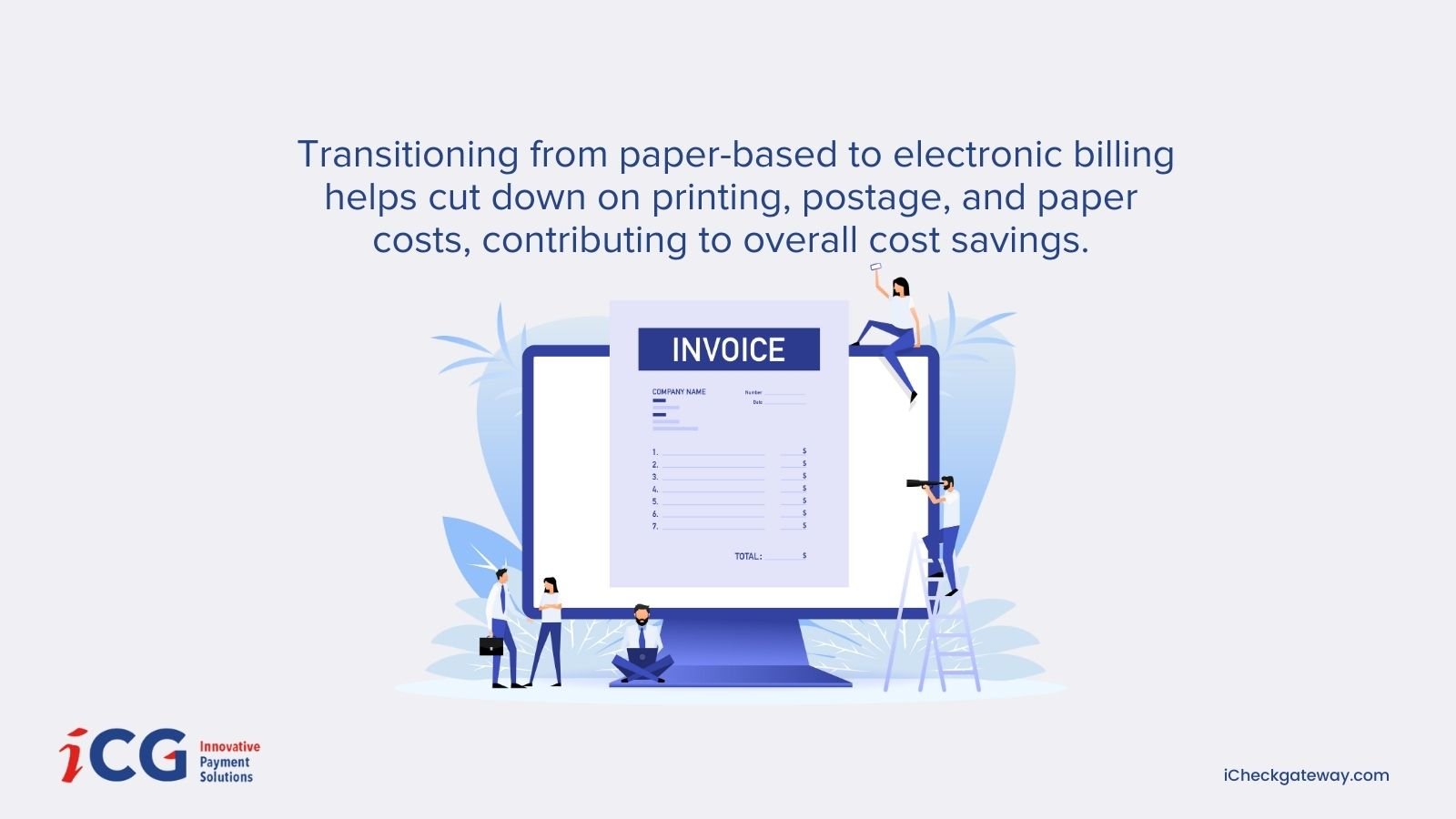 Key Payment Solutions to Offer to Utility Companies
There are tens of payment solutions, but some are particularly well-tailored to utility companies. Here are the best ones to prioritize:
Mobile Payments
As of May 2023, the number of smartphone users worldwide stands at a staggering 6.92 billion. With smartphones becoming ubiquitous, mobile payment solutions have gained popularity due to their convenience, security, and ease of use.
Mobile payments for businesses empower consumers to transact anytime, anywhere, using their smartphones. With a few taps on their screens, they can securely pay for goods and services, including utility bills, without needing physical cash or cards. So, offering mobile payment solutions to utility companies greatly enhances the payment experience for their customers.
Recurring Payments
Recurring payments, also known as automatic payments, offer convenience for customers and predictability for businesses. Recurring payment options for utility bill collection reduce the incidence of late payments, leading to fewer fees and less time spent on collections.
How do you offer recurring payments? Use these methods:
ACH Debits

-

Automated Clearing House (ACH) debit

involves setting up an automatic debit from the customer's account each billing period.

Credit Card Billing

- For customers who prefer to use a credit card, recurring payments automatically charge the card each billing period.

Online and Mobile Banking Integration

- Integrate recurring payment setup and management into your online and mobile banking platforms. This allows customers to set up and manage their recurring payments independently.
Email Invoicing
This system allows utility companies to send their customers' bills via email instead of traditional postal mail. Email invoicing for banks and credit unions eliminates the costs associated with printing and mailing paper invoices. This results in significant savings for the financial institutions and utility companies.
Bills are also delivered instantly via email, speeding up the billing cycle and potentially leading to faster payments.
Additionally, you might want to explore the following payment solutions:
How Small Banks and Credit Unions Can Successfully Implement Payment Solutions for Utility Companies
Successfully implementing payment solutions requires a well-thought-out strategy.
Here are some steps to take to ensure a successful rollout:
Understand the Needs of Utility Companies
Start by conducting thorough research to understand the unique needs and pain points of utility companies.
Try to find answers to these questions:
How does the company currently process payments, and where can improvements be made?

What are the preferences of the utility companies' customers?

What are the utility company's current security measures, and do they have any concerns?

Do they require customizations?
Use surveys, interviews, or simply analyze available data to get answers to these questions.
Partner with a Payment Processor
After knowing what the utility companies are looking for, it's time to get into a strategic partnership with a payment processor.
Here are a few considerations to keep in mind when choosing a payment processor:
Look for a payment processor with a solid track record in managing high-volume transactions and

expertise in the utility sector

.

Choose a payment processor that offers a

variety of utility company payment options

, such as online payments, mobile payments, recurring payments, and more.

The payment processor should be able

to integrate their system

with both the bank's systems and those of the utility companies.

Choose a payment processor with

robust security measures

in place to protect against fraud and data breaches.
Provide Training and Support
Both utility companies and their customers may need assistance transitioning to new payment methods. Offer comprehensive training and support to ensure a smooth transition. This involves tutorials, FAQs, live support, and other resources.
Benefits for Everyone Involved
Benefits of Mobile Payments for Utility Companies
Convenience for customers

- Customers can pay their utility bills anywhere and anytime.

Enhanced security

- Mobile payments use secure authentication methods like fingerprint recognition or face ID.

Sustainability

- Mobile payments are more environmentally friendly than paper-based payment methods.

Integration with mobile services

- You can easily integrate other mobile services, such as notifications about upcoming bills, usage tracking, or customer service queries.
Benefits of Recurring Payments for Utility Companies
Predictable cash flow

- This leads to stability, which aids in financial planning and budgeting.

Reduced late payments

- With automatic payments, late or missed payments are significantly reduced.

Lower administrative costs

- Utility companies can reduce administrative tasks such as payment reminders, bill processing, and manual payment entry.
Benefits of Email Invoicing for Utility Companies
Reduced errors

- You can automate and integrate billing with other systems, reducing the risk of human error.

Real-time updates

- Utility companies can track when email invoices are sent and opened, providing valuable feedback on the invoicing process.

Easy access to invoice history

- Unlike a paper bill that you can easily lose or misplace, with electronic invoicing, the company, and the customer can easily access past invoices.
Partner with iCG
At iCheckGateway.com, we provide a suite of secure payment processing for credit unions and banks, such as ACH processing, credit card processing, and even check verification services. We are also a Nacha-preferred partner, ensuring that our electronic payment processing for credit unions adheres to the highest industry standards and compliance requirements.
Partner with us today to enhance your offerings to utility companies.