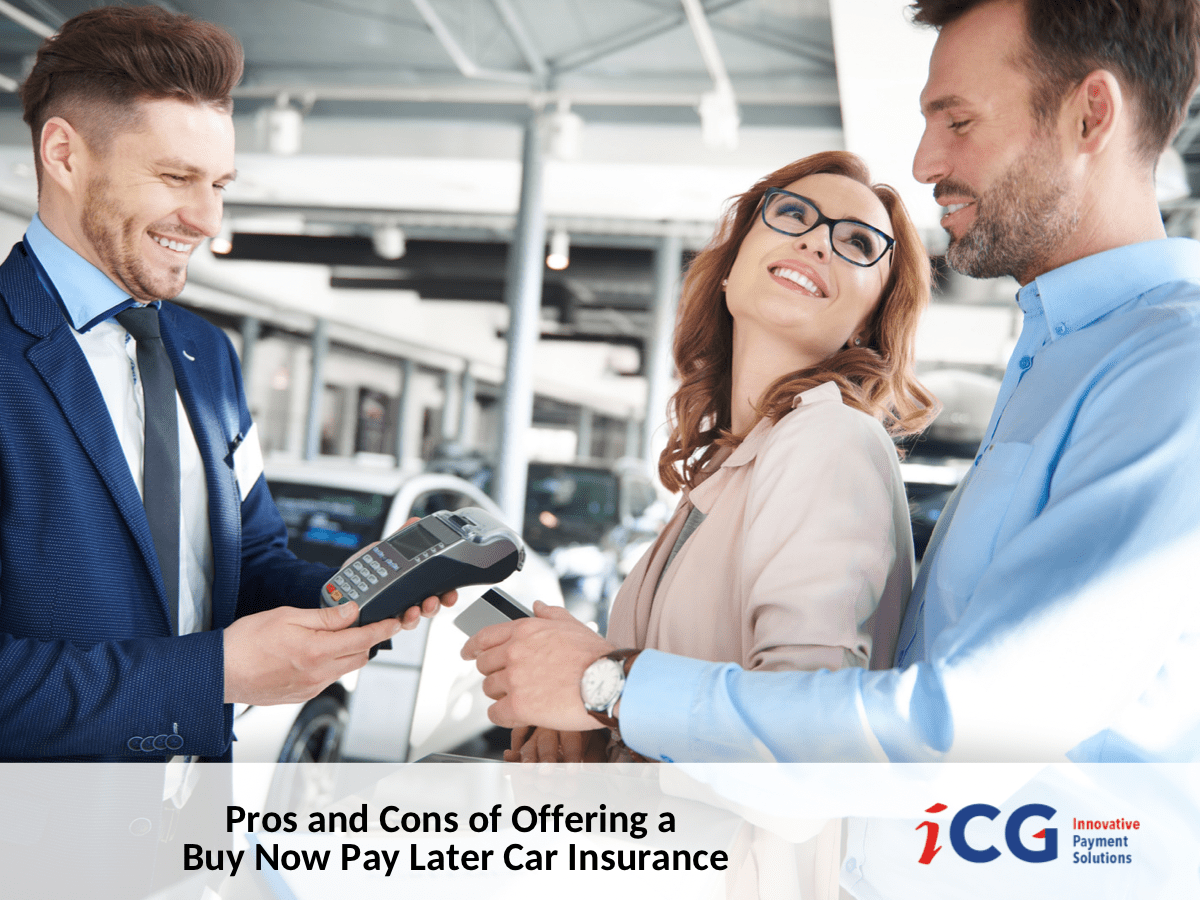 Pros and Cons of Offering a Buy Now Pay Later Car Insurance
Car insurance payments are some of the most cumbersome (yet necessary) payments that one cannot afford to miss. An individual may attract a heavy fine/penalty from the cops if found driving without car insurance. Moreover, the settlement payment may wreck someone financially if they get into a car accident without valid insurance coverage.
Studies show that the average American spends $1771 per year on car insurance, which is nearly 2.57% of the average American's annual income. Now, insurance payments may seem like an unnecessary cost for people who drive safely and do not get into traffic accidents. However, one needs to consider that these payments offer unparalleled peace of mind for the drivers. In the event of an unlikely accident, this insurance scheme will come to the rescue of the driver for medical and car repair costs. Insurance companies now offer lucrative liability insurance quotes for drivers that drive safely, buy a car with advanced safety features, have a spotless driving record, and have a stellar credit score. They also have attractive insurance offers for first-time car buyers and students.
Types of Important Car Insurance Payment Methods
These companies have tie-ups with payment processors to accept insurance premium payments in one or more of the following ways:
Online Check / eCheck / ACH:

ACH payments

are affordable and efficient. They usually offer the lowest processing costs. Drivers can automate their car insurance payments with the

recurring billing technology

offered by modern-day ACH payment processors.

Debit or Credit Cards:

Card payment

is the most popular way for drivers to pay their installments quickly.

Hosted Payment Portals:

Drivers also leverage

hosted payment portals

to automate their insurance payment processes.

IVR Payments:

IVR technology

helps drivers pay monthly insurance premiums over an automated IVR phone call.

Personal Check or Money Order:

Some old-fashioned drivers who are uncomfortable with online payments prefer paying their installments via personal checks or money orders.
Consumers often use one or more of these payment technologies to pay for their auto, life, homeowners, and renters insurance. In the case of abnormally high insurance amounts, insurance carriers say, "Get car insurance now, and pay later!" How? Let's find out!
What is a Buy Now Pay Later (BNPL) Scheme?
A Buy Now Pay Later Scheme (acronym: BNPL) is a payment option that allows the buyer to purchase services/goods and pay for them over time as equated monthly installments.
Most BNPL schemes have evolved over the last few years. Initially, the project was meant only for smaller purchases (mostly <500$) in which the consumer could pay in 4 equal installments over 6-8 weeks. The modern-day BNPL schemes support larger purchases for which the consumer can pay for an extended period (up to 36 months). The traditional BNPL plans were interest-free; however, the modern ones usually have additional interest payments associated with the principal amounts, usually for more significant amounts.
Types of BNPL Schemes
There are primarily three types of BNPL schemes based on the payment type and customer-merchant relationship. However, one may classify these schemes based on their service model and payment plans.
Pay-in-4 Scheme
Primary Payer:

Merchant

Purchase Size:

<$200

Repayment Tenure:

<5 months

Applied Repayment Interest Rates:

0%

Industry:

Travel, Jewelry. Retail
Emerging Hybrid BNPL
Primary Payer:

Merchant + Consumer

Purchase Size:

$500 – $20k

Repayment Tenure:

Up to 36 months

Applied Repayment Interest Rates:

5 – 18%

Industry:

Auto repair, home improvement, healthcare
Traditional Credit/POS Financing
Primary Payer:

Consumer

Purchase Size:

$20k – $50k

Repayment Tenure:

Up to 60 months

Applied Repayment Interest Rates:

14 – 36%

Industry:

Auto repair, auto financing
Benefits of a BNPL Scheme for the Insurance Company
We know that consumers that leverage the BNPL schemes correctly can save a lot of money and time. Savvy consumers often opt for interest-free BNPL plans and reinvest the funds at hand into high-return instruments such as the stock market. However, how do the insurance companies leverage BNPL? Here are a few benefits for the insurance companies that adopt such schemes:
Increased Sales:

Companies attract more customers by offering them a payment plan which makes the total payment more affordable.

Reduced Cart Abandonment:

Customers who want to adopt the additional coverage options but cannot afford to pay outright adopt BNPL schemes to lower their upfront costs. Insurance companies often use this opportunity to showcase a lower monthly price for their products, pushing the customers to purchase more.

Increased Average Order Value:

Customers use the extra money on hand to improve their overall purchase size by opting for long-term payment plans.

Better Customer Service:

Insurance companies that offer premium/costly insurance rates serve their customers' needs by adopting the BNPL plan.

Faster Payment:

The credit card or BNPL agency undertakes the payment plan at additional interest. In such cases, the insurance company receives the complete payment of the product/service upfront.
Concerns about a BNPL Scheme for the Insurance Company
The BNPL scheme also has some downsides. Consumers who are not great with savings go over their heads and purchase more than they need, attracted by the lower installment cost. Here are some concerns about a BNPL plan for the merchant.
Higher Merchant Fees:

The insurance company and the consumer attract additional fees while adopting a BNPL plan. However, most insurance companies add these additional costs to the product's final price to ensure they do not eat into the profits.

Additional Upfront Investment:

Companies often need to spend more to integrate other technologies and partner with third-party vendors to launch such plans.

Accreditation challenges:

All businesses do not have access to the BNPL scheme. An insurance company must check the availability and accreditation criteria before launching such a scheme for the consumers.
Auto insurance companies often partner with reliable third-party payment processors to adopt the latest payment technologies for their consumers. These companies attract more consumers by offering modern, fast, low-cost payment options. Most consumers are willing to pay slightly higher insurance rates if they can get the convenience of paying via a buy now pay later car insurance scheme.
Download our catalog to learn more about the latest innovative payment technologies.
Date originally published: June 22, 2022