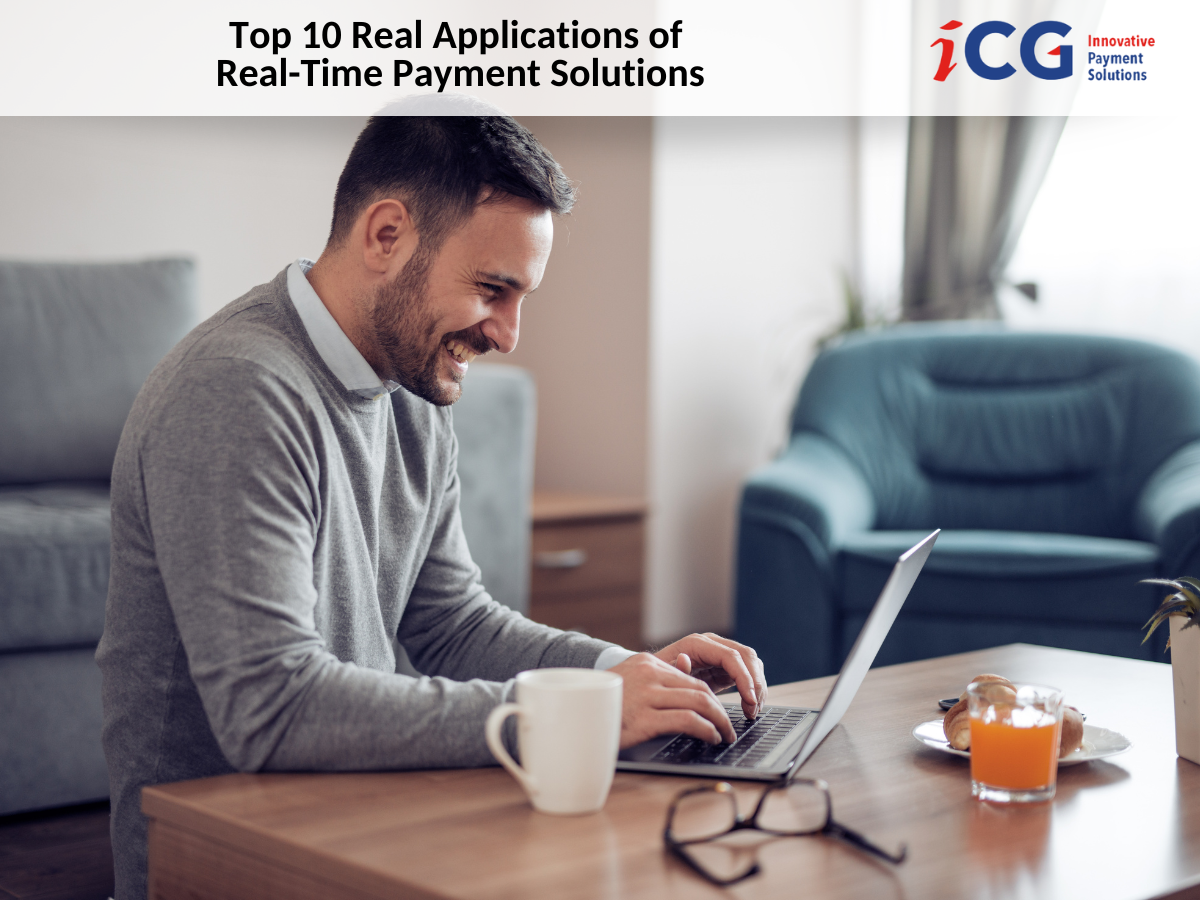 Top 10 Real Applications of Real-Time Payment Solutions
It is NOW or NEVER. Quite literally. The world of payments has seen a massive transformation in the last two decades, and the growth is not stopping any time soon. Technological innovations in Artificial Intelligence, Cybersecurity, Machine Learning, and the Internet of Things have propelled the payments industry into the stratosphere. The increased speed and reduced cost benefits are redefining businesses across various sectors. The latest and greatest innovation comes in the form of real-time payment solutions.
Studies show that the global real-time payments market will grow at an astounding 34.9% CAGR from 2022 to 2030. It is time that financial institutions and business owners look at real-time payments as not just a luxury but a necessity for sustainable business growth. But enough with the statistics and keywords. Let's talk about the practical applications of real-time payments. In this blog, we discuss how business owners use real-time payments today.
10 Applications of Real-Time Payment Solutions
#1 Insurance disbursements
These payment solutions are especially helpful in time-sensitive payment scenarios. Insurance disbursement and settlement are situations where a delay can cause the difference between life and death. Timely health insurance payments can help doctors get the necessary life-saving medicine in the nick of time to save lives.
#2 Tax rebates
Real-time payments save time and processing costs since they can be significantly automated. Using such faster payment systems helps Federal Reserve save expenses and instantly transfer the correct rebate amount to millions of Americans. Intelligent individuals who know how to invest tax refunds can use the rebate funds in various ways.
#3 Supplier/vendor payments
Modern-day business owners use instant payment services with mobile payments, SMS payments, Email Invoicing, and IVR technology to automate their financial processes. They use the recurring billing technology with their merchant accounts to pay their vendors on time without any manual intervention. Vendors also use instant payments to accept payments from multiple business owners automatically.
#4 Utility payments
Large utility companies often offer multiple payment methods to their customers. They use email invoicing to automatically generate invoices for thousands of customers and collect online payments via ACH, credit, and debit cards. With instant utility payments, consumers and businesses can enjoy seamless services from their service providers.
#5 Tips disbursements
People working in the non-profit and services industry heavily rely on tips for their living. Businesses in these industries use instant payment processing to send the collated tips to their employee bank accounts on the same day. Thus, the gig economy workers can enjoy the fruits of their labor without any wait.
#6 Disaster relief funds
The reserve bank always keeps some excess funds to help citizens in the event of a natural disaster. With instant payment services, it can immediately send the funds to the right financial institutions and individuals when needed.
#7 Instant payroll management
Such payment services also help large organizations with instant payroll management. Instant payments coupled with recurring billing offered by the top payment gateways ensure that the employees get paid on time.
#8 P2P and C2B transactions
The FedNow instant payment system will go live in early 2023. In the initial phases of rollout, it will support C2B (Customer-to-Business) and A2A (Account-to-Account) transactions only. However, the support of reliable third-party payment service providers will also help C2G (Customer-to-Government) and P2P (Person-to-Person) payments. Learn more about the FedNow services.
#9 Tuition reimbursements and scholarships
Colleges and schools use instant payments to award tuition reimbursements and scholarships to deserving candidates. Students who often run on limited budgets can use the immediate influx of funds to reduce their overall tuition expenses.
#10 Rental payments
Tenants transfer the rent to their landlords using P2P transfers. They have the option to use card payments to do so, but with services like FedNow, they will be able to transfer the amount instantly at lower processing costs. Discover the FedNow anticipated price points and pilot program details.
Concluding Thoughts
The RTP (Real-Time Payments) network will significantly affect small and medium-sized business owners by giving them a cheaper and faster payment alternative to card and wire transfers. The growth of digital payments on the RTP network with reliable third-party service providers will facilitate speedier business growth. Ideally, business owners should accept payments via multiple payment methods like online ACH, credit and debit cards, and wire transfers to fully capture the larger consumer market. New business owners can start their payments journey by partnering with a reliable, tech-savvy payments processor.
Date originally published: June 07, 2022