It's no secret that ACH transactions have become an integral part of electronic payment systems. To meet the increasing demand for faster and more convenient payments, Nacha introduced Same Day ACH, which allowed money to move from one bank account much faster.
As more customers switch to ACH processing for funds transfers, Nacha announced that Same Day ACH transactions had surged significantly in the first half of 2023. The value stands at approximately $1.2 trillion, a 51.7% increase from a year earlier.
"The growth in the volume and especially the value of Same Day ACH payments shows the impact and the benefits of increasing the payment limit in 2022 to $1 million. Whether it's emergency and unscheduled payroll, insurance claim payments, account transfers or business-to-business payments, these results show that Same Day ACH is a leader in faster payments", read Nacha's statement from President and CEO, Jane Larimer.
So, what else is new in the ACH sector? This blog post will look at the top highlights from the latest Nacha updates.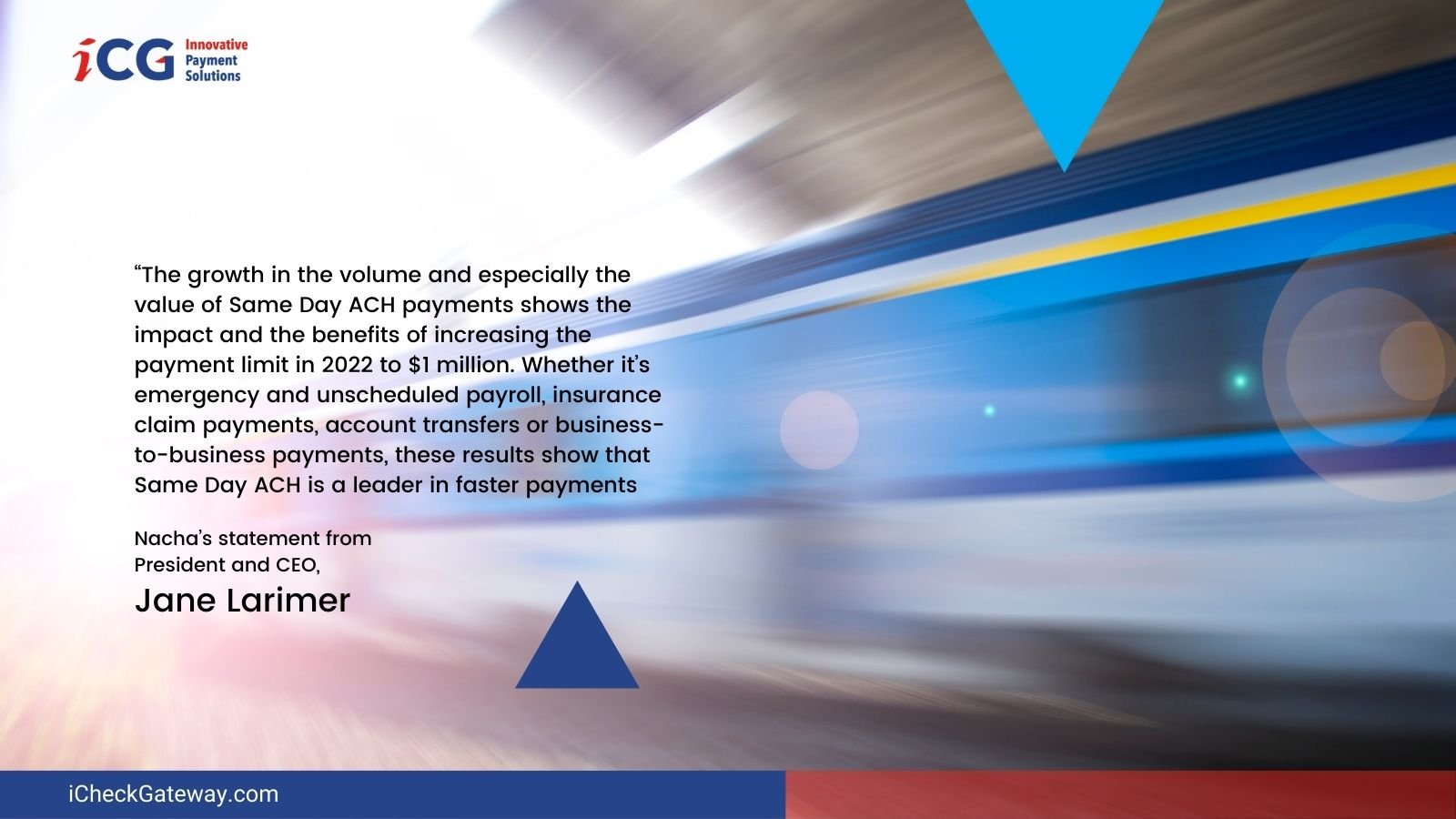 The Latest Statistics on ACH Payments
Based on Nacha's report released on July 25, 2023, Nacha recognized that Same-Day ACH was a massive hit amongst businesses and individuals. It released the following statistics from the first half of 2023:
The volume of Same Day ACH payments stood at 385.6 million, an increase of 13.7%.
For the second quarter of 2023, there were 199.4 million Same Day ACH transactions, an increase of 7.7% from a year ago. The value of these payments was about $612.6 billion, an increase of 26.1%.
The ACH network continued to grow in the second quarter of the year. Companies and individuals used 7.8 billion payments transferring approximately $20 trillion. These are 4.3% and 2.9% increases, respectively, over last year's second quarter.

Business-to-business (B2B) payments increased by 10.4% from a year earlier, surpassing 1.6 billion.

Claim payments to medical professionals went up by 7.5% to 122.3 million.




How Same Day ACH Works
Before 2016, ACH payments took around two to five business days. However, after lobbying from industry professionals and customers, Nacha introduced Same Day ACH transactions. This revolutionary payment processing system ensures that payments can be credited to the recipients' accounts within hours when initiated within the same business day.
When a sender initiates a transfer from a bank account, the money can be processed faster. However, your ACH transactions have to be within the processing deadlines. With this settlement schedule, same-day ACH credits are made available quickly.
In 2020, Nacha increased the Same Day ACH dollar limit per transaction from $25,000 to $100,000. Since 2022, they've expanded the ACH transaction limits to $1 million. This higher limit allows companies to manage high-value services like vendor and supplier payments for businesses, tax payments, and payroll funding.
Benefits of Using Same
Day ACH over Other Payments
Same Day ACH processing has only been around for a few years. However, they significantly impact businesses, individuals, and merchants. Here's how your business can benefit from using these Same Day ACH debits:
Improve Cash Flow Management
Most small businesses require a consistent cash flow to manage their operations. Same-day settlements make it easy to process invoice payments and receive cash. Liquidity becomes problematic if the business is stuck in 30-90 days payment terms. If you run a business, you should set up ACH agreements with your clients to ensure that money is processed to your bank account within 24 business hours.
High Transaction Limit
ACH payments are now integral in different sectors, like healthcare and medical billing. They are also used in service-based industries that usually have high-value transactions. Now that Nacha has increased the transaction limit to $1 million, these companies can get same-day settlements to improve cash flow. This also makes it easy to avoid late payments to vendors.
Faster Transfers
The ACH network will helps with cash management and improving reporting accuracy if you have multiple bank accounts. With Same Day ACH transactions, you can move money from your primary account to other accounts; this information will reflect much faster, making it easier to track your finances.
Reduced Costs
If you need to make a payment, it's essential to consider the transaction costs. Same Day ACH saves you money because it's much cheaper than other forms of payment like wire transfers and credit cards. Therefore, you get expedited payments at a lower cost.
Same-Day Payroll
Same-day processing is quite beneficial to both businesses and employees. You can send salaries on payday through the ACH network, and the employees will receive the cash on time. Same-day credit settlement helps companies to pay hourly or temp workers much faster.
Security
ACH transactions are highly secure compared to manual payments. Since they are governed by Nacha security standards, they are protected to ensure that sensitive financial information is encrypted.
For instance, sending a direct deposit to pay your employee via ACH instead of a paper check reduces the risk of writing the wrong information. In addition, same-day processing mitigates against security issues like wire transfers and misused credit information.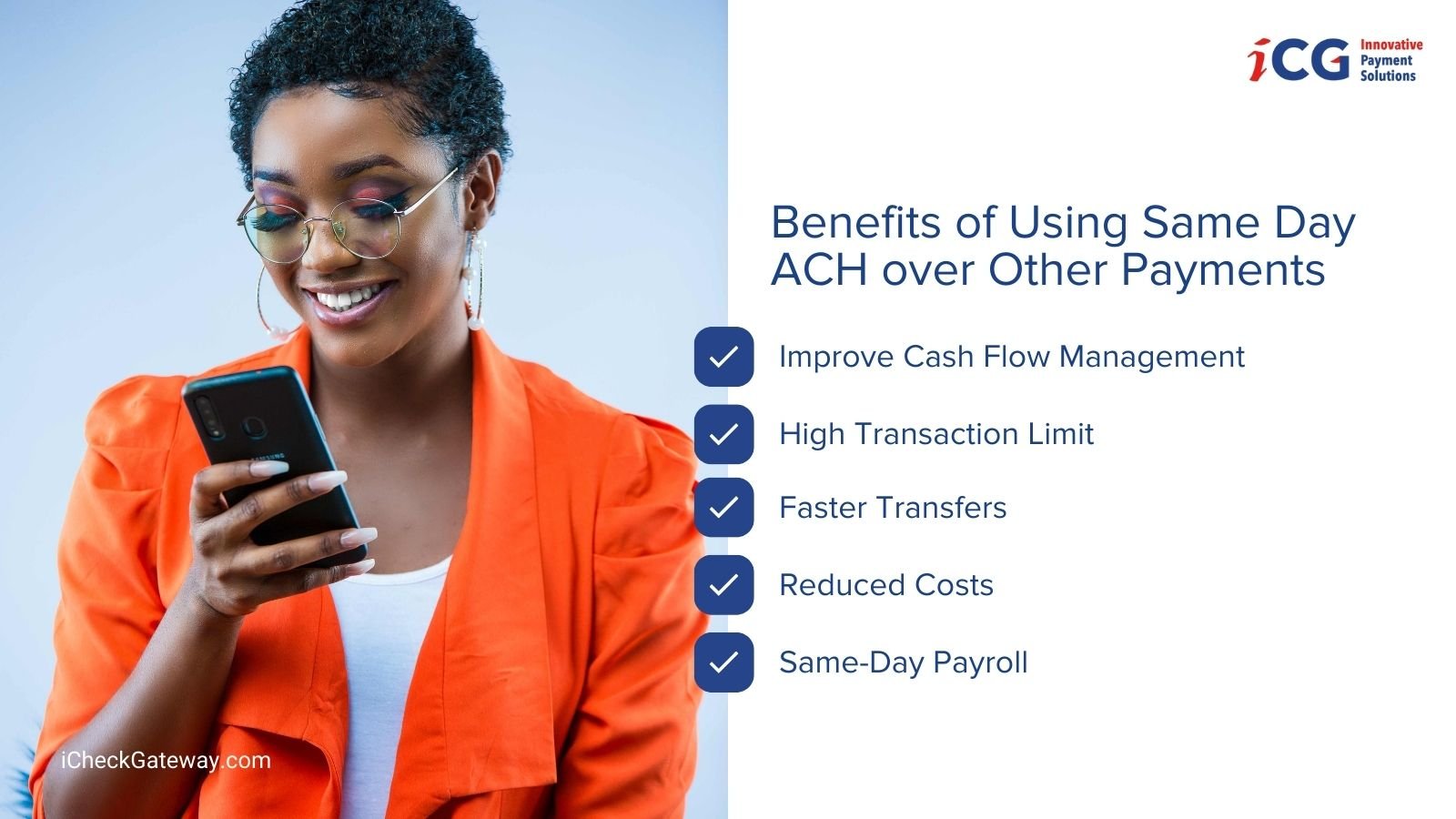 How to Accept Same Day ACH Transfers
To accept ACH payments as a business, here are some of the things you need:
Get a merchant account at your financial institution. This type of bank account should be separate from the business bank account that acts as a holding and settlement account for other payments.

Select a third-party ACH processing provider that specializes in your business category.

Start accepting payments.
Your ACH provider will provide you with a system to process your payments. This includes collecting and verifying customer account information and obtaining necessary customer approvals.
A processor can also provide a payment gateway that allows you to accept payments via securely hosted portals or a virtual terminal linked to your business website. Once this system is in place, you can start accepting payments.
Conclusion
Same Day ACH transfers will help you move money faster. You can rely on this payment system whether you need to improve cash flow management, boost payroll payment, or pay vendors faster. On top of convenience, your payments will be highly secured thanks to the advanced technologies.
Work with a Nacha Preferred Partner, such as iCheckGateway.com, to leverage these benefits. We will deliver the latest ACH technology and offer digital solutions for fast settlements. iCG makes it convenient to accept ACH direct transfers, recurring billing, and remote deposit capture payments (RDC) to get ahead in business.
Speak with one of our experts today to start your payment processing journey.