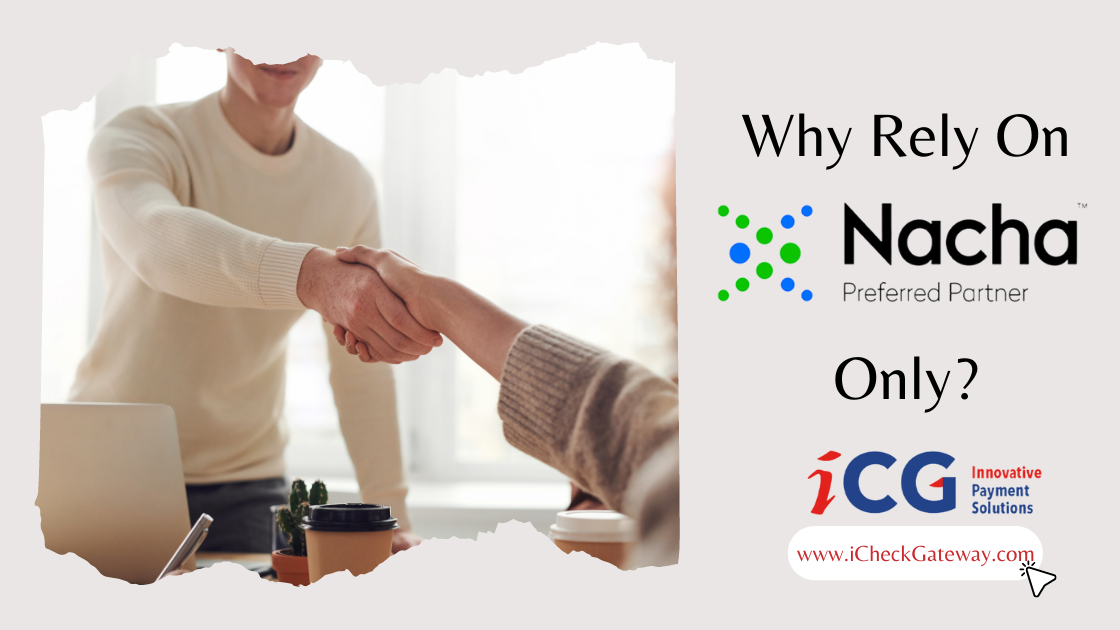 Why Rely On Nacha Preferred Partners Only?
Business owners and financial institutions worldwide are quickly adopting the ACH technology as their primary mode of carrying out heavy transactions. As the volume and efficiency of ACH payments increase, so do the number of service providers. Today, the market is filled with hundreds of big and small ACH applications that simplify payment processing. So, how do you choose the correct payment partner for your needs?
Nacha (National Automated Clearinghouse Association) keeps a list of preferred and trusted partners to handle the transactions securely. iCheckGateway.com is one of the top preferred partners for Nacha, especially on the ACH payments and automation front. Here is the list of top reliable Nacha preferred ACH partners. Partnering with any of them for payment processing solutions will ensure that you get the best services.
Here's why you should always choose a partner from this growing community of Nacha-preferred partners over everything else.
Why Nacha Preferred Partners Only?
Here are 3 reasons why you should always choose the Nacha preferred partners only.
Enhanced Use of Secure ACH Payments
The payment processors that want to align with Nacha need to go through a strict validation procedure. Nacha also updates and develops more stringent rules and standards to offer the best possible security to its customers. So, you can rest assured that the community of preferred partners on this list follows the highest level of security standards. Stricter rules help with effective risk management and account validation services, thereby offering an additional layer of security against fraud.
Customer's Personal Data Security
Apart from the transactions, the Nacha preferred partners also secure their customer data with best-in-class encryption. By signing up with these partners, you can feel confident that your account information and account numbers are locked behind a safe vault.
Partnerships with the Top Financial Institutions
Transferring money through ACH payment solutions is already significantly cheaper than moving it through credit/debit cards or wire transfers. Now, the top ACH technology providers are reducing the time to process ACH payments by partnering up with financial institutions directly. By advancing the ACH network, Nacha has already reduced the time to process these transactions over the years. Experts predict that soon enough, ACH transactions will be almost real-time in nature.
Learn more about ACH payment processing.
What Makes iCheckGateway.com Special?
The points mentioned above are common across all Nacha preferred ACH technology partners. So, what makes iCheckGateway.com special?
Advanced Reporting and Analytics
iCheckGateway.com can help you collect a little more data from your end customers to ensure that you are well protected against fraud. With the additional data collection layer, we can help you settle financial disputes faster and offer a granular level of reporting and analytics. You can use this data to track your business growth and offer the best possible customer service.
Excellent Customer Support
With a quick turnaround time for all queries related to deposits and direct payments, we can ensure that your business never comes to a halt.
Customized Solutions
Our experience with clients of all sizes and from different industries has helped us realize that no two customers are the same. Therefore, we offer products and services that are entirely customized to your business needs.
Ease of Use for Customers and End-Users
A customer we worked with recently came back to us and said, "The check-out experience on our website is seamless now. All thanks to you!" We can ensure that your customers never have to leave your website to make a payment by offering seamless web debits and account validation services. With our solutions, customers are already offering a streamlined payment process to increase their conversion rates!
To find out more about industry-leading validation services, lightning-fast payments, and top payment processing methods, schedule a call with us today.
Date originally published: January 24, 2022