According to research from PSCU, consumers are showing a growing preference for mobile wallets, digital payments, contactless cards, and other tap-and-go payment products.
The research found that within two years, the usage of mobile wallets among respondents surged by 50%, rising from 14% in 2019 to 21% in 2021.
Mobile payments are becoming prerequisites.
The PYMNTS February 2022 Report stated, "24% of Credit Union members said they would switch financial institutions for more innovative products."
However, many credit unions must catch up with this growing demand for mobile payments. Are you one of them?
In this article, we will show you steps to simplify mobile payments.
Mobile Payment Landscape for Small Financial Institutions
In 2021, the percentage of credit unions (CUs) investing in peer-to-peer (P2P) payments increased to 50% from 27% in 2020.
This is a good sign in the banking industry.
However, small banks and credit unions face unique challenges when adopting mobile payment technologies. One major challenge is the cost associated with implementing these technologies.
Building and maintaining a robust mobile payment infrastructure requires substantial financial resources.
Integrating mobile payment systems with existing banking platforms can be complex and time-consuming. It requires expertise and specialized resources.
But the business world is not forgiving. Failure to stay competitive will render you redundant.
Small banks and credit unions must simplify their mobile payment processes to stay competitive in the market. This entails:
Streamlining the user experience

Reducing friction

Ensuring that the mobile payment platform is intuitive and user-friendly
Simplification involves integrating various payment methods, such as peer-to-peer (P2P) transfers, contactless payments, and mobile wallets, into a single, cohesive solution.
Expert Advice 1: Make it easy for customers to set up and use mobile payments
Setting up and using mobile payments should be easy for customers. This means providing clear and concise instructions and ensuring that the mobile payment solution is compatible with your customers' devices.
Advantages of Simplified Mobile Payment Solutions
Implementing simplified mobile payment solutions has several advantages for small financial institutions. Here are some benefits:
Contactless Payments
Mobile payment solutions often include contactless payment options like Near Field Communication (NFC) or QR code scanning.
These methods enable your customers to make payments by simply tapping or scanning their devices - minimizing the time required for payment authorization and reducing checkout queues.
Competitive Edge
It's hard to compete if you're not offering mobile payments.
But by keeping up with changing consumer preferences and industry trends, you attract tech-savvy customers who value convenient and innovative payment options.
Improved Security
Mobile payment solutions often incorporate robust security measures such as tokenization, encryption, and biometric authentication.
These measures help protect customer data and reduce the risk of fraud, enhancing the overall security of financial transactions.
Enhanced Customer Experience
For one, mobile payments offer customers a convenient and versatile payment option. With mobile payments, customers can quickly pay for purchases using their mobile devices, both online and in-store, at retailers that have NFC receivers.
You can also offer your customers discounts if they use mobile payments. This can increase customer loyalty and encourage repeat business.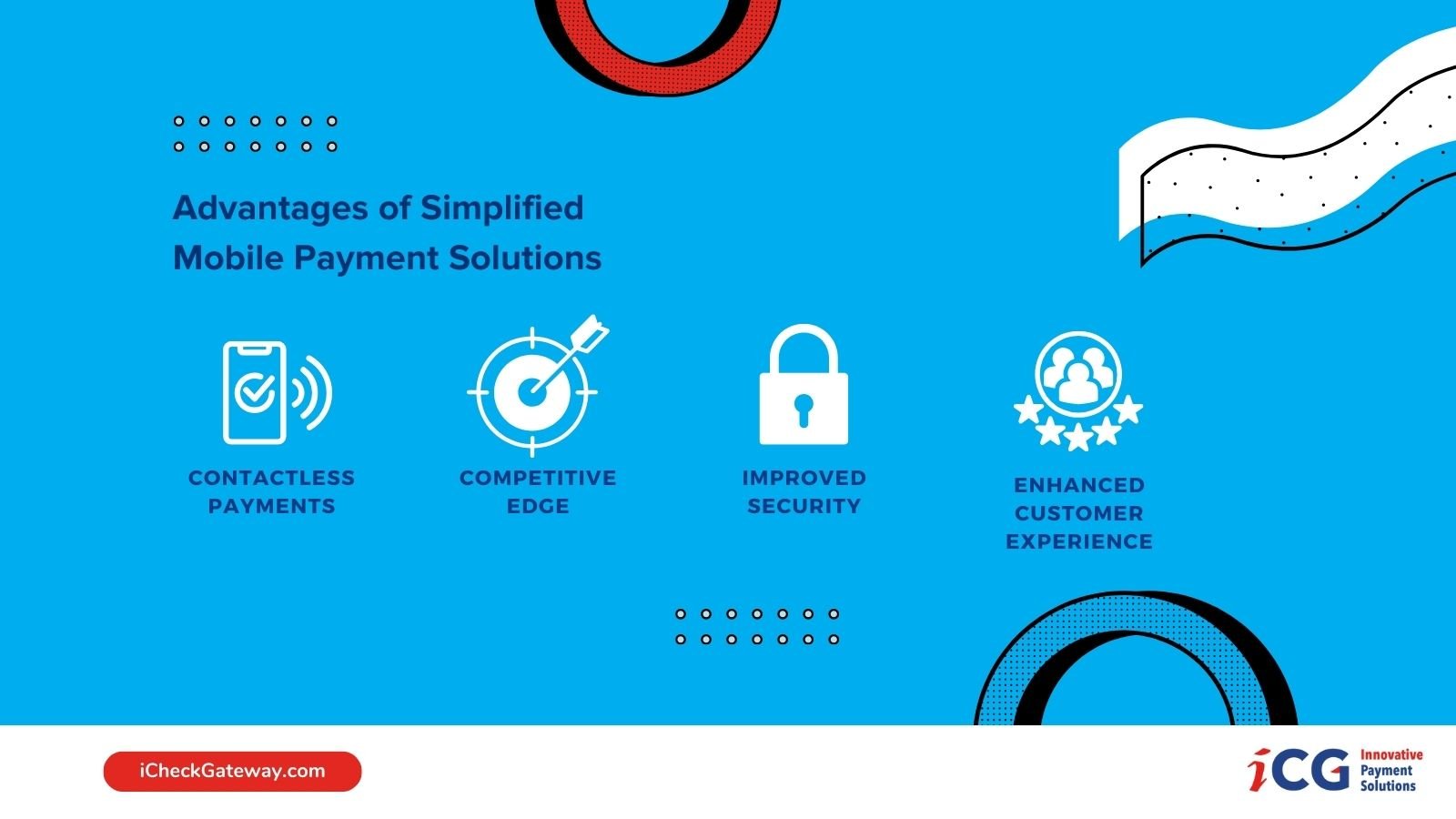 Key Features of Simplified Mobile Payment Solutions
Mobile payment solutions have several key features that make them easy to use and convenient for businesses and customers.
Peer-to-Peer (P2P) Transfers
P2P transfer capabilities enable users to send and receive money directly between individuals.
This feature facilitates instant, secure, and hassle-free fund transfers. It's convenient to split bills, repay debts, or send money to friends and family.
Biometric Authentication
Mobile payment solutions integrate biometric authentication features like fingerprint or facial recognition to ensure secure and effortless transactions.
Biometric identifiers enhance security by verifying the user's unique physiological characteristics. Users can make transactions without passwords or PINs, which are hard to remember and can be easily hacked.
Compatibility with Multiple Payment Methods
Mobile payment solutions support a variety of payment methods, including:
Credit cards

Debit cards

Digital wallets
This gives customers more options when it comes to making payments.
One-Click Checkout
This feature is designed to streamline the checkout process and make it more convenient for customers to make purchases.
With one-click checkout, customers save their payment information and shipping details, so they don't have to enter this information every time they make a purchase.
This reduces friction, enhances the user experience, and encourages impulse purchases.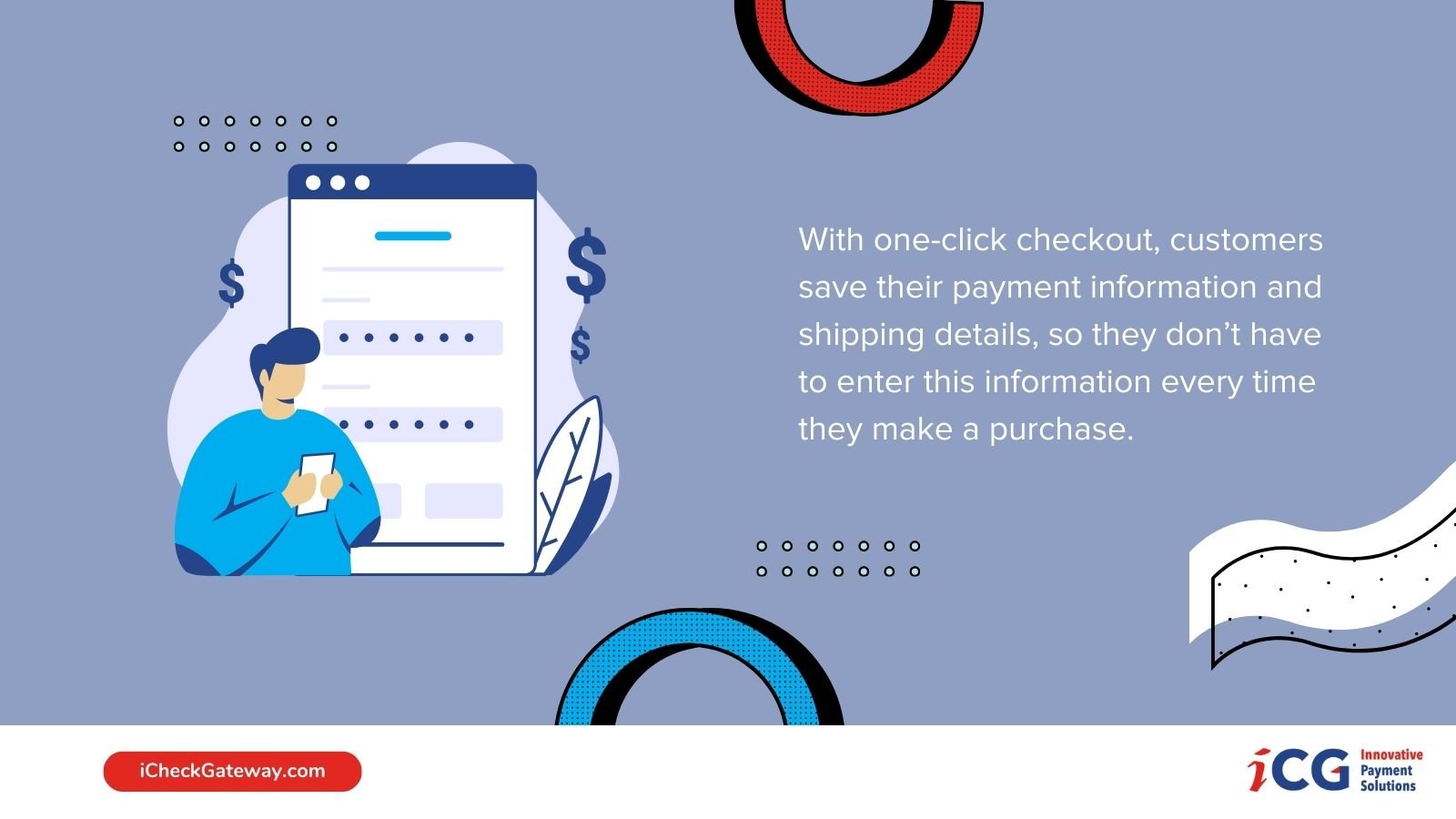 Expert Advice 2: Promote mobile payments to your customers
Many customers are not aware of the benefits of mobile payments, so promote them to your customers. Do this through your website, email marketing, and in-branch signage.
Benefits for Customers
Why are customers considering mobile payments a must-have? Here's why:
Convenience
With just a few taps on their smartphones, customers can make payments anytime, anywhere, eliminating the need to carry physical wallets or search for cash or cards.
Rewards and Incentives
Many mobile payment solutions allow businesses to integrate loyalty and incentive programs into payment.
Mobile payment platforms allow customers to earn loyalty points, cashback rewards, or exclusive discounts.
Real-Time Tracking and Management
It's tough to keep track of a bundle of paper cash. But with mobile payment apps, customers get real-time transaction tracking and management features.
Customers can view their transaction history, monitor spending, and receive instant notifications about their payments. This transparency and control empower customers to manage their finances better.
Expert Advice 3: Offer incentives for using mobile payments
Offer incentives to encourage your customers to use mobile payments. This includes discounts, cashback rewards, or entry into a drawing.
Case Studies: Successful Implementation of Simplified Mobile Payment Solutions
SunWest Federal Credit Union
SunWest Federal Credit Union faced the challenge of meeting the evolving demands of their members, who expected convenient and accessible banking services anytime, anywhere.
To address this, SunWest partnered with Fiserv to implement Mobiliti™, a mobile banking solution tailored to their specific needs, and the ASP version of Corillian Online.
Their mobile adoption numbers soared above average only three months after launching the product.
Choosing the Right Mobile Payment Solution
Consider these factors to ensure that the solution meets your needs:
Compatibility with your Existing Systems
Choose a mobile payment solution compatible with your existing point-of-sale (POS) system and other business software. This will help ensure a smooth integration process and minimize disruptions to your operations.
It should also support various mobile devices, including smartphones and tablets, and be compatible with popular operating systems like iOS and Android.
Security
Security is a top concern when it comes to mobile payments.
According to a report by American Express, "nearly 77% report their company has been a victim of some type of fraud."
So, choose a solution with robust security measures to protect against fraud and unauthorized transactions.
User Experience
A seamless and intuitive user experience is crucial for the success of a mobile payment solution.
Choose a solution that offers:
User-friendly interface

Easy navigation

A smooth checkout process
Consider features like one-click payments and integration with digital wallets to enhance convenience for your customers.
Expert Advice 4: Monitor your mobile payments data
Once you have implemented mobile payments, monitor your data to see how it's used. This way, you can identify areas to improve the customer experience.
Partner with iCG
The cost associated with implementing a robust mobile payment infrastructure is substantial.
That's why we recommend partnering with a reputable payment processor like iCheckGateway.com.
At iCG, we offer an innovative mobile payment solution called iCG Pay.
Our mobile payments app is compatible with iOS and Android systems, ensuring broad accessibility for your customers. Partner with us today.