The modern consumer is constantly looking for convenience when making payments. With recurring billing in the utility sector, it's becoming essential for companies to provide payment options that meet consumer needs. Interactive Voice Response (IVR) technologies offer an automated payment system for the customer.
The global market for IVR systems is projected to reach $6.7 billion by 2026, expanding at a CAGR of 7.9%. This exponential growth is thanks to the demand for faster and more convenient payment systems. Implementing IVR payments in the utility sector allows customers to pay their bills at any time, automates payments, and reduces the workload on the staff.
Therefore, as a bank or credit union serving this industry, you must leverage these IVR technologies for your commercial customers. This blog post will look at the various ways financial institutions can provide efficient payment options for companies in the utility sector.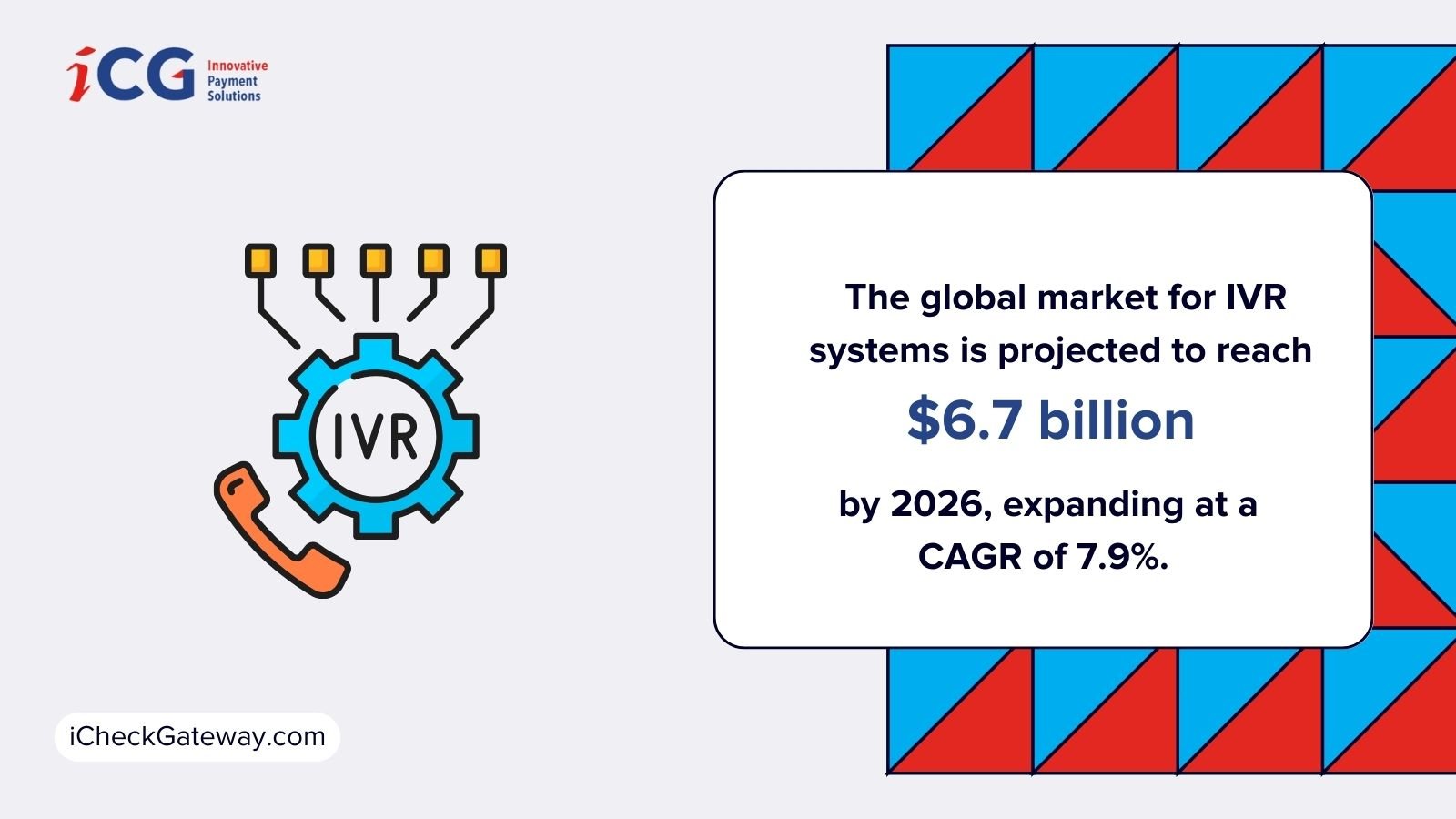 What are IVR payments, and How Do They Work?
IVR payment services allow customers to make payments over the phone using a mobile phone or touch-tone. The interactive keypad and speech technologies process inbound calls to provide a seamless customer experience.
The system has voice-recognition software that identifies, segments, and routes inbound callers to a company representative if need be. However, the customer does not need to speak to a support agent; payments can be submitted instantly and securely thanks to the technology.
Utility companies can use IVR call centers to collect and manage payments 24/7. This is important for critical industries such as healthcare that need a faster turnaround.
So, how does IVR payment processing work?
Once a customer calls a utility company, the IVR system provides easy-to-use voice prompts with self-service options to make a bill payment, review information or check balances. Customers can respond to these prompts using voice commands or by entering the key numbers on the touch-tone phone keypad.
Customers can choose different payment preferences for recurring payments. This can be ACH transfers, credit cards, or electronic checks.
What Are The Benefits of IVR Payments for The Utility Sector?
According to McKinsey research, 25%-30% of inbound calls to a utility company were billing-related. Companies in this sector should invest in IVR systems for the following reasons:
Increased Payment Processing Efficiency
Approximately 46% of American consumers pay some of their bills late. This can be an inconvenience because late payments for energy, electricity, or water can cause discontinuation of these services. However, with IVR systems, utility companies can set up automated systems and send reminders to ensure customers pay their bills on time.
Additionally, intelligent IVR systems help the company manage heavy inbound calls by ensuring they collect vital information from the customer before handing them over to a live agent. The company staff can also focus on other activities because they have a lower load of picking calls.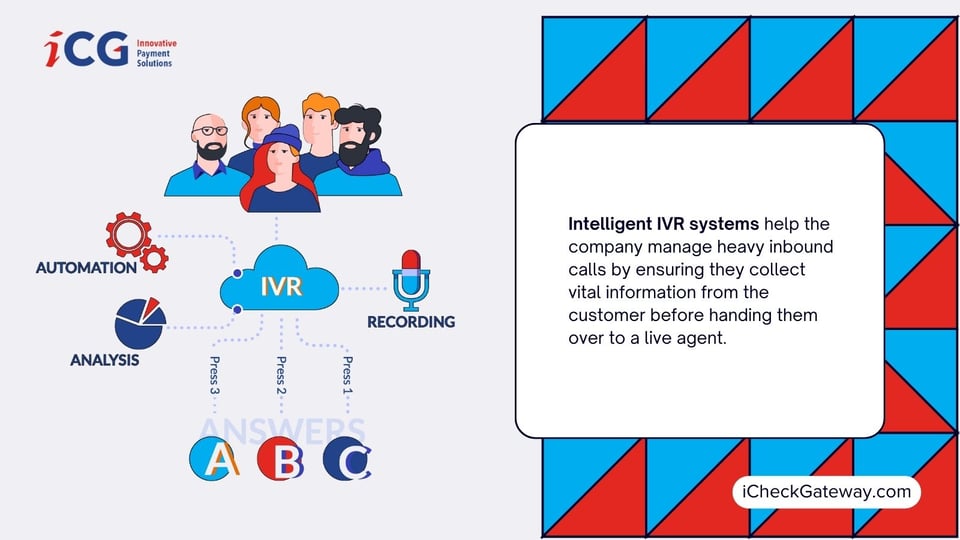 Enhanced Security Features
Caller recognition with IVR helps reduce fraud. The system can authenticate every caller and payment transaction. In addition, getting your IVR systems from a reliable provider like iCheckGateway.com (iCG) gets you PCI-Level 1 security features. With this high-level security, you can protect confidential customer information from fraudulent access.
The transaction data is encrypted and routed through a secure web portal. Therefore, you don't have to worry about losing sensitive customer details.
Convenience for Customers
If you want to boost your customer experience, you need to incorporate payment systems like IVR. 72% of customers that get a positive experience will share this with six or more people. IVR systems can help you gain more customers because they are fast, convenient, and accurate.
This technology reduces the overall waiting time by ensuring all customers' questions are answered. Additionally, large utility companies can handle multiple calls simultaneously without lagging issues. Self-serve portals are a game changer if you want to keep the customers happy.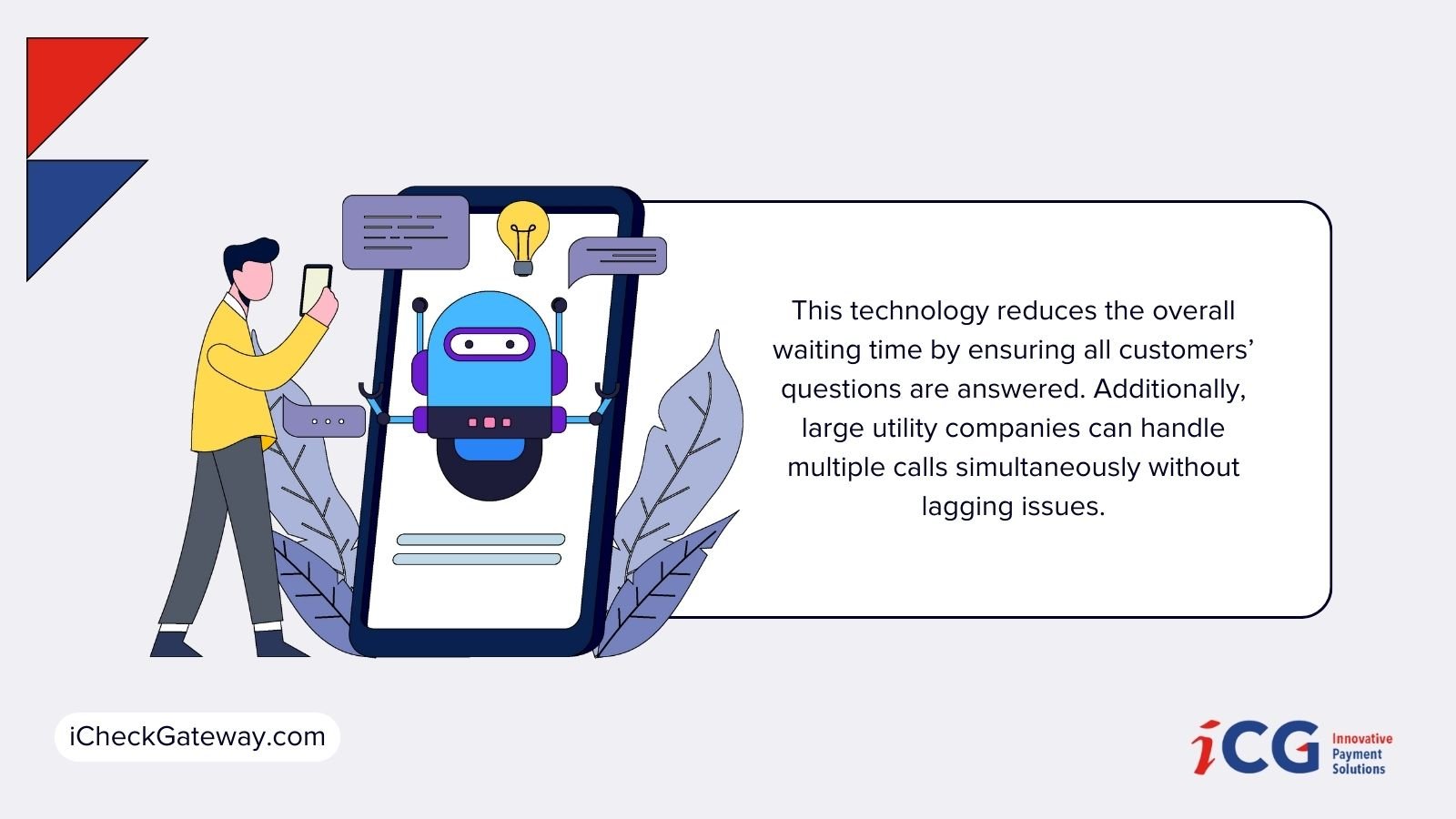 How Can Banks and Credit Unions Integrate IVR Payments With Their Existing Payment Processing Systems?
Here are the steps required to integrate IVR payments with existing payment processing systems.
Select a Compatible IVR Payment System
The IVR system should be compatible with the existing business systems. Every financial institution has payment processing tools for its commercial customers. To make integration easier, getting an IVR system that automatically syncs with your current devices is advisable.
Set Up the IVR Solutions With a Reliable Provider
It's now easy to adopt IVR systems. You can contact a provider like iCG to configure your payment systems accordingly.
Real-World Example of Successful IVR Payment Implementations in the Utility Sector
Payment processor KeyIVR partners with several energy companies such as Energy Billing, Brighter Bills, Click Energy, and Yorkshire Water to make it possible for customers to pay bills via IVR systems.
They offer a payment IVR system that's available to customers 24/7. This system allows customers to pay their utility bills without involving the staff. The IVR solution integrates into existing business systems and looks up bill balances from the office system. The company staff can view all transactions from the self-serve portal.
Conclusion
IVR payments are important for companies in the utility sector because they are convenient to customers, make it easier to handle a huge number of calls, especially for large organizations, and come with advanced security features. They help organizations in the utility sector to collect payments without necessarily using live representatives.
If you run a bank or credit that works with utility companies, partner with a payment processor that offers IVR payment solutions. This will enable you to provide better payment technologies to your commercial customers.
iCG's IVR call center will automate your payment systems and handle customer calls, increasing the productivity of your customer support team. Contact our relationship managers today to help you set up IVR systems for your financial institution.