The long-awaited instant payment service, FedNow, is officially here! The U.S. Federal Reserve introduced this government real-time payment service on Thursday, July 20.
Banks and credit unions can adopt the FedNow service to allow customers to transfer money within seconds at any time.
The pilot program for FedNow services started in January 2021, which allowed community banks and other smaller financial institutions to begin preparations for processing payments through the service. Let's take a closer look at the FedNow service, how it works, and which financial institutions are using it.
What Is FedNow?
FedNow is a 24/7/365 next-generation payment technology developed and run by the Federal Reserve. This payment infrastructure seeks to improve the efficiency, speed, and accessibility of the U.S. payment system by allowing banks to move money instantly.
During the announcement, the Federal Reserve Chair, Jerome H. Powell, said, "The Federal Reserve built the FedNow Service to help make everyday payments over the coming years faster and more convenient. Over time, as more banks choose this new tool, the benefits to individuals and businesses will include enabling a person to immediately receive a paycheck or a company to access funds when an invoice is paid instantly."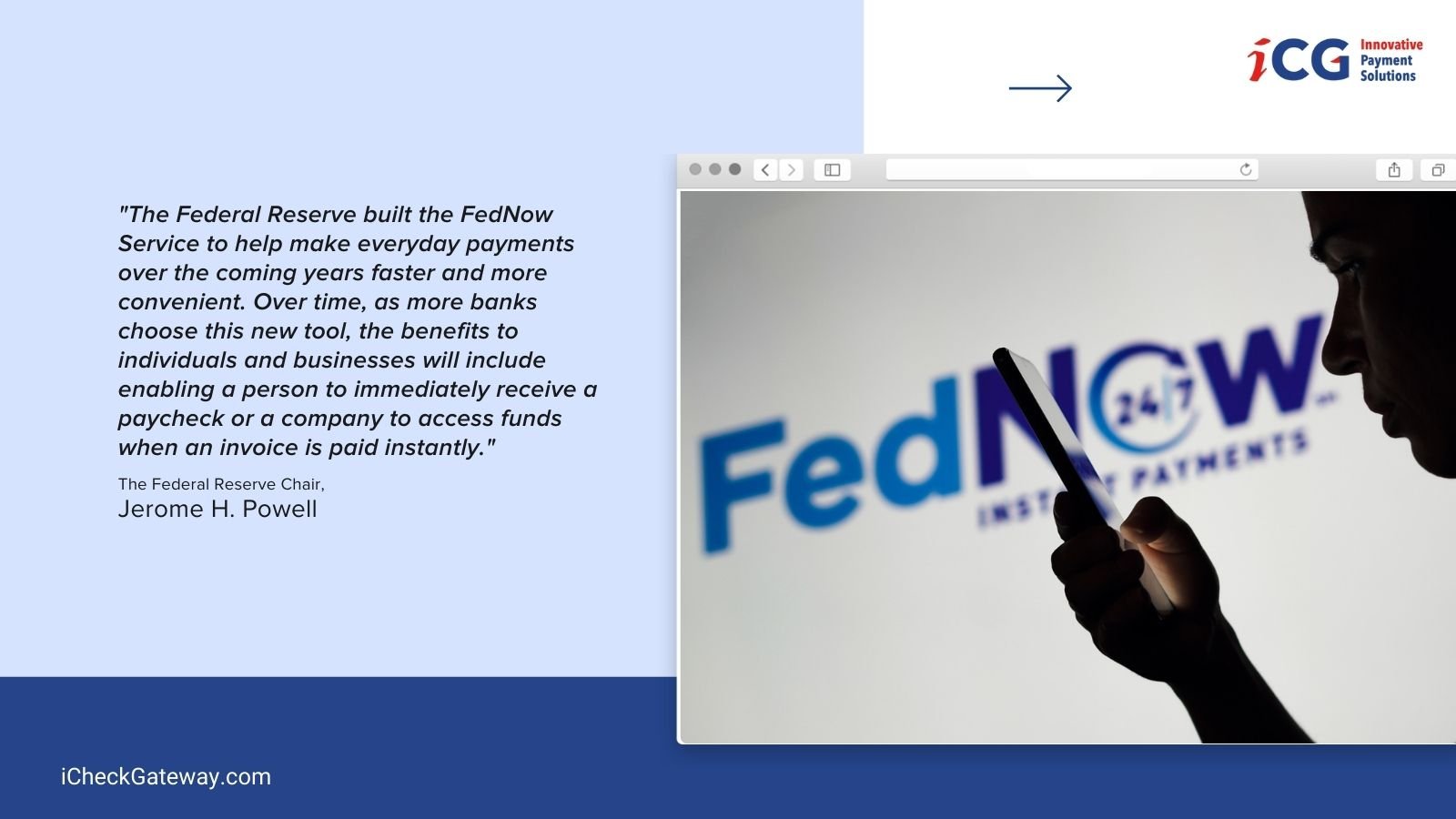 How Does FedNow Work?
FedNow is a real-time gross settlement (RTGS) system available to banks, credit unions, and other financial service companies. Banks that choose to adopt the FedNow service can facilitate the instant transfer of funds between different institutions and accounts.
The advantage of this service is that it will reduce the time it takes for payments to get settled. Financial transactions will be finalized in real-time, making it possible for a recipient to be paid within seconds. This system has been introduced to complement existing payment systems like ACH, regulated by Nacha, wire transfers, and credit cards with slower settlement times.
Additionally, this payment rail is meant to detect and minimize fraud in payment processing. To achieve this, the Federal Reserve will also provide an extra suite of tools to financial institutions to help prevent fraud.
FedNow will not be restricted; transfers can be made at any time of the day. Customers can instantly access funds, even during bank holidays.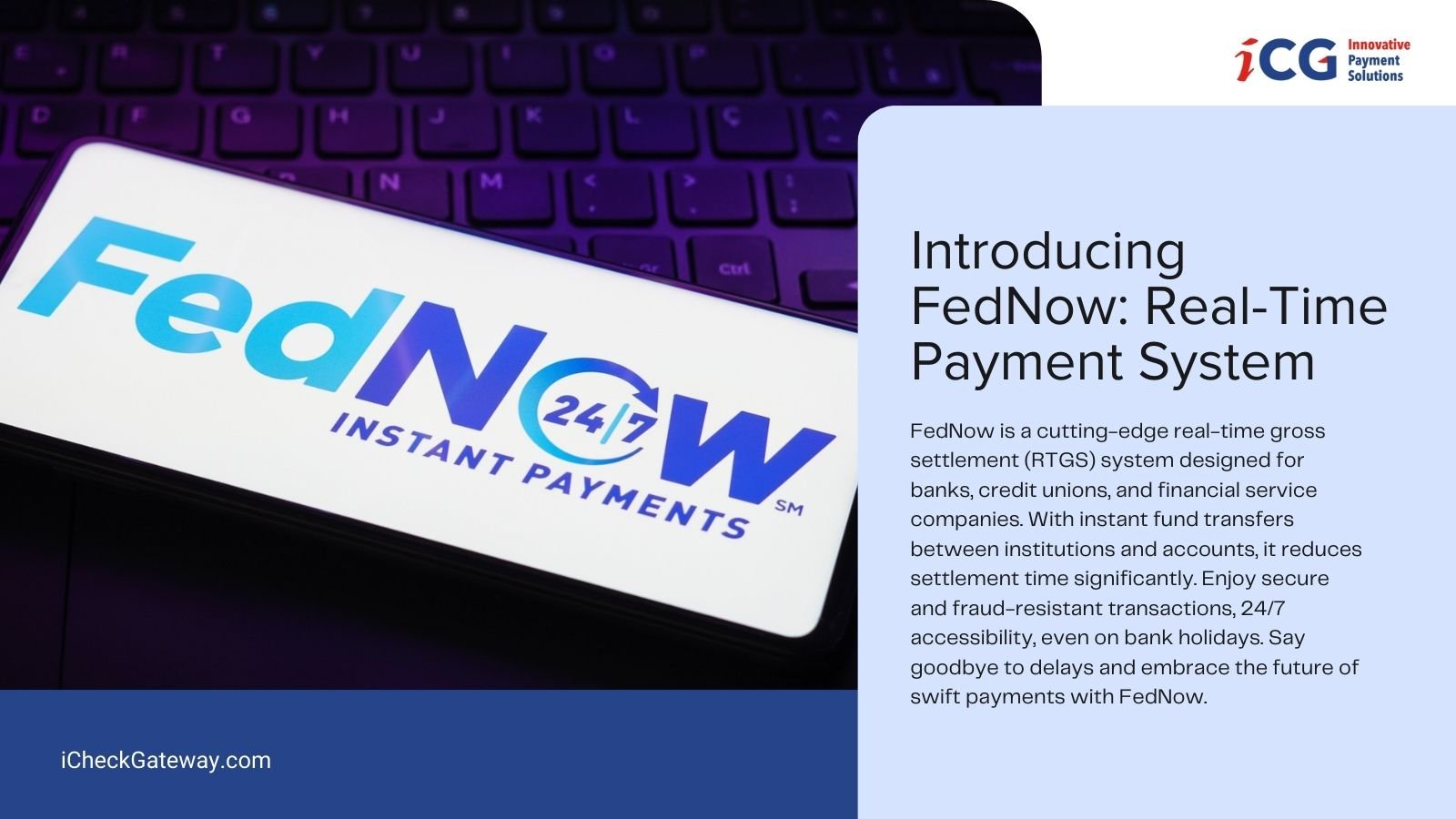 Which Banks Use FedNow?
Banks and credit unions are not required to sign up for the FedNow service. However, the Federal Reserve is committed to onboarding more than 9,000 banks and credit unions nationwide to make the service available to more people.
35 banks and credit unions have already been certified to use FedNow. These early adopters include top U.S. banks like Wells Fargo and JPMorgan Chase. Others include smaller banks and credit unions like Bridge Community Bank. In addition, around 16 payment providers are ready to support banks and credit unions.
This means that if your bank is enrolled in FedNow, you can make everyday payments using this service from the nation's central banking system.
How FedNow Differs from Other Payment Options
According to McKinsey's 2022 Digital Payments Consumer Survey, about nine in ten Americans now use some form of digital payment. This high adoption is because more consumers are looking for convenient and faster payment methods.
Currently, there are different payment rail options that enable fund transfers between accounts. Let's look at each of them and how they differ from FedNow:
FedNow
FedNow is not meant to substitute for other payment systems that the Fed facilitates, such as automated clearing house (ACH) payments and wire transfers. It will operate alongside these services and other private-sector payment apps like Venmo and Zelle.
ACH
These electronic transfers move funds between bank accounts in the U.S. They are secure and have low fees, making them ideal for recurring payments.
ACH transfers can take two to three business days to complete. These payments are highly secure because Nacha governs them; they use encryption and authentication protocols to protect banking information.
Wire Transfers
Wire transfers move money between accounts when you have high-value transactions. While funds are transferred instantly, the processing times can vary depending on the financial institution and country. However, the processing cost is higher than these other payment rails. A Federal Reserve report shows that the average cost for domestic transfers was $25.60 in 2020.
Credit Cards
Merchants pay fees to accept credit cards, and while credit cards allow consumers to receive money immediately, the processing fees can pile up with time. Additionally, the processing fee varies based on the card issuer and payment processor. Therefore, businesses must weigh how much this payment method will impact their cash flow. In the long term, credit card processing could be more costly than FedNow services.
Real-Time Payments
Real-time payments (RTP) enable near-instantaneous payments. Consumers are increasingly adopting RTP because it has benefits like enhanced security, faster payments, and increased transparency.
Who Will Benefit from FedNow?
Introducing a new instant payment system will benefit the entire U.S. financial system. Based on this system, instant payments will be easier for consumers and businesses.
Here's how FedNow will help you:
Businesses:

Can use FedNow for payroll processing or fund transfers - making it easy to manage cash flow. Employees can also receive a paycheck on the same day as businesses can send money instantly.

Individuals:

Leverage FedNow for bill payments. You can get paid quickly since the financial institution has the right technologies.

Service Providers:

As a service provider, you can access APIs to help you develop payment technologies for your clients.

Financial Institutions:

FedNow will improve your core banking system to help you offer faster and more convenient services. With this new system, you can attract more clients looking for faster payment processing technologies.




Where Does iCG Come In?
This new service is one of the most reliable payment technologies. It complements many other technologies that iCG already offers. As a bank or credit union, you need to adopt the latest innovations to boost your operations. To leverage these benefits, partner with a reliable payment gateway like iCG to help you stay ahead of the curve.
Our solutions will change the way you do business. We will help you speed up your payments simply, reliably, and securely.
Get in touch with our experts if you want innovative payment solutions for your business.