The digital revolution has transformed the way consumers make and receive payments. A World Bank report shows that two-thirds of adults globally now use digital payments to pay bills, make payments, borrow, and save. Financial institutions are incorporating new payment rails such as FedNow and real-time payments (RTP) to meet the increasing demand for instant payments.
Although both payment rails settle domestic payments instantly, they have unique advantages and disadvantages. So how do FedNow and RTP compare? Let's look at how each payment rail works to help you make an informed decision for your bank.
All About FedNow
What Is FedNow?
FedNow is an instant payment service by the U.S. Federal Reserve Bank. This next-generation payment technology is designed to help financial institutions offer safe and efficient payment services. This 24/7/365 payment platform allows customers to access funds in real-time.
This payment infrastructure launched on July 20, 2023. So far, about 35 banks and credit unions are using FedNow, with more expected to join. Customers of participating financial institutions can receive instant payments in their bank accounts.
How Does FedNow Work?
With the introduction of FedNow, the U.S. payments infrastructure will improve significantly. This service is focused on improving the transparency of money movement and interoperability. Money will move between the sending and receiving bank instantly, allowing users to access funds within a few seconds.
Apart from being much faster, FedNow guarantees that instant payments will be settled and cleared anytime, including bank holidays, weekends, and nights. Once a transaction is initiated, the receiving bank will confirm the recipient's account information for the settlement. The sender and receiver will get a notification when the payment is successful.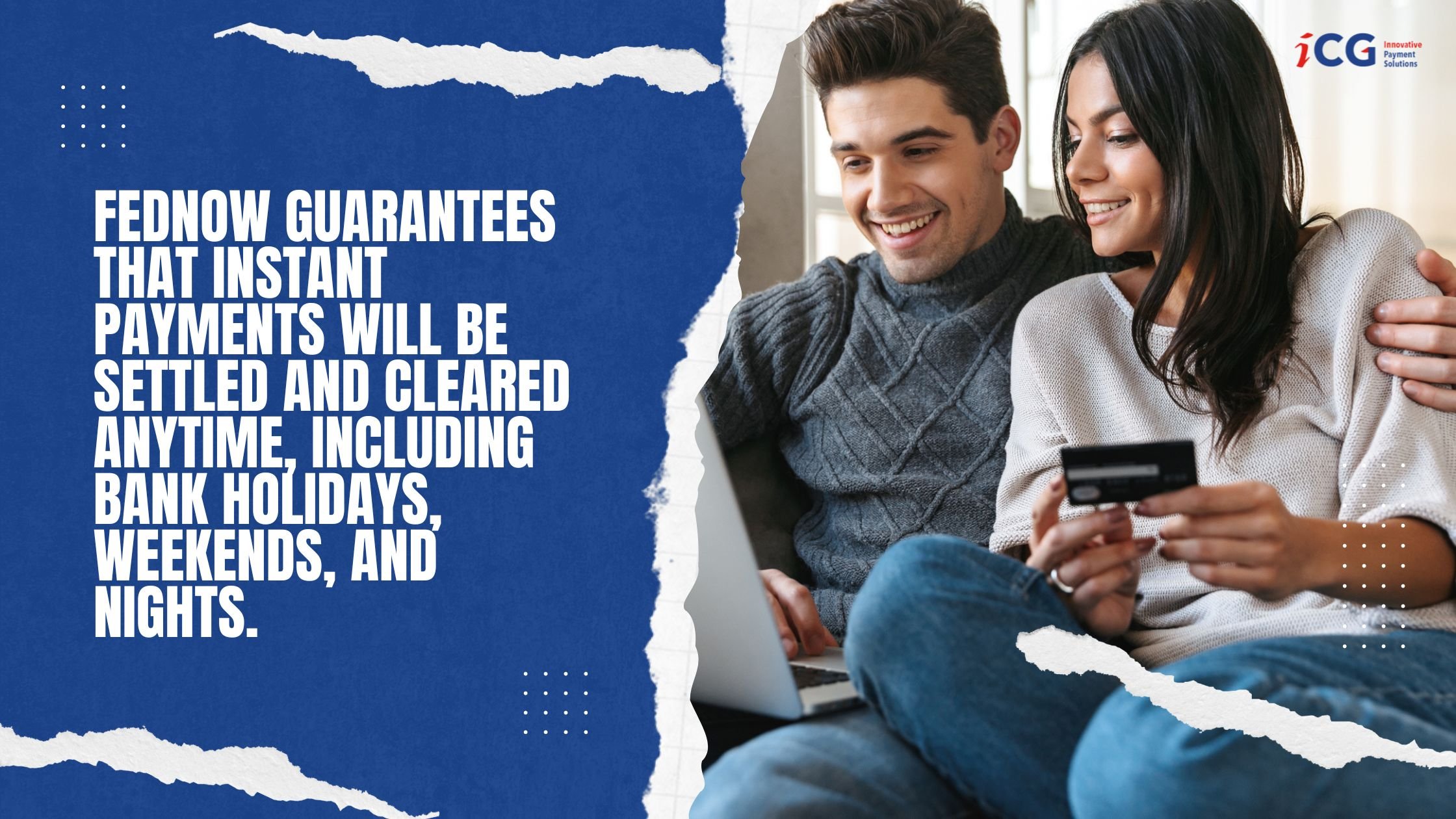 All About RTP
What Is RTP?
Real-Time Payments (RTP) is a payment rail that enables near-instantaneous payments. The Clearing House introduced the RTP network in 2017 to help process domestic payments 24/7/365. Since its launch, about 1 billion transactions have been processed by the RTP network.
Today the Clearing House estimates that its network is accessible to financial institutions that hold around 90% of U.S. demand deposit accounts (DDAs). Although this payment rail has advantages like increased transparency, security, and faster payments, the adoption rates are affected by the service only being available to financial institutions.
How Does RTP Work?
Although RTP allows banks to process instant payments, it works differently than FedNow in how it confirms settlements. To use RTP, the sender initiates the financial transaction as a credit push for the network to process it in real time.
The participating funding institutions must hold a separate, pooled account at the Clearing House to achieve this. The settlement between the two banks happens immediately, even before the receiving bank confirms the bank details. Just like with FedNow, the RTP network sends a payment update to the sender and receiver.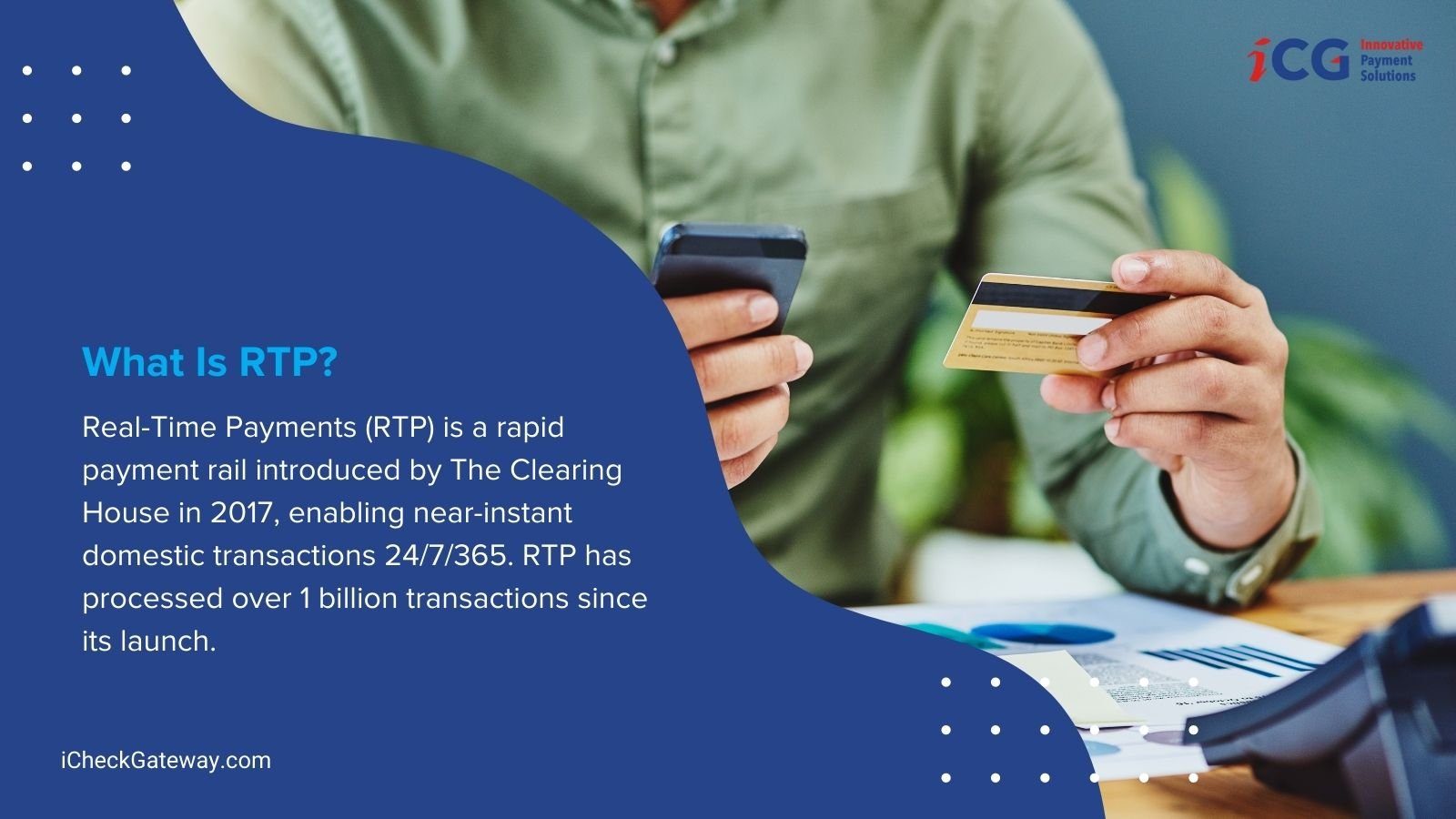 Similarities Between FedNow and RTP
Here are some of the similar benefits you get from using FedNow and RTP:
Faster Payments

: Both instant payment solutions are convenient to banks and consumers because they enable near-instantaneous availability of funds in the recipient's account.

24/7 Availability

: The advantage of real-time payments is that they operate round-the-clock, seven days a week, allowing users to make and receive payments at any time, including weekends and holidays.

Modernization of Payment Infrastructure

: Payment service providers can use both initiatives to upgrade and modernize their clients' payment infrastructure.

Improved User Experience

: FedNow and RTP payment systems aim to enhance customer experiences by offering faster, more efficient, and more convenient payment options. Consumers can pay bills or receive paychecks without waiting for days.

Enhanced Security

: On top of faster payments, both FedNow and RTP prioritize

robust security measures

to safeguard transactions and protect users' sensitive financial information.
Key Differences: FedNow vs. RTP
These two payment rails have some key differences. What are they?
Transaction Limits
If you compare the two payment rails, RTP has a higher transaction limit than FedNow. The Clearing House announced they had increased the transaction limit to $1 million. This increment was made to cater to corporate customers looking for ways to transfer higher-value payments for real estate closings, supplier payments, commercial loan funding, or merchant settlements.
On the other hand, FedNow's default limit is $100,000; but financial institutions can increase or decrease it. The Federal Reserve Bank offers a credit transfer value limit of $500,000. However, they plan to evaluate and adjust the credit transfer limit continuously when necessary.
Access
The Federal Reserve launched FedNow for all financial institutions. Giving it an advantage over RTP as it anticipates reaching 100% of banks and credit unions across the U.S., including smaller local banks.
Top banks like Wells Fargo and JPMorgan Chase are already using the service, and it's only a matter of time before other banks sign up. This is also because the Federal Reserve has a larger network.
Although RTP is widespread, the Clearing House network currently reaches 65% of U.S. demand deposit accounts. This is because some financial institutions have not opted into the service. So far, the RTP network integrates with over 300 banks listed on The Clearing House's website.
With FedNow being live, more banks might choose to get certified to use this payment service.
Choosing the Right Payment Rail for Your Bank
Now that you know the differences and similarities between FedNow and RTP, you can choose the right option for your financial institution. Here are some factors to consider:
Cost-Effectiveness

: Assess the cost implications for your business or organization. This includes transaction fees, implementation costs, and any other charges. For instance, while RTP is an instant payment service, it can be costly for smaller businesses.

Availability and Coverage

: Consider the coverage of the service. FedNow may be more readily available across the U.S. because the Federal Reserve operates it.

Integration Capabilities

: Consider the ease of integrating each system into your existing payment infrastructure. Look for APIs and technical support that align with your organization's capabilities.

Security

: Investigate each system's security measures and fraud prevention mechanisms. Choose the one that provides robust security to protect your transactions and customers.





Conclusion
The introduction of FedNow and real-time payments (RTP) has brought significant advancements to the banking and financial services industry. Both payment technologies provide convenience and improve processing speeds. Before adopting it for your business, you must understand how each payment system works.
Ultimately, you must also collaborate with payment service providers to adopt the latest technologies. FedNow and RTP work well alongside other services that iCG offers. If you want to foster a more efficient and secure payment system, contact one of our experts for more information.