Unlock the power of embedded payments with iFrame, an iCG solution that delivers a secure, uninterrupted shopping experience. By embedding a payment page from a third-party service provider into your website and passing tokenized transactions directly to the iCG gateway, iFrame removes sensitive data from your scope and transfers risk to the service provider.
With iFrame payment processing and seamless gateway integration, your customers can safely shop without ever leaving your website. Gain complete visibility of payments and settlement activities without storing bank account information or cardholder data in any of your systems.
Applications of iFrame Payment Processing
Its simplicity and ease of use make the iFrame payment page popular among vendors and merchants.
Vendors leverage iFrame's advanced security features to tokenize transactions, which enables them to control the user experience without handling sensitive data.
Merchants accept payments on iFrame forms customized for their industries and business models. This enables them to gather pertinent customer data while reducing PCI scope.
Regardless of how you implement the iFrame payment page, you can deliver a seamless customer experience while maintaining the highest levels of security and compliance. Customer credentials and payment information on iFrame cannot be remotely intercepted or modified.
Primary Paths to Hosting Payments on a Website
Your hosted payment page will ideally reflect your company's color, imaging, and brand. Following are additional considerations when implementing iFrame payment processing:
iCG-hosted iFrame Payment Processing
If you choose an iCG-hosted model, our technical team will customize and maintain your iFrame payment page while providing seamless payment gateway iFrame integration. Tokenized payments are sent directly to the iCG payment gateway, removing sensitive data from your scope. Upon completing their checkouts, visitors are redirected to your website.
Self-hosted iFrame Payment Processing
If you outsource iFrame payment processing, your merchant services software developer will carry related risks of handling payment and bank account data. While merchants control their websites' actual iFrame payment pages, software developers have a say in the page's user experience and aesthetic appeal. As they embed text box placeholders on the page, developers can choose fonts, colors, and styles that complement their software applications.
Semi-integrated iFrame Payment Processing
The third option for iFrame payment processing is to create an iFrame on a merchant website using text boxes that allow iCG to tokenize and host the data. Merchants can manipulate text box placement while keeping the data out of scope and away from their servers. This relieves merchants of managing sensitive data such as credit card number, customer name, expiration date, CVC, ACH account and routing numbers, and contact information.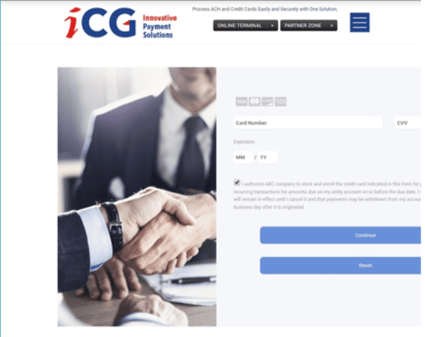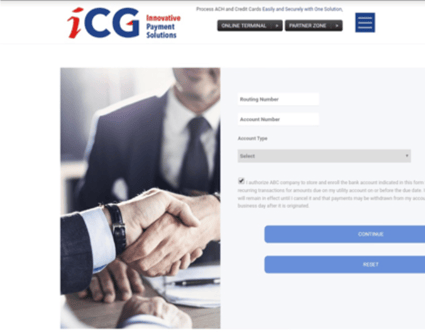 Value-Added Tools for iFrame
From a flexible, customizable payments gateway to robust API libraries and technical support, iCG-hosted payment solutions are designed to look and feel like an integral part of your company and website. Customers who check out on iCG's iFrame payment page will enjoy a secure and uninterrupted shopping experience. Merchants who use iCG's hosted payments portal will quickly and easily view customer transactions and settlement activity.
As part of iCG's technology suite, the iFrame payment processing solution offers an array of versatile tools and hands-on support. The following solutions can be integrated into your iFrame payment processing:
Check Verification
Our award-winning check verification services can be directly embedded into iFrame payment pages. iCG support gives you the option of turning on or off verification right at the time of processing a payment.
Tokenization
If you plan to use tokenization, you can incorporate account validation into your iFrame using iCG's available API. This will enable you to validate a user or transaction before the API returns the token.
Recurring Payments
iCG's recurring payment tool enables you to schedule recurring tokenized payments directly into your Hosted Payment Portal and iFrame payment page.
Multiple Payment Methods
iCG-hosted payments pages enable customers to quickly log in and check out with their preferred payment methods, including credit cards, ACH transactions, mobile, and digital.
Mobile Payment Processing
iCG's mobile payments app enables you to securely accept ACH and credit card transactions and remote deposit capture. The solution is compatible with iOS and Android and can be integrated with your iFrame payment processing.
Cash Discount Program
iCG's cash discount program can help you recover card acceptance costs by offering discounts to customers who pay by ACH on your iFrame payment page.
Discover iCheckGateway.com
iCheckGateway.com makes online payments acceptance easy and secure. Unlock new revenue streams and stay PCI compliant with iFrame Payment Processing.
If iFrame Payment Processing sounds like a solution for you, get in touch with our relationship managers today.
If you are an ISO Developer who wants to see documentation and a full script for iFrame, create an account in our Partner Zone.
Date Originally Published: March 19, 2021
Date Updated: August 1, 2022