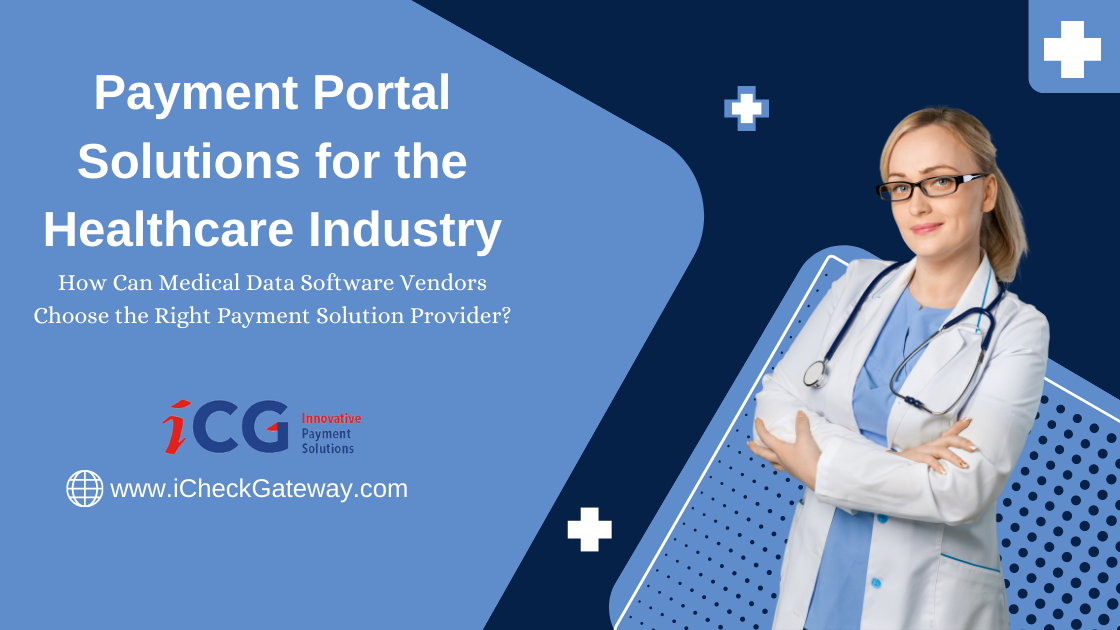 Payment Portal Solutions for the Healthcare Industry
Advanced online payment portals transformed various industries in the last couple of years. Healthcare organizations actively adopt robust ACH and credit card payment solutions for their finance operations with an ever-increasing need for efficiency. The solution? The market is now flooded with hundreds of new payment processing companies. So, how will a medical data software company find a payment company that integrates with it seamlessly?
This blog discusses the importance of payment portals in healthcare and how to choose the right solution provider.
How Do Payment Portals Help in Healthcare?
Collect Payments
The best payment portals are not limited to specific payment technologies. They remain flexible enough to help merchants collect payments via ACH, credit cards, debit cards, paper checks, etc. Also, they provide other tech solutions to make collections easier for accounting.
Medical data management companies now directly partner with payment processors to automate payment collection while ensuring compliance with essential data. A back-end integration between the medical data management software and the payment technology helps prevent leaks within the system. It also ensures that all patient and hospital data sit behind hardy encryption and tokenization tech layers.
Reduce Dependency on Human Workforce
The best payment processors have inbuilt developers plugins that integrate with QuickBooks and other accounting software. They will fetch data from the bank statements directly to complete reconciliation tasks without the need for dedicated accountants 24×7. Also, they reduce overhead costs by automating invoicing and collections.
Automate Reminders
Payment automation tech also helps the healthcare staff automate payment reminders and maintain active communication with the patients. Advanced payment tech allows them to automatically send bill reminders to concerned patients/payers over texts and emails.
Why Does the Healthcare Industry Need Hi-Tech Payment Portals?
Increased Efficiency
On March 13, 2020, the President of the United States declared a national emergency against the COVID-19 pandemic. Over the next two years, we saw over 80 million cases and nearly a million deaths due to the pandemic. These stats show us that our healthcare systems need technical support, and we need to make them as efficient as possible to minimize casualties if such a pandemic strikes again.
Handle Emergency Situations
Unlike most other industries, time plays a life-and-death role in the healthcare sector. With fast and reliable payment tech, we automate a few critical financial processes. A frictionless payment experience helps the medical staff save precious work hours and spend more time with patients than billing.
Enable Self-Serve Scenarios
With contactless payment technologies, payment processors quickly reduce wait times and prevent the spread of diseases. They also minimize the risk of exposure with the online self-serve technology for patients. Moreover, the self-serve payment portals can serve the payers 24×7, even during off-business hours.
How Can Medical Data Software Vendors Choose the Right Payment Solution Provider?
Look for a One-Stop Solution
A one-stop payment solution that integrates directly with your medical data software reduces the hassle and saves time that may otherwise go towards unnecessary back-end software development. It also helps the healthcare provider automatically generate bills and payment links on a single platform by fetching medical data from your software and billing data from theirs. A single self-serve platform also increases trust and helps payers easily access all medical procedure, insurance, and payment data on a customized portal.
Opt for Multiple Payment Method Acceptance
The healthcare providers that accept online payments need a solution that can integrate natively with their website's payment page. With a customized payment page, the payer never feels like they left the website to complete payment. It increases trust and helps the payer access multiple options like ACH payments solutions and credit card payments on the same page.
Prefer Partners with Complementary Payment Tech Solutions
Advanced healthcare payment solution providers also help with complementary payment technologies like SMS payments, Email Invoicing, and IVR payments to collect payments via text, phone, website, or in-person. In addition, they support top-of-the-line encryption and tokenization technology to safeguard payment information.
While choosing a payment processor, look for advanced, effective back-end integrations with your medical data management software. Moreover, search for processors that lead with technology and have uncompromising principles for data compliance and security. A simple, customizable interface that helps the end consumer should be the top priority of a payment processor that you choose.
Request a callback from our team of payment experts here to know more!
Date originally published: April 24, 2022
Categories
,
ACH Technology
,
ISVs
,
Partnership
,
Payment Processing
,
IVR Technology
,
PCI Compliance
,
ACH Education
,
Payments Education
,
Accounting Software
,
ISOs
,
Healthcare
,
Insurance
,
Merchants
,
Software Integration
,
Independent Software Vendors
,
Virtual Terminal
,
Email Invoicing
,
Value Added Reseller
,
PlugIns
,
Developer Tools
By By ICG Digital