The digital payment industry landscape is facing a rapid transformation. For example, the COVID-19 pandemic has forced financial companies and banking institutions to adopt digital payment solutions.
As a healthcare ISV, don't be left behind. With patients expecting a seamless payment experience for their medical bills, integrating secure and efficient payment solutions into your healthcare software has become critical.
And the digital payment industry is rapidly gaining momentum. The market is projected to reach $146.45 billion by 2030, growing at a staggering CAGR of 13.7% from 2021 to 2030. So if you get into a strategic payment processing partnership, you will reap many benefits.
Benefits of Payment Processor Partnerships for ISVs
As competition in the software industry intensifies, independent software vendors constantly search for ways to stand out.
And collaborating with payment processors has emerged as a smart strategy.
The partnership helps ISVs offer a seamless payment experience to their clients and their customers. But that's not all. Channel partnerships come with several benefits:
Improved Revenue Cycle Management
Revenue cycle management is the process of managing a healthcare provider's financial operations, from patient registration to final payment, to optimize revenue generation and streamline financial processes.
You can automate payment processing, reducing the risk of delays and errors that can negatively impact cash flow and financial reporting. This, in turn, minimizes revenue leakage and improves profitability.
Reduced Processing Costs
Building and maintaining payment processing systems in-house is expensive and time-consuming. However, by partnering with payment processors, ISVs can reduce processing costs associated with developing and maintaining these systems.
Outsourcing payment processing to experts will allow you to save money, improve profitability, and focus on your core business activities.
Enhanced Patient Experiences
Patients today expect to be able to pay seamlessly in different ways. Collaborating with payment processors enables ISVs to offer a variety of payment options, including:
ACH

Credit card

Debit card

Paper checks
This flexibility increases patient satisfaction and loyalty. Moreover, payment processors offer added security measures protecting patient payment information. This gives the patients peace of mind knowing their data is secure.
Streamlined Operations
By outsourcing payment processing to experts, ISVs can unlock various benefits, like automating payment processing tasks. This leads to improved accuracy and faster payment processing times.
Payment processors also offer real-time payment tracking and reporting. This gives you valuable insights into your payment processing data. You can use this to inform strategic business decisions.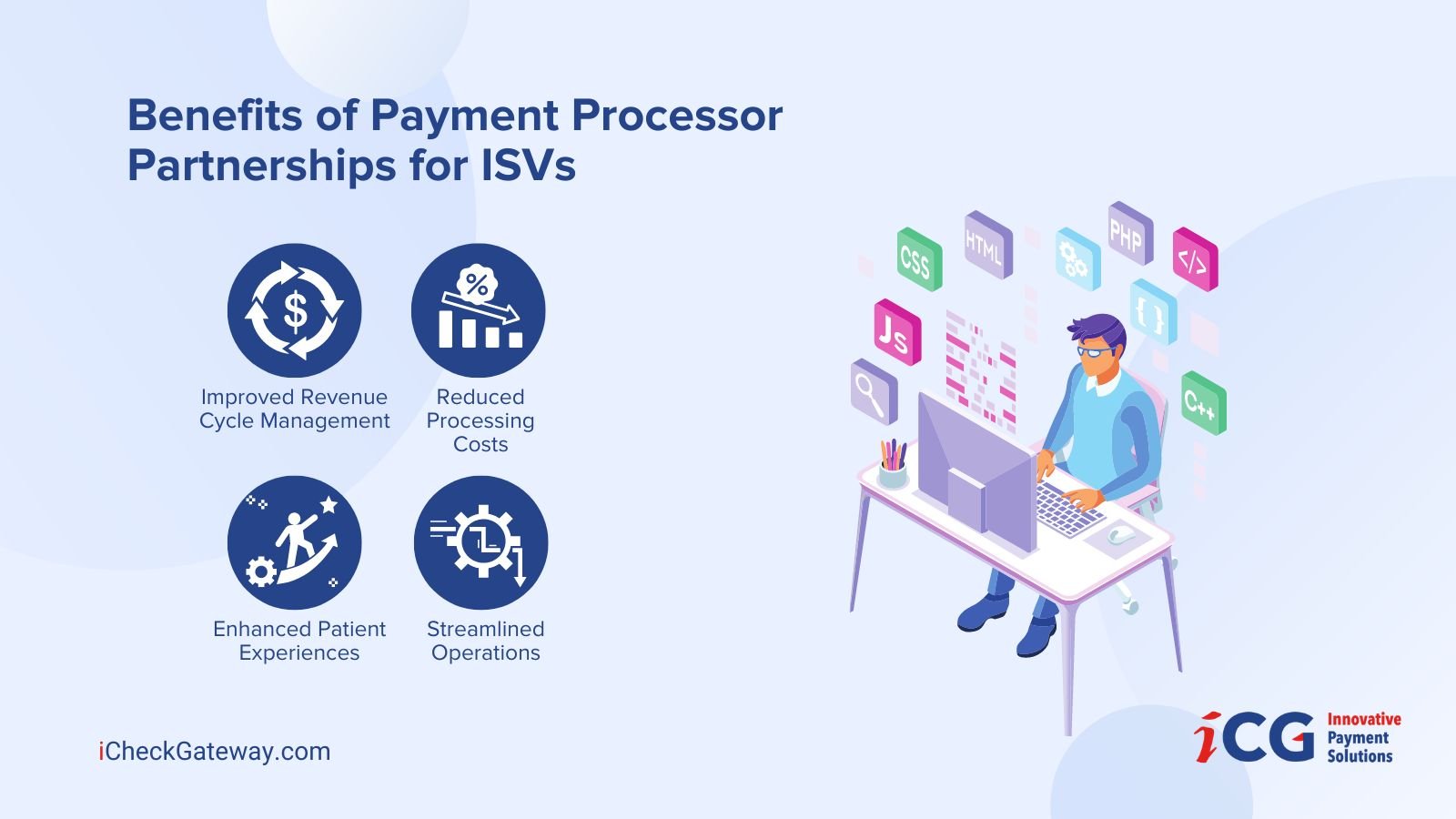 Key Factors to Consider When Forming a Payment Processor Partnership
Before diving into a partnership, it's always important to consider some key factors to ensure a successful collaboration.
Compatibility

- Does the payment processor easily integrate with your existing software? The systems should be able to communicate with each other effectively.

Cost savings

- Look for a payment processor that offers competitive pricing and reasonable transaction fees. Also, clarify any potential hidden fees that could result in unexpected costs down the line. This way, you can maximize your profits while providing convenient payment options to your customers.

Ability to meet regulatory requirements

- Verify that the payment processor can meet any regulatory requirements, such as

HIPAA compliance

, to avoid any legal issues.

Reliability and Security

- Your customers need to trust that their sensitive information is being handled securely. One key aspect of security to consider is

PCI compliance

. Choose a PCI-compliant payment processor to protect your business and your customers' sensitive data.




Real-World Examples of Successful Partnerships
NextGen Healthcare and InstaMed
NextGen Healthcare, a healthcare technology solutions provider, partnered with InstaMed, a J.P. Morgan company, to modernize payment processing through NextGen® Pay powered by InstaMed.
An InstaMed survey reported that 74% of millennials prefer online payment for medical bills, and 83% of patients want to continue using virtual and self-service options for care post-pandemic.
So this partnership expanded payment options for patients, who can now pay online when visiting providers that utilize the NextGen® Practice Management solution. It also helps healthcare providers automate collections and manage and view payments in one system.
Healthfully and Paya
Healthfully partnered with Paya to offer an end-to-end payment processing and reporting solution through Healthfully's consumer health platform.
This partnership allows Healthfully's clients to accept payments for online, remote, and in-person services. Patients also enjoy increased flexibility, and medical practices benefit from improved back-office efficiencies.
How to Determine the Right Partnership?
Ask yourself these questions to determine if a payment processor partnership is right for you:
Are your business goals aligned with the payment processor's offerings?

Does the payment processor offer the processing needs that your healthcare technology company requires?

How can the payment processor improve your current operations and back-office efficiencies?

Will the payment processor enhance the patient experience by providing secure and flexible payment options?

Which payment processing solutions do they offer?

What are the costs and fees associated with the payment processor's services?

Does the payment processor have a proven track record of success in the healthcare technology industry?
Best Practices for Streamlining Patient Payment Processing
Leveraging technology
As a healthcare tech company, you can help streamline patient payment processing by offering patient statement services.
These services automate the process of generating, printing, and mailing statements, as well as tracking and reporting on patient payments and balances. You can achieve this by partnering with a payment processor like iCheckGateway.com, which offers solutions like:
Email invoicing

IVR payments

SMS payments

Hosted payment portals
Features such as automated invoices sent via text or email help reduce administrative costs and improve the patient experience.
Maximizing cost savings
You can use payment processor solutions like recurring billing technology to automate the billing process and enable faster payment processing. This way, you can reduce administrative costs associated with manual processing, maximizing cost savings for you, your clients, and the patients.
Enhancing patient experiences
Payment processors provide flexible payment options. For example, they provide multiple forms of payment like ACH, mobile payments, online payments, etc. This makes paying more convenient for patients.
Why Partner With iCG?
Advanced payment processing technology

- At iCheckGateway.com, we offer an advanced omnichannel approach to payment processing.

Multiple payment options

- Our solutions include ACH processing, credit card processing, mobile payments, recurring payments, etc. We accommodate a wider range of customer payment preferences.

Compliance and security

- We support security features such as tokenization to protect sensitive customer data. We ensure your reputation as a trusted partner.