The healthcare industry is increasingly relying on technology to power much of its service delivery. Thanks to this, there is an influx of medical software providers to cater to this demand. According to the latest statistics, the global medical software market hit $41.2 billion in 2021 and is set to hit the $140.1 billion mark by 2030.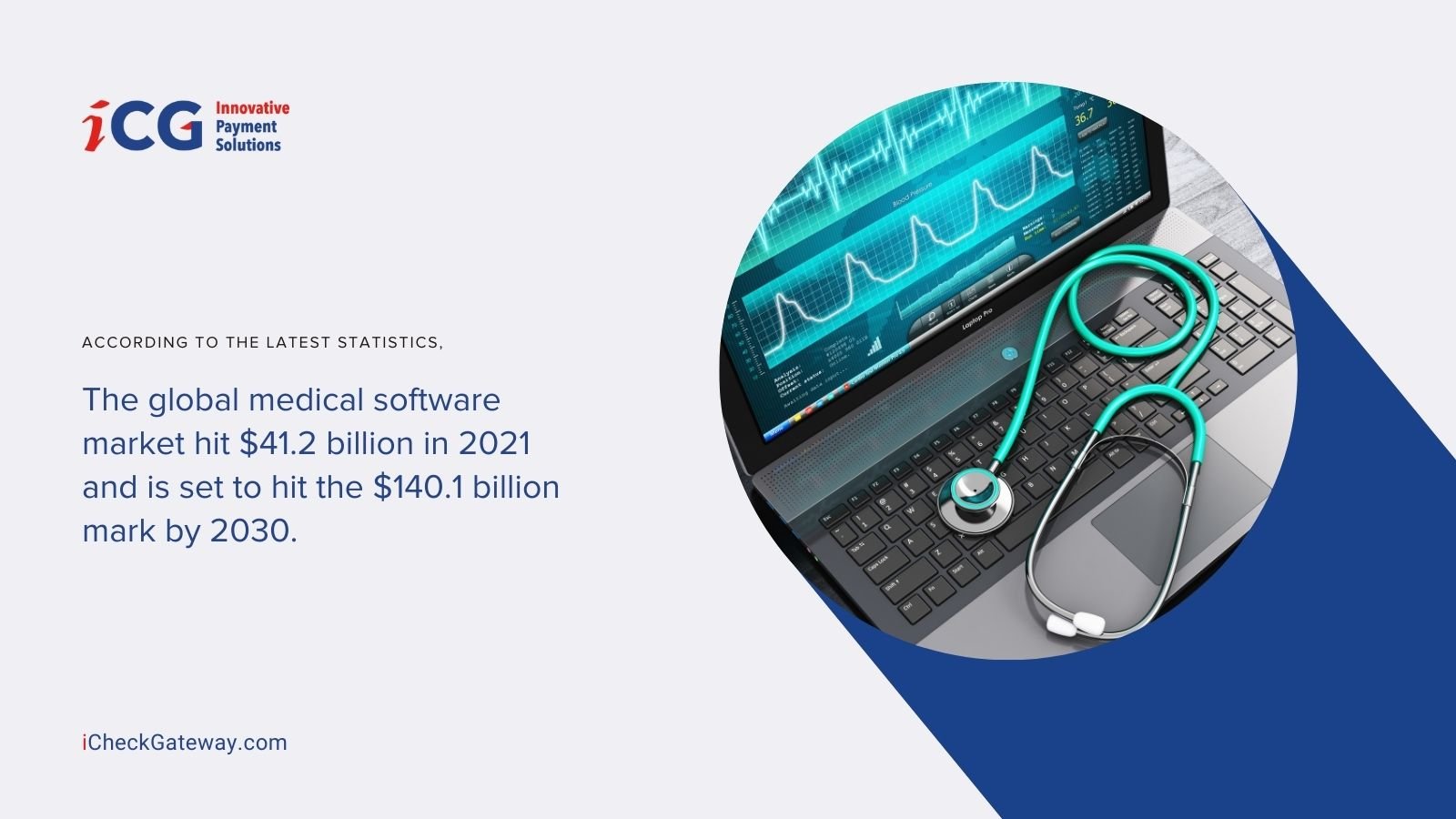 The medical software market covers various services, including electronic health records (EHRs), medical billing, coding software, practice management systems, and networking solutions. Thanks to technology, healthcare systems are experiencing a change, especially with payment processing.
Hospitals can now integrate their EHRs into medical billing using the latest payment technologies. This blog post will examine how hospital software service providers can leverage payment processing innovations to drive business growth and improve their processing capabilities.
Why Payment Processing Is Important for Healthcare Service Providers
If you are a healthcare software provider, you need to invest in payment processing solutions. Here are some reasons why:
Improved Payment Collections:

With a reliable payment processor, you can collect payments easily from all your clients. Thanks to payments technology, payments can be automated to make collections more efficient.

Better Service Delivery:

As a health-tech company, you need to get into

the best channel partner programs

that provide you with robust payment processing capabilities. This allows you to serve your customers better.

Increased Customer Satisfaction:

When you deliver your services more efficiently, your customers will be more satisfied.




The Latest Payment Processing Innovations for Healthcare Software Providers
The medical software market is increasingly seeking ways to improve its data security and ease payment processing. Let's look at some of the latest payment processing technologies and innovations.
Mobile Payments
Mobile payments enable healthcare software providers to securely accept credit card and ACH transactions. A mobile payments app allows payment processing in real time. Additionally, companies can now accept multiple payment options from their clients. In addition, these payments have point-to-point encryption that guarantees security.
EHR Integrations
Electronic health records (EHR) are real-time, digital versions of patient records. It can contain a patient's diagnosis, medical history, and test results to make it easier to track information. Thanks to technology, EHRs can be integrated into medical billing systems. Therefore, as a software vendor, you can provide an integrated payment system that accepts ACH medical billing and credit card options to make transactions seamless.
Self-Serve Technologies
Technologies, like hosted payment portals in the healthcare industry, ensure that a company automates payments. Thanks to this, the company can automatically collect a steady flow of payments from all its clients.
How Healthcare Software Providers Can Choose the Right Payment Processor
There are multiple payment processors in the market today. But before choosing one for your business, you must carefully examine whether they're a perfect fit. Here are some of the factors to consider before selecting a provider:
Security Protocols:

In this digital age, data security is

critical

. You need a payment processor with the right technologies to protect your financial and client information from fraudsters. You need a partner like iCheckGateway.com who will help you reduce your

PCI scope

.

Fees:

Processing payments via one method like

credit cards

or paper checks can be costly due to fees. However, it becomes much cheaper if you have other options like ACH processing and

IVR call centers

.

Integration Capabilities:

Before choosing a company, consider their integration capabilities. You need a payment processor that integrates easily with your existing billing systems to make adoption easier.




The Impact of Payment Processing Innovations on Healthcare Software Providers' Bottomlines
Payment processing innovations can significantly drive revenue growth and improve a healthcare software provider's bottom line. Here are some ways this happens:
Reducing Payment Processing Costs
Payment processing fees can be expensive. However, with the latest innovations, healthcare software providers can reduce their spending. For instance, ACH payments cost significantly less; helping you save money.
Improving Patient Experience
With the right payment processing technologies, patients can get faster services from the hospital. Setting up recurring billing for ACH payments can make it easier for patients to pay their bills on time. When you have a frictionless payment experience, medical staff can better focus on treating patients instead of billing.
It can also be integrated with other tools that help with automated scheduling and in-app reminders for a seamless, speedy process.
Fewer Errors
Errors can lead to heavy financial losses. Payment processing technologies are automated to eliminate the risks of making mistakes. If you want to boost growth and improve your bottom line, you need a system that works well with other software to keep processes accurate.
InstaMed Integrates with Allscripts to Help Collect Patient Payments Faster
Allscripts is one of the top healthcare software providers. The company is listed on NASDAQ and provides medical information solutions to hospitals and physicians. Their system integrates with payment processor InstaMed to help collect payments much faster and deliver payment information via email and text.
InstaMed makes it easier to track all transactions and process payments from one place. Additionally, the service provides multiple payment options, like IVR, mobile payments, and automated payment plans. Additionally, InstaMed reduces PCI scope to keep data safe. Thanks to such integrations, patients can be served much better, and Allscripts can collect payments on time, boosting revenue.
What Healthcare Software Providers Can Expect after Implementing Payment Processing Innovations
Once you implement these payment processing innovations in your company, here's what you should expect:
Improved Efficiency: Your company will be more streamlined because all payments are automated and protected from potential fraudsters.
Increased Patient Satisfaction: Patients will be satisfied with your service delivery when the payment system is convenient and affordable.
Why Choose iCG?
As a healthcare software provider, you need a payment processing solution that allows you to integrate with your existing systems. iCG allows you to integrate with your EHRs and accept multiple forms of payments. iCG is a Nacha Preferred Partner and an active member of the Payment Innovation Alliance; meaning they comply with regulations to protect your data.